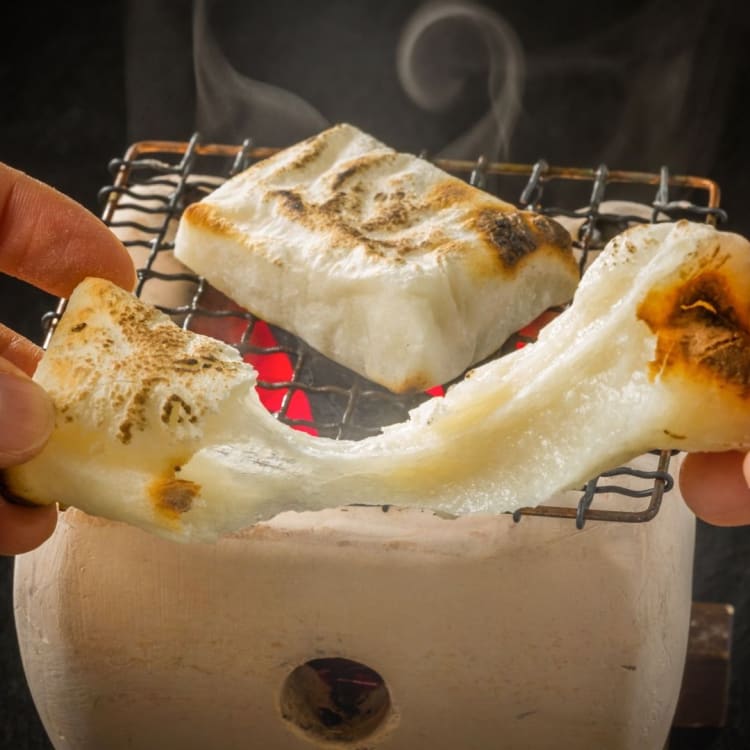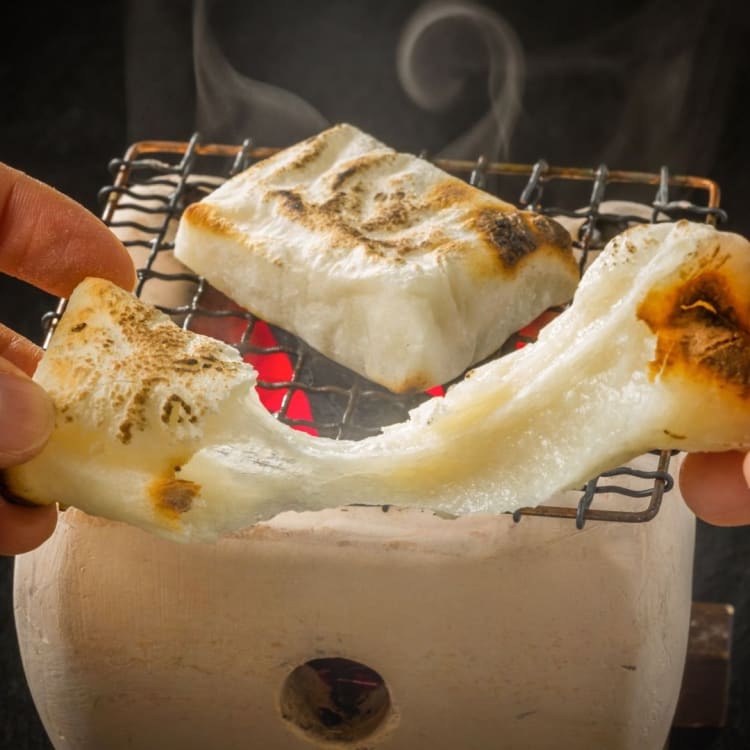 Story
​Chewy and Heart-Warming! The Meaning of New Year's Mochi (Rice Cake)!!!
by JNTO on 19 December 2019
Mochi is a type of traditional Japanese rice cake made by pounded steamed sticky rice grains into a paste using a wooden mallet called "kine".
In Japan, "Kagami mochi" is an important traditional new year's food. Mochi is also used in many dishes such as zenzai (sweet red bean marmalade), shiruko (sweet red bean soup), wagashi (Japanese confection), and zoni for its chewy texture. This time, we are going to look at the appealing points of mochi and, how to enjoy it.
Mochitsuki & Kagami Mochi- The Essentials of Japan's New Year
The traditional method of making mochi is putting whole rice grains in an Usu (a large bowl of wood/stone), and are pounded into a paste using a heavy wooden mallet.
The paste is then cut into blocks of about 1.5 centimeters thick called "Noshi-mochi" or into spheres called "maru-mochi".
Mochi has been treated as a scarced food and mochi-making itself is a ritual in Japan for centuries. In early times, mochi was used as an offering to gods and the stretching texture is often associated with longevity.
In Japan, mochi-making (mochitsuki) is also seen as a ceremony to wish for prosperity of families as they bond during the making.
The set of two-layer, donut-shaped mochi topped with a mandarin is known as the "Kagami-mochi". It is used as a traditional Japanese new year's decoration. Families then break the mochi for cooking soups in a procedure called, "kagami-biraki" ("opening the mirror") on 11th January to give thanks to gods.In Ichinoseki and Hiraizumi in Iwate ,there is a culture to eat mochi 60 particular days a year in addition to the times during the New Year period. Pumpkin, edamame beans, tofu curds…there are as many as 300 hundred mochi dishes.
Delicious when Grilled and Boiled "Mochi", the Classic New Year Gourmet
Mochi can be enjoyed by grilling, boiling, and having it coated with other tasty ingredients. Grilled mochi can be eaten with kinako (soy bean) powder sometimes added with sugar, or anko (red bean paste), or soy sauce, or even with a piece of seaweed wrapped around it which is also known as the "Isobeyaki" (Isobe grill).
A representative New Year gourmet is "zoni" which is a household dish, but has recently been brought onto restaurant tables for visitors to experience this traditional food.The shape of the mochi, ingredients, and flavour all depend on the location.
For example, "Kaku-mochi",(A rice cake made by cutting "Noshi-mochi" into squares)in soy sauce based soup is eaten in areas from Aomori to Sekigahara Town in Gifu. Whereas from the regions in the west of Sekigahara, the mochi which is usually eaten is roundand in miso soup. Furthermore, dried flying fish called "Ago" is used in the soup stock in Fukuoka, while in San'in areas like Tottori and Shimane, zoni is very much closer to sweet tasting "shiruko" and "zenzai" as red bean is used.
Especially if you are a natto lover, do not miss "natto mochi" which is the combination of the boiled, softened mochi and natto beans. Another interesting combination that you can try would be the "Zunda mochi", whichis a snack with edamame bean paste on mochi. This is a traditional local food in northeastern Japan even though it is typically associated with Sendai city of Miyagi.
A Japanese Tea Break with Mochi Dessert
Besides "zenzai" (sweet red bean soup) with rice cake balls (mochi dumplings), "Daifuku" (rice cake with red bean paste) is another popular choice and is certainly one that many are familiar with. Traditional specialties are concentrated in Asakusa, Nihonbashi, and Ueno. Remember to try them out when you are in Japan!
Anmitsu Mihashi is one of such restaurants serving you some of these traditional desserts. It is an established brand name famous for red bean paste. Their signatures include shiruko (sweet red bean soup with mochi), along with awazenzai (sweet red bean marmalade, winter limited). Another recommended winter special is the chestnut zenzai soup with red bean paste mochi and chestnut soup!
● Mihashi Ueno main store
● Address: 4-9-7 Ueno, Taito Ward, Tokyo
● Access: 3-minute walk from JR Ueno station Shinobazu exit
● Opening Time:10:30 a.m. - 9:30 p.m. (Last order at 9:00 p.m.)