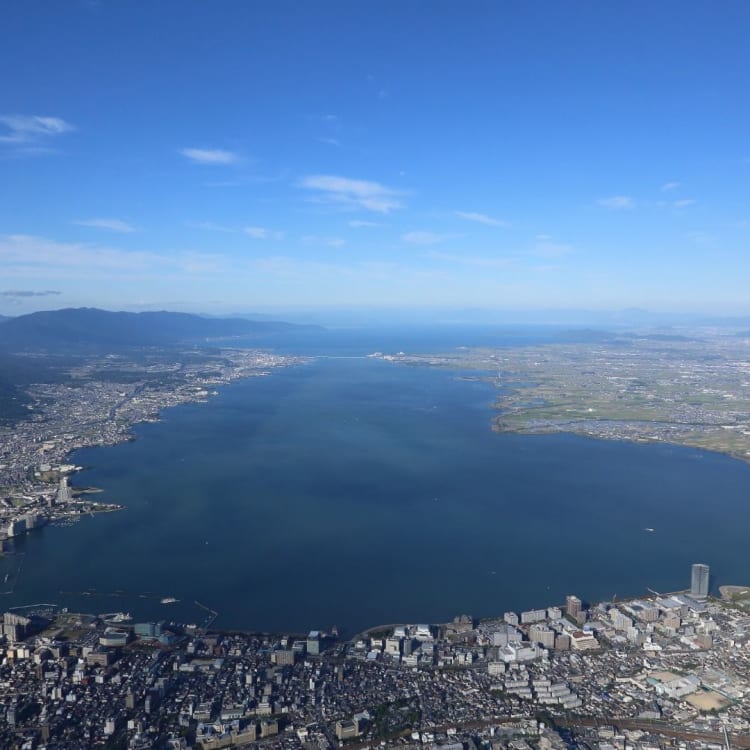 STORY
The Complete Guide for Lake Biwa! 3 Ways to Admire the Largest Freshwater Lake in Japan!
by JNTO on 01 August 2019
Many of us visit Japan not only for shopping, but also for beautiful sceneries that cannot be found locally. And, one of the popular nature beauties in Japan is Lake Biwa.
Shiga prefecture, where the lake is located
Shiga is famous for Lake Biwa, the largest freshwater lake in Japan. It is located at the centre of the prefecture and is said to be one of the oldest lakes in world. It is named after the shape of Biwa, a Japanese short-necked lute.
The lake has a shoreline of 235 kilometres which makes it an ideal place for trekking and various outdoor activities. You may even encounter rare animal breeds as the lake has a large biodiversity.
For those who like to relax, there are also many viewing spots surrounding the lake where you can enjoy a cup of coffee while admiring this beauty of nature.
Access:【From Kyoto Station to Otsu Station】10 minutes by JR Biwako Line,【From Kansai International Airport to Otsu Station】1 hour and 30 minutes by Kansai-Airport Express Haruka
Fun-filled activities with enjoying lake view at the Biwako Valley
Lake Biwa, also known as Biwako in Japanese, has attracted not only overseas visitors but also local families to enjoy the beautiful sceneries and nature.
To enjoy a panoramic lake view, Biwako Valley is a perfect choice. It is one of the all-time favourite resorts for residents in Kansai area. It is located between Mt. Uchimi (1,108 metres) and Mt. Horai (1,174 metres), which gives you a bird eye view of the beautiful lake. The Main and Café 360 are the two terraces in Biwako Valley, at where you can have excellent view of the Lake Biwa.
The Main area lies across the summit of Mt. Uchimiwhere you can enjoy a spacious and luxurious environment, while Café 360 gives you a relaxing environment on the top of Mt. Horai. Both terraces serve drinks and light meals, so visitors can fully enjoy the beautiful scenery of this largest lake in Japan.
Address:1547-1 Kido, Otsu Shiga
Access: Take the Kosei Line from JR Kyoto Station to Shiga Station. From Shiga Station, then take a bus to Mountain Foot Station.
Operation hours:【Summer Season】 9:30 a.m. - 5:00 p.m. ※Saturdays, Sundays, holidays, and August: 9:00 a.m. - 5:00 p.m.,【Winter Season】 8:30 a.m. -5:00 p.m. ※Weekend and Holidays:8:00 a.m. -5:00 a.m.
Open all year round ※except 25 March – 5 April, 22-26 April, 24-28 June, 2-6 September, 25 November – late December 2019
【Access to The Main (Mt. Uchimi)】
You can access to The Main at Mt. Uchimi through the ropeway. You can take it up to the top of the mountain while enjoying the splendid sceneries through the window in the transport.
【Access to Café 360 (Mt. Horai)】
You can take the Horai lift all the way up to Café 360 which is located on Mt. Horai.
The terrace is open between 27 April - 27 November ※June, September and October will be open only on weekends and holidays
※ Operating hours of Horai lift is 10:00 a.m. - 4:15 p.m. (last ascent at 4:00 p.m., last descent at 4:15 p.m.)
A quiet and tasteful café by the lake(Furudougu Kaizu, an antique café)
For café lovers, Furudougu Kaizu, an antique café is where you do not want to miss out! If you enjoy sipping coffee in a nice café by the lake, you would definitely love this place. This mesmerising café is at the same time an antique goods shop. The building itself is an antique as it has been around for over 200 years! Besides vintage goods such as kitchenware including hand-made ceramic plates and glasses, you can even find a vintage cashier or bicycles at reasonable prices. After shopping, you can visit the terrace to enjoy a cup of freshly brewed coffee with a gorgeous lake view, where you can feel refreshed both spiritually and physically. Please also note that it may be closed on random days so remember to make reservation beforehand.
Furudougu Kaizu, an antique café
Address:2080-7 Makinocho Kaizu, Takashima-shi, Shiga
Access:about 10 minutes by car or taxi from JR Makino Station
Operation hours:10:00 a.m.- 6:00 p.m.
Hidden gem of Biwako(Chalet Mizugahama)
For visitors who like to discover hidden places to enjoy some quiet and relaxing moments, Chalet Mizugahama will definitely be a good choice. Its café is located on a high ground that gives you a bird's eye view of Lake Biwa. You can enjoy a cup of coffee and a dessert while listening to relaxing music and the sound of waves of the lake. If you are lucky, you may even spot groups of cute ducks wading around!
Chalet Mizugahama
Address:184 Mizugahama, Chomeiji Town, Omihachiman, Shiga
Access:Chalet Mizugahama is a bit difficult to reach by public transport, so it is better to drive if possible.
Operation hours:10:00 a.m. to sunset
※Closed on Mondays(If Monday is a public holiday, it will be closed the next day)