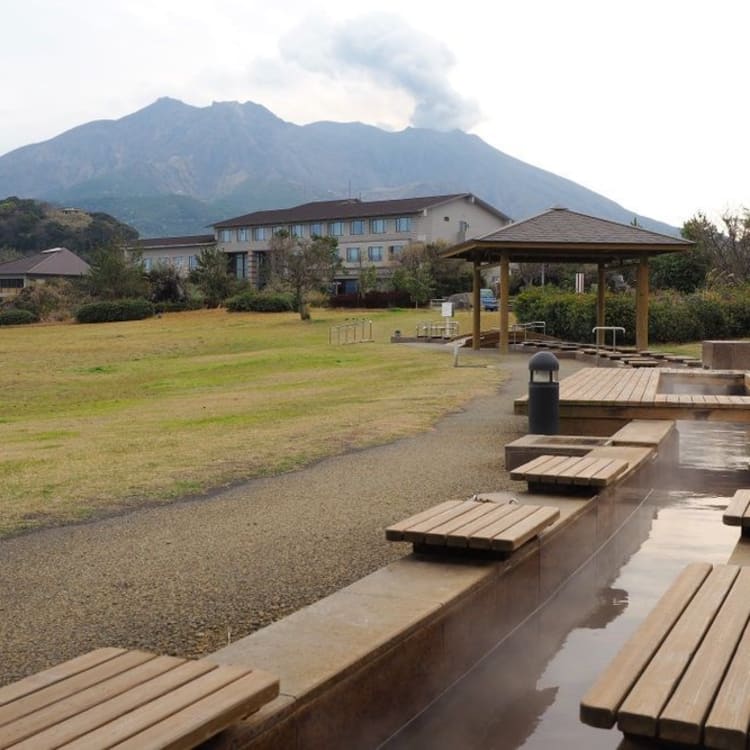 STORY
Convenient Onsen Stopovers for Train Trips in Japan Just few minutes' walk from railway stations!
by JNTO on 16 July 2019
Due to volcanic activities in the region, Japan is a country blessed with thousands of onsen (hot springs). In the past , hot springs were sacred places where people went to have their illnesses cured. People still go to onsen for their curative nature, but now, they are a major element of domestic tourism and are very popular with foreign visitors too.
If you are going to be traveling across Japan by train, why not consider planning a "tochu gesha" (stopover) railway trip to explore some station-based onsen spots(onsens conveniently located near train stations)?
Here we introduce three spots which are all directly connected to a railway station.
Mizunuma Station(Gunma Prefecture)
Quick stop for a bath and bite!
In the Kanto region, it is common to find onsen in train stations. So, we were delighted to find an unmanned station on the local Watarase Keikoku Railway line that runs between Kiryu in Gunma Prefecture and Nikko in Tochigi Prefecture.
The Mizunuma Station Onsen Center combines indoor hot-spring baths, rotenburo (open-air bath) and sauna. Visitors can immerse themselves in a splendid view of the mountains, bridges and forest greenery surrounding the building while relaxing in waters rich in sodium and calcium that are believed to be effective for treating neuralgia, arteriosclerosis, hypertension and chronic digestive disorders.
If you are looking for some quick bites during your stopover, you have to try the "Yama Unagi Bento". "Yama unagi" literally means "mountain eel" in Japanese, but it is actually a kind of Japanese yam growing in the surrounding mountains and also the regional specialty. This bento is an "ekiben" (bento box sold at stations) available at the diner nearby made with "yama unagi" and grilled chicken.
Mizunuma Station Onsen Center
Address: 120-1 Kurohonecho Mizunuma, Kiryu, Gunma
Access: Inside Watarase Keikoku Railway Mizunuma Station
Operating hours: 10:30~19:00
Instead of cooling your heels, try ashiyu!
Another popular reason for a quick stopover is "ashiyu" (foot baths). The major difference between ashiyu and the usual onsen is that the former is a type of onsenin which you just dip your feet in. The water level is usually below the knees, so you can pamper yourself with on the foot bath while chatting with your travel companions.
There are numerous foot baths in Japan, located outdoor at hot spring facilities or in the open air dotted around onsen towns, but there are some in train stations!
They are usually to be found in front of these stations or inside near the ticketing gate.
After treading your touring trail, your exhausted feet will be treated with a relaxing foot soak before you board your next ride.
Depending on the facilities, some are free if you have a train ticket, while other places may charge a small fee.
Before dipping your toes in…
There are some things you should know. While they may not always be as hot as some onsen baths, never underestimate ashiyu.
Temperatures vary from bath to bath and depending on how close you are to where the water bubbles out, but they are usually kept at 42 to 43 degrees Celsius. As such, it does not take long to feel the warmth spreading through your whole body. For those heading to Japan during the summer months, ashiyu provide a good alternative for relieving your fatigue, without baking yourself in a sauna.
Free ashiyu in train station of Japan's popular onsen prefecture
Kamisuwa Station(Nagano Prefecture)
With more than 700 day-use hot spring facilities, the most among Japan's 47 prefectures, Nagano takes first place.
Located in the heart of this hot spring paradise, Suwa City is a not only a renowned spa town known as "The Oriental Switzerland", but is also a landscape brimming with historical sites such as the Suwa Grand Shrine and Takashima Castle.
After an express train ride of slightly more than 2 hours from JR Shinjuku Station to Kamisuwa Station, passengers will be pleasantly surprised to find a footbath which is built on the station's train platform. In fact, it used to be a rotenburo but was converted into a footbath years ago.
The bath is free-of-charge as long as you have either a valid JR train ticket or purchase a 140 yen (S$1.77) platform ticket at the ticket gate. You can then soothe your tired feet in natural hot spring water and relax before continuing your journey.
Be warned that the foot bath does not provide towels, so remember to bring your own or purchase one at the convenience store outside the station.
Kamisuwa Station Ashiyu
Address: 1-1-18, Suwa, Suwa City, Nagano
Access: Inside JR Chuo Line Kamisuwa Station
Operating hours: 9:00~21:00
Bath, beer and bento
Yumoto Station(Fukushima prefecture)
As one of the three oldest hot springs in Japan , similar to Dogo Onsen in Ehime Prefecture and Arima Onsen in Hyogo Prefecture, the history of Iwaki Yumoto Onsen in Fukushima Prefecture dates back to the Nara Period. In the 14th century, it became popular with nobles and samurai warriors, and has long been valued for its healing properties before turning into a tourist destination.
There are many Japanese-style inns, public bathhouses, hotels and of course, hot springsin the area. But even before diving into this thousand-year-old hot spring mecca, it is well worth first checking out the foot bath on the station platform. A "teyu" (hand bath) is also closely available near the foot bath.
The station was renovated in 2015, and "Gourmet Hotel" on the second floor serves food and beverages. You can also enjoy eki-ben and Iwaki's specialty omiyage snacks, swordfish menu, and even fresh juices. You can select your preferred souvenirs from the array of choices available here.
It is a two-hour ride by Joban Line express train from JR Ueno Station to JR Yumoto Station.
Yumoto Station Ashiyu
Address: 92 Tennozaki, Jobanyumoto Town, Iwaki City, Fukushima
Access: inside JR Joban Line Yumoto Station
Operating hours: subject to operating hours of JR Yumoto Station
Better to use more neutral words as volcanic activities may not be perceived as good thing for many.