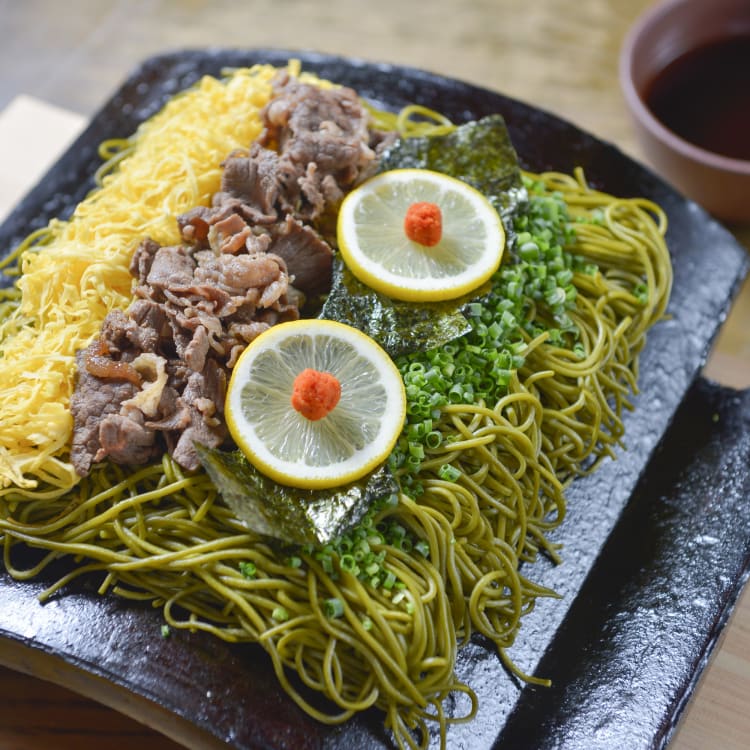 Story
Cooked on a Roof Tile
Yamaguchi's unique Kawara Soba
By JNTO On 08 October 2021
Originally created by hungry soldiers using simple ingredients, Kawara Soba started from humble roots, and has grown to become one of Yamaguchi Prefecture's most famous local cuisine! Followers of Japanese architecture may realise that kawara is the name of Japan's commonly found curved roof tiles. So what do roof tiles have to do with a famous noodle dish?
Origin on Kawara Soba
Kawara Soba's unique origins date from the Meiji-era siege of Kumamoto Castle in 1877 during the "Southwest War." The soldiers on duty were hungry but did not have proper tools to cook their noodles, so they used an old kawara – a traditional, curved Japanese roof tile – as a hotplate over their campfire. 
The original recipe included whatever meat the soldiers had on hand – which in Kyushu was usually pork – and a few simple vegetables like cabbage and even wild grass, because food was often scarce at the time. After the war ended, the recipe fell into obscurity and disappeared for nearly a century.
Revival of the Kawara Soba
While Kawara Soba's unexpected invention was initially out of necessity by soldiers in Kyushu over a century ago, the modern version of Kawara Soba was reinvented in the early 1960s in the hot spring village of Kawatana Onsen near Shimonoseki City in Yamaguchi Prefecture. 
It was here in 1962 that a local ryokan innkeeper named Shinichi Takase heard about the historic dish, and decided to recreate it for his guests. Takase himself would later go on to found a popular chain of Kawara Soba restaurants called Ganso Kawara Soba Takase.
The innovative dish and unique flavour quickly became popular in Shimonoseki before spreading across Yamaguchi Prefecture. It eventually became known all over Japan after being widely featured on TV food shows.
What goes into a Kawara Soba?
The Kawara Soba's base is green tea soba noodles, which gives the dish a distinctive dark green colour. The most aromatic noodles are made from a mix of Uji matcha (from Kyoto) and buckwheat (from Hokkaido).
The noodles are first stir-fried in a frying pan or hotplate, and then skillfully served on a pre-heated kawara-shaped ceramic tile. The tile's curved shape and its unique heat retention property helps heat the noodles in a unique way that makes the bits on the tile slightly scorched without overcooking.
Kawara Soba is traditionally topped with thinly-sliced pieces of beef or pork (depending on the restaurant), shredded egg crepe, dried seaweed, and momiji-oroshi (grated radish mixed with chili powder) which is placed on top of a refreshing lemon slice when it is served. The dish is finished off with a garnish of freshly-chopped negi (leeks), one of the best type is the yasuoka negi, a type of skinny leek similar to a chive which is native to the Shimonoseki area.
Similar to serving other types of cha-soba, Kawara Soba is accompanied by a hot dipping sauce, or mentsuyu. While every mentsuyu recipe is different, the dipping sauce is usually made with soy sauce and a kelp-based dashi stock, giving the noodles a distinctively salty-sweet flavor.
The recommended way to eat a Kawara Soba is first to dip the noodles and toppings in the mentsuyu so that you get the original flavour of the noodles. Halfway through, you then put the garnish – like lemon and grated radish – into the dipping sauce to savour a different, more refreshing flavour profile.

You can experience authentic Kawara Soba at many restaurants across Yamaguchi Prefecture, including dedicated specialty shops like Choshuya Yuda, or the original place it was created: Ganso Kawara Soba Takase in Kawatana Onsen. 
For more on Yamaguchi's Kawara Soba, visit YAMAGUCHI JAPAN TRAVEL GUIDE (visit-jy.com).