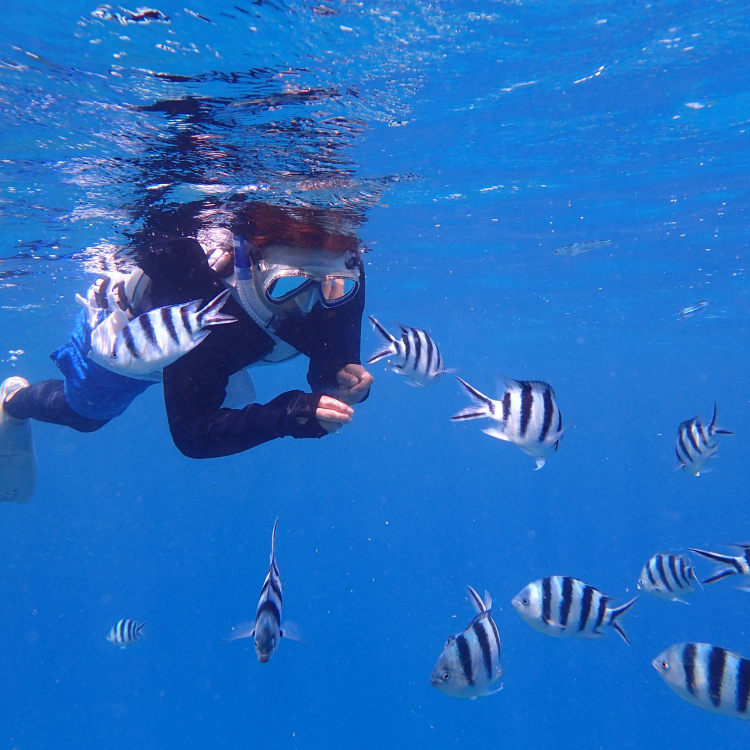 Story
Diving in Okinawa
by JNTO on 04 January 2018
Okinawa is a popular for diving, thanks to its crystal-clear waters and mild subtropical climate. In addition, the chain of islands is located along several major underwater currents that bring migratory species that come to these waters to breed. Its stunning underwater seascape is also diverse, ranging from caves and tunnels to wrecks and drop-offs.
---
Okinawa Island
The main island of Okinawa is home to several well-known dive sites, many of which are accessible from shore or a short boat ride. The most popular is Maeda Point, where beginners can watch divemasters feed massive batfish in the shallows, while seasoned divers can explore deeper waters to spot sharks and turtles.
Another popular site is the Sunabe Seawall which features bountiful soft coral garden, where colorful reef fish, cuttlefish, barracuda and sea snakes congregate. The Yosuji-no-ne site is named after the yosuji (blue-banded snapper) which can be seen in large numbers, in addition to groups of cardinalfish, sea goldies, and bannerfish.
There's also the fascinating wreckage of USS Emmons, a WWII destroyer which was sunk in a kamikaze attack in 1945. Sitting between 36m-46m, it's only accessible to experienced divers who can see the ship's cannons, ammunition, machine guns, and the helmet of a soldier.
---
Ishigaki Island
Ishigaki has a number of dive sites, but perhaps the most famous is the Manta Scramble (or Manta Point) located near the town of Kabira. As its name suggests, it's an area where mantas congregate near the coast to feed and be cleaned by remoras that frequent the reefs. The sight of these graceful giants hovering above the coral reef is truly one to behold. The site is suitable for divers of all levels, and the mantas visit year-round.
---
Yonaguni
Any diver visiting Okinawa should head to Yonaguni for this famous dive site that's referred to as 'Atlantis' or 'Yonaguni Pyramid'. The subject of wide speculation, this underwater structure is so remarkable that no one can confirm whether it's a natural geological structure or an ancient man-made relic. Sitting at about 30m beneath the surface, it features step-like rock formations and amphitheater-like structures.
Another reason to dive in Yonaguni is for hammerhead sharks, as the island is on the migration path for these creatures. Congregating by the thousands, they pass through the deep blue waters from November through June. While there is little risk of injury, the sharks congregate in deep waters where underwater currents are strong, so this excursion is only for advanced divers.
---
Miyako-jima
The most famous dive site on this island is Yabiji – it's nicknamed 'Phantasmal Island' as it's only exposed to the open air once a year. This reef shelf is home to the largest cluster of coral reefs in Japan. With over 100 coral mounds and pinnacles, it's covered with table corals and branch-shaped corals where reef fish live. Since Miyako's waters are known to be shallow and crystal clear, this site, accessible by boat, can be explored whether you're diving or snorkeling.