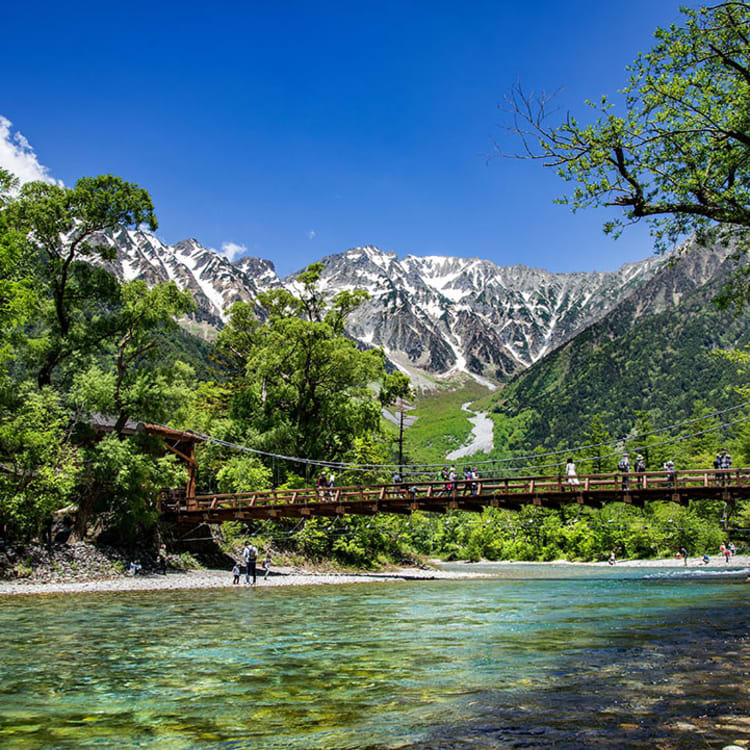 Story
Energize yourself with the healing nature of Japan
by JNTO on 30 June 2020
There is nothing like a dose of the great outdoors to soothe our tired bodies and soul that are worn from stresses at work and chores at home. Immerse yourself in the healing power of nature in Japan's great outdoors as you recharge your soul by appreciating its visual beauty while enjoying activities like hiking, paragliding or paddling in some of Japan's most mesmerising landscapes, be they of earth, sky or water.
Invigorate your inner spirit with a hike through one of the most enchanting landscapes in Japan – the mountainous resort of Kamikochi in Nagano Prefecture. Rising about 1,500m above sea level within the Japanese Alps, this enchanted forest is surrounded by tall mountains and dotted with picturesque ponds. Get spirited away to its magical landscape along one of the many hiking trails that crisscross the area. Right in the middle of it all is Kappa Bridge, a short walk from the bus terminal, where you can easily tackle hiking trails along the Azusa River that are mostly flat between Taisho Pond and Myojin Bridge; there are more advanced trails that lead up to the summits of the surrounding mountains for more experienced trekkers. Whether you take a short hike or embark on a mountain-climbing adventure, spend a night at the luxury historic Kamikochi Imperial Hotel to pamper yourself as mountaineers of the past have.
If water is your element, then buoy your spirits with a stand-up paddleboard (SUP) excursion with a spectacular view in Hiroshima. At less than an hour from Hiroshima city, the sacred Miyajima Island is home of Itsukushima Shrine which is famous for its red "floating" torii gate. Both the shrine and its torii gate are built over water, and seem to "float" in the sea during high tides. The peaceful waves around the island offer a great opportunity for a memorable SUP experience, with half-day (2-3 hours; 7,000 yen) and full-day (4-5 hours; 10,000 yen) tours available via SUP Miyajima. Through the SUP tour, you can gain unique perspectives of Mother Earth and life as you can explore the magical Miyajima Island and maybe catch a glimpse of its wild deer, paddle through the famous torii gates, visit an oyster farm, or drop in on nearby islands that are accessible only by water. Come feel the allure that ancient travellers once experienced from their boats centuries ago.
Nothing recharges your joie de vivre more than a thrilling adventure that takes you beyond earth and water. Take to the skies for a trip like no other: paragliding at the footsteps of Mt. Fuji! Your launch point is the rich pastureland of Shizuoka Prefecture's Asagiri Plateau, the most spectacular paragliding site in Japan. While most people only get to see the majestic mountain from the ground, there is truly nothing like soaring through the clouds and capturing Mt. Fuji's magnificence from the sky. At Asagiri Kogen Paragliding School, you can opt to take a short flight lesson (half day at 7,000 yen; full day at 10,000 yen), a tandem flight where the instructor controls the glider (10,000 yen), or a combo of tandem and short flight (15,000 yen). Take your adventure to new heights, and get touched by the power of nature as you launch yourself into the skies.
From forest bathing in the majestic Japanese Alps to feeling the spiritual power of Miyajima Island and soaring in the sky against the backdrop of Japan's most revered mountain, being at one with nature is a time-tested way to recharge and refresh your mind, body, and soul. Whether it's a solo journey or a trip with your girlfriends, indulge in the beauty of Japan's nature so as to well restore your inner strength and help you leave all your worries behind.