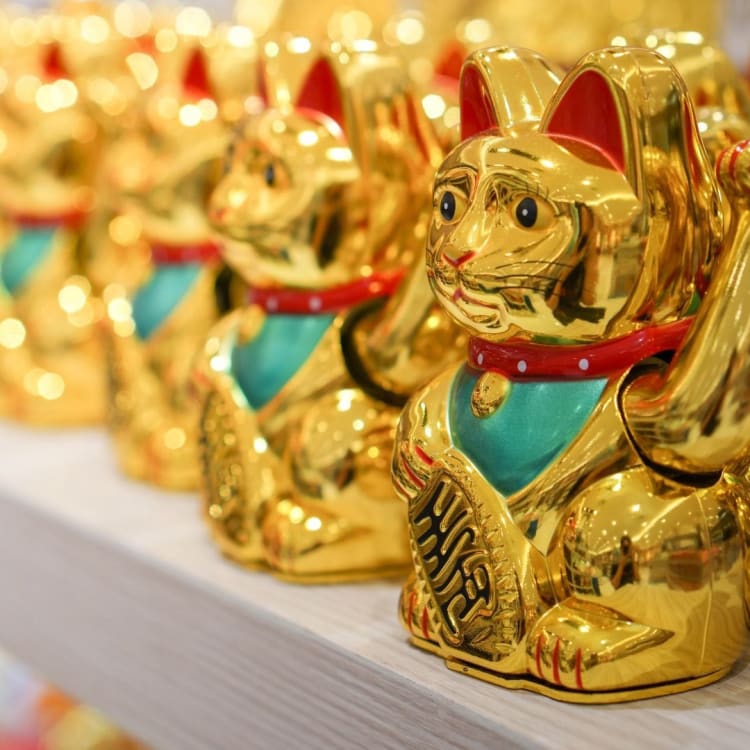 STORY
​"Enjoy Japan, the Country of Gold!" Instagrammable Food and Activities
by JNTO on 24 October 2019
Japan is a country of gold? Yes! It has abundant gold mountain mines with a huge desposits of gold in the middle ages. There are also a lot of stories about gold being passed down from those old times and about the traditional handcrafts made with gold.
Gorgeous and Beautiful! World Heritages, the Remains of Gold Mountain Mines throughout the Country
In 13th century, Italian merchant Macro Polo once named Japan "Zipangu" and described it as a country with tremendous production of gold thus the king could live in a castle full of the shiny metal.
Gold mining started in Nara Period (710-794) in the Tohoku region. At that time, the gold mine of Mt. Tamayama in Iwate prefecture was said to be a massive gold mine with unlimited amount of gold.
The mine is closed while another in Mt. Hishikari in north Kagoshima still produces 7 tonnes of gold every year (figure as of October 2019). Sado gold mine, once the important financial support of the Tokugawa shogunate, is now a popular tourist spot.
"Chuson-ji Temple Konjikido", built in 1124, is commonly known as the "golden hall", and famous for its eye-catching gold leaves andexquisitely constructed architectural structures. Kinkaku-ji Temple, a representative temple in Kyoto, is covered by gold as well. The official name of the temple is Rokuonji, but it is more known as Kinkakuji for its golden, shiny exterior ("kin" literally means "gold" in Japanese).
"Hakukokan", a Gold Leaf Museum with Special Experience and Gold Leaf Ice-Cream! (Kanazawa)

Hakukokan is located in Kanazawa city in Ishikawa Prefecture which dominates 98% of the total gold production in Japan. Its shiny "Gold-Leafed Chamber" is covered with over 10,000 gold leaves! Surrounded by the gold leaves, you will be awed by the golden glitter!
Inside the chamber are replicas of the armours and helmets used by Toshiie Maeda, the samurai warrior who governed the Kanazawa area in the 16th century and known as a lover of luxury items.
The Gold leaves workshop is highly recommended. There are three levels of difficulties for beginners to advanced handcrafters.
Participants can pick their choices of stickers and crafts in the workshop to create their own art pieces. and mode their memories in Kanazawa into a concrete, solid shape. In addition, please do not forget to try out the gold leaf ice-cream! The pretty appearance can, without any doubt, make your Kanazawa memory unforgettable and Instagrammable too.
Hakuichi Main Store Hakukokan
Address: 2-1-1, Morito, Kanazawa-shi, Ishikawa
Access: Approximately 15 minutes by driving from JR Kanazawa station
Opening Hours: 9:00 a.m. - 6:00 p.m.
*Workshop admission ends at 4:00 p.m.
 
The Kinshachi and Golden Room of Nagoya Castle, Certainly Worth Visiting! (Nagoya)
The Nagoya Castle is another good venue to appreciate crafts of gold. There are two golden shachi (kinshachi) on its topmost roof - a female version on the north end and a male version on the south end, both with scales made by 18K gold.
The Honmaru Main Palace consists of 13 buildings built in Shoin-zukuri Japanese residential architecture style. Looking at its exterior, you can never imagine how dazzling and detailed it is in the interiors - it is largely covered with gold leaves. Commonly known as "the Golden Room", the Jorakuden was the Shogun accommodation hall.
Nagoya Castle
Address: 1-1, Honmaru, Naka-ku, Nagoya-shi, Aichi
Access: 5 minutes by walking from exit 7 of "Shiyakusho station" of Subway Meijo line
 
The Fortune Gold Bath (Nagasaki)
There is an 18K gold bath tub in the natural hot spring of Huisten bosch in Nagasaki. It weighs 154.2 kg and was recorded as the world's heaviest bath tub in the Guinness Book in April 2019.
 
Huisten bosch Natural Hot Spring
Address: 6-1, Huisten bosch cho, Saseho-shi, Nagasaki
※Free shuttle bus from Huisten bosch
Opening Hours: 10 a.m. - 11.00 p.m. (Mon-Thu, Sun), 11 a.m. - 12.00 a.m. (Fri, Sat, the days before public holidays)