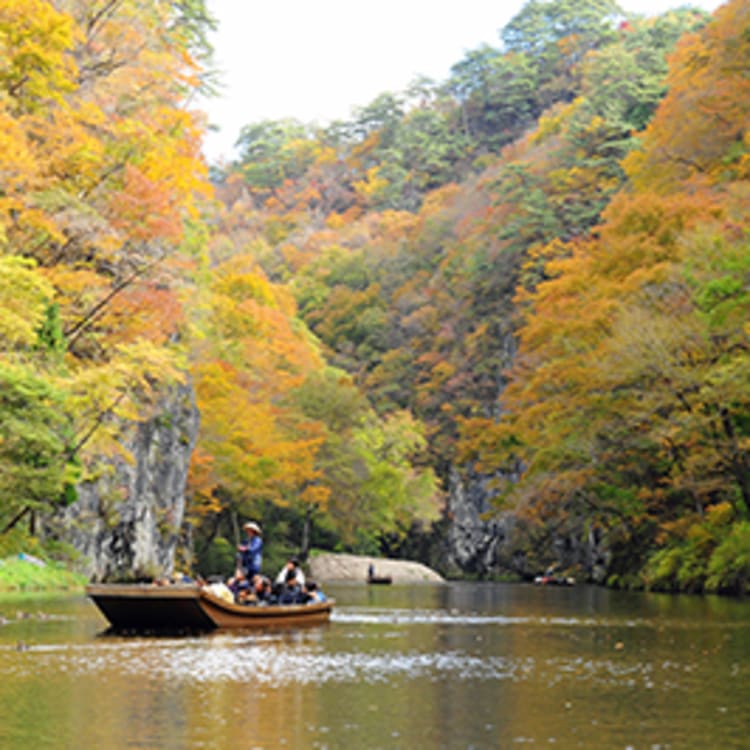 STORY
Family Boat Ride
by JNTO Family on 21 September 2018
Apart from the many wonderful historical cities in Japan that are great for sightseeing with the family, you may also want check out some of Japan's natural wonders by boat. While some boats glide through picturesque gorges, others paddle along scenic rivers where you can watch traditional fishermen catch fish using cormorants, or take you out to sea to skim across whirlpools. To add to the experience, local meals can also be enjoyed during some of these slow-paced cruises.
Scenic boat ride in Geibikei Gorge
The scenic Geibikei is a spectacular gorge in Iwate Prefecture featuring impressively tall cliffs and rock formations lining along the Satetsu River. Families can enjoy this scenery on a 90-minute (return) slow ride on board a flat-bottomed boat – when passengers sit on the floor of the boat – navigated by a punting boatman or woman.
During the ride, you can enjoy the performance of a local folk song called Geibi Oiwake. At the turnaround point, you can leave the boat for about 20 minutes to explore the gorge. Over there, you can see rock formations like shishigahana (lion's snout) or feed the carps and ducks living within the gorge.
You can also buy lucky stones called undama –, representing destiny, longevity, fortune, connections, wishes, romance, love, bonds, income, and assets. Buy five for 100 yen, and try to toss them into a 'wishing hole' across the river for a bit of family competition.
While the trip can be done all year-round, autumn (mid October to early November) is most recommended as the foilage paints the entire gorge in brilliant shades of yellow and red. You can also arrange for food on board, ranging from grilled ayu (sweetfish) to colourful bento boxes. In winter (November to March), you can float along the river under a heated kotatsu-style low table while dining on Kinagashi Nabe, a local hotpot dish with pork and chicken simmered in miso broth.
Price: 1,600 yen (adult); 860 yen (children 6-12 years old); 200 yen (children 3-5 years old)
Distance/duration: 1km / 90 minutes
Timing: 8.30am - 4.30pm (roughly once an hour, with less departures in winter)
Season: Year round (in winter they operate kotatsu boats which are heated blankets with low tables). Food charged separately; advanced reservation required.
Departs from: Geibi Wharf, Hiraizumi, Iwate Prefecture
Website: http://www.geibikei.co.jp/en/
Ride on rapids along the Hozugawa
The fast-moving Hozugawa is a historic river route that flows from Kameoka City to Arashiyama in Kyoto Prefecture, running through the Hozu-kyo Ravine which is dotted with scenic rock formations. The Hozugawa was once a thriving water highway that transported wood and goods to Kyoto hundreds of years ago using bamboo rafts.
Today, families can take a ride downriver on the Hozugawa Kawakudari to experience the minor rapids and refreshing river spray in wooden boats – seated on the floor of the boat – punted by boatmen. The exciting 16km, 2-hour journey takes you past interesting rock formations, mountain views, fishing beaches, waterfalls, and shrines as you are punted over rapids and deep pools. Parts of the river hide gigantic carps and endemic frogs that can be spotted by the keen-eyed.
The landing site at Arashiyama is a pleasant historic district – visited by nobles since the Heian Period (794-1185) – which is popular during the fall colour season. The area is particularly beautiful in December during the Hanatoro illumination, when lanterns line the streets and its famous bamboo groves.
Price: 4,100 yen (adult); 2,790 yen (children 4-12 years old)
Distance/duration: 16km / 2 hours
Timing: 9am - 3.30pm (roughly once an hour, with less departures in winter)
Season: Year round. In winter there is a heater on the boat.
Departs from: Hozugawa, Kameoka, Kyoto Prefecture
Website: https://www.hozugawakudari.jp/en
Witness the cormorant fishing tradition
For a bit of history and action, you can witness the Nagara River Ukai (fishing with cormorants) which is a cultural asset in Gifu Prefecture with a history dating back over 1,300 years. This traditional activity takes place at night when the usho (cormorant fishing master) and his u (cormorant) fish for ayu (sweetfish), illuminated by the flames of kagari-bi (fire lanterns).
Today there are only six registered usho left, who catch fish from an ubune (cormorant fishing boat) with the help of a nakanori (assistant) and tomonori (helmsman), along with 10-12 cormorants. Trained for 2-3 years, the birds are well taken-care of by the usho. The traditional tools and uniform used by the usho include a mune-ate (a fireproof vest), koshi-mino (a straw apron), and ashi-naka – half sized straw sandals with the heel exposed to prevent slipping on boat decks slick with fish oil.
Held every night from May 11 through October 15, Mt Kinka and lofty Gifu Castle on its summit provide a dramatic backdrop to the fiery scene. You can hop on tour boats to watch the spectacle or arrange for dinner cruises via some hotels along the river.
The ukai typically begins around 7.30pm, when your boat follows the ubune down the river. The so-garami (final chase) is the climax of an ukai, when all six boats form a line to chase the ayu to the shallow end. The usho will then call out with 'ho-ho' and tap the boats to encourage the cormorants.
The ayu caught by cormorants, which bear beak marks, are called u'ayu – these prized delicacies can be sampled at some of the hotels along the river.
Price: 3,100-3,400 yen (adult); 1,700 yen (children 3-12 years old)
Distance/duration: about 1 hour
Timing: 6.15pm, 6.45pm, 7.15pm
Season: May 11 to October 15 (closed on Harvest Moon day)
Departs from: Minato-machi, Gifu City, Gifu Prefecture
Website: https://www.gifucvb.or.jp/en/
Skim across a whirlpool
Take a trip down to the Seto Inland Sea where the complex pattern of islands create strong tidal currents and dramatic whirlpools. The Kurushima Strait is one of the 3 fastest tidal currents in Japan, creating a number of huge vortices over 10m in diameter called Hachiman-Uzu.
You can take a Kurushima Strait boat tour that takes you right into one of the rapid currents, where you can truly experience the power of the ocean. The currents made sailing around the islands difficult in the old days, but the Edo-era Murakami pirates dominated the entire area thanks to their skilled navigation. Today, you can see ruins of castles they built on islands dotted around the Seto Inland Sea, like Oshima and Kurushima. The boat tour also drops in on Hashihama Port, one of Japan's largest shipyards where ships are built and repaired.
This boat trip is a great way to view the bridges of the Shimanami Kaido from below – especially the Kurushima-Kaikyo Bridge, the longest of the bridges at 4km that towers 184m above the water to allow massive ships to pass under it easily.
Price: 1,500 yen (adult); 1,000 yen (children 6-12 years old); One infant (up to 5 years old) free with one adult passenger (1,000 yen for additional infant)
Distance/duration: 50 minutes
Timing: 9am - 4pm (departure is based on the tidal currents)
Season: March to November; December to February via reservations only for more than 5 pax
Departs from: Yoshiumi Iki-ikikan, Oshima Island, Ehime Prefecture
Website: www.imabari-shimanami.jp