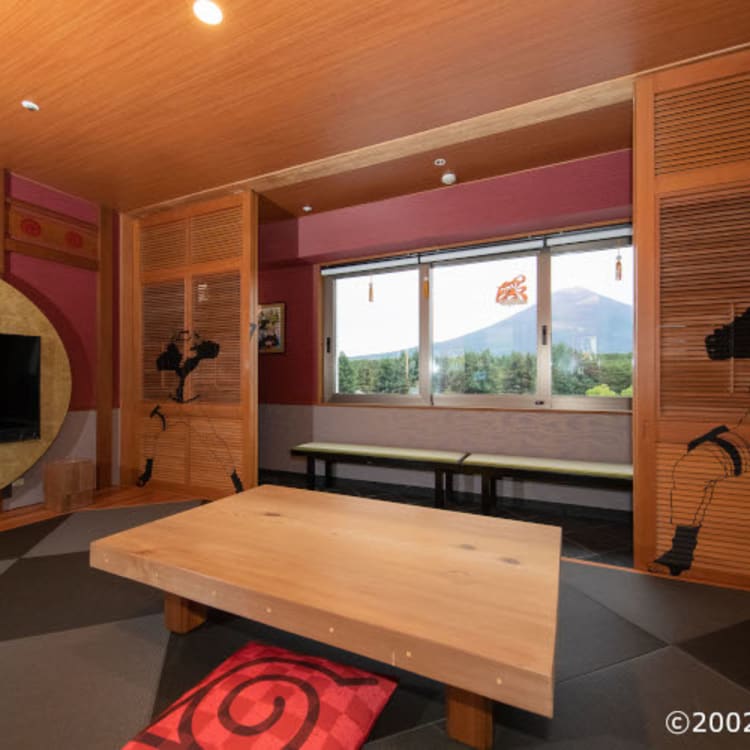 STORY
Fun for All! Anime Characters Themed Hotels for Adults and Kids
by JNTO on 11 November 2020
In Japan, there are many hotels featuring characters from anime and manga; while some may be too kids-oriented for your taste. This time, we would like to show you a few special themed hotels suitable for both adults and kids!
Try ninja training in the Naruto-themed Japanese Ninja Suite Room 
Guests receive a Training Procedure at the reception desk, and have to solve a puzzle before entering the room. The generously-sized suite comprises the "Yo no Ma" living area, with breathtaking views of Mt. Fuji and decorated in bright, sun motifs characterised by Naruto's Yang Release. Separated by a shoji sliding door, the "In no Ma" bedroom, in contrast, is decorated with moon motifs of the Yin Release of Sasuke (Naruto's rival). If you complete the challenges in the room, you will be recognized as a ninja with a Shinobi Certificate!
Even the bathroom area – with separate toilet, bath, and sink areas – is decorated with prints of various other characters, including those of Kakashi and Pakkun. Another point to note is that original items such as the specially-made yukata featuring emblems of Akatsuki and Hokage, kunai-shaped combs, Naruto-themed face towels, and a pouch with the headband design are included as part of the room package! Guests also have access to the hotel's hot spring baths, making it a great end to a fun-filled day at Fuji-Q!
Fuji-Q Highland Resort Hotel & Spa
Reservation information:
https://bit.ly/35eTYEq
Japanese Ninja Suite NARUTO is by online reservation only
Address: 5-6-1, Shinnishihara, Fujiyoshida City, Yamanashi Prefecture
Access: By railway & bus, take Fujikyuko line (heading for Lake Kawaguchi) at Chuo line Otsuki station, the train ride takes about 45 minutes, then get off at Fujikyuko Fujisan station. After which, catch a taxi ride of approximately 5 minutes or a free shuttle bus ride of around 25 minutes
By rental car, right at Kawaguchiko (Lake Kawaguchi) or Fujiyoshida IC interchange
Lovely time at an authentic observatory hot spring - "Kuma Aso Room" of Aso Plaza Hotel
Open the door of the "Kumamon Room" of Aso Plaza Hotel located in Aso Uchinomaki Onsen which is the sightseeing hot spot in Kyushu, and receive the warm welcome by Kumamon!
Three Kumamons sit at the table in a room filled with Kumamon prints; on the door, the amenities, any corner your eyes can spot, you can see the joyful Kumamon. Open the window and you can see the five mountains of Aso while being embraced by the lovely Kumamons.
Also, do not miss the two natural hot springs in the hotel. Both the outdoor bath and public bath come with breathtaking views of the surreal nature, in addition to the outdoor spas with garden views, rental private baths, and corner baths. "Takeyukuhai" that has a dynamic view of the Aso five mountains, and "Hobonoyu" which offers a tasteful view of a Japanese garden are especially must-try!
Aso Plaza Hotel
Address: 1287, Uchinomaki, Aso City, Kumamoto
Access: [Railway & bus] take the Kyushu Odan Bus at JR Kumamoto station, which takes approximately 1 hr 40 mins. Or, take Aso express at Fukuoka bus terminal, and the trip takes around 3 hours. [Rental car] Approximately 1 hr 20 mins from Kumamoto IC interchange through national route number 57.
Enjoy hot spring at the "Hello Kitty Room" of Hotel & Resorts BEPPUWAN
There are three rooms featuring Hello Kitty in Hotel & Resorts BEPPUWAN in Beppu.
The first one is "Resort Kitty Room", with theme of deep sea and heart-calming interior, in which guests can enjoy taking selfies with the iconic ribbon on the head of Hello Kitty. Surely, the rooms are not only for kids! The hotel also offers a good outdoor hot spring "Hinode onsen" (literally "sunrise hot spring") with a breathtaking view of Beppu Bay.
The second is "Grande Kitty Room" on the top floor with pink and luxury as the key elements of its design.
The third one is a lovely and cozy "Hello Kitty Room" for families.
The ladies-exclusive Rose Bath, an outdoor hot spring with colourful petals floating on the clear hot water and spirit-soothing fragrance, is also something you should never miss. The hotel also offers Hello Kitty Dream Dinner accommodation package for you to create your own Instagrammable and memorable experience.
 
Hotel & Resorts BEPPUWAN
Address: 1825, Hiramichi, Hiji-machi, Hayami-gun, Oita
Access: [Railway & bus] free shuttle bus from JR Beppu station (east exit) or Bungotoyooka station. Alternatively, take JR Nippo main line at JR Beppu station, get off at JR Kamegawa station and take a 5-minutes taxi ride.
[Rental car] At Kogura Higashi IC interchange, head to Hokudaidoro (via Nakatsu, Usa / a part of national route number 10) for approximately 1 hr 30 mins, then around 10 minutes from Hayami IC interchange.