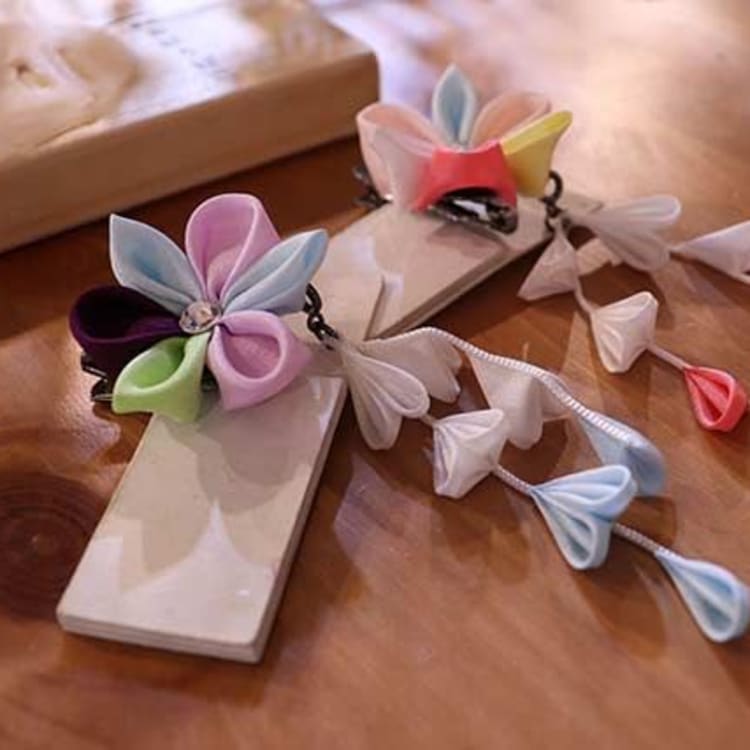 Story
Get hands-on with unique flower crafts in Japan
by JNTO on 26 March 2020
There is something authentic about handmade gifts, and even more special when it is made by yourself. All across Japan, flower-themed craft workshops allow you to not only appreciate each area's traditional craftsmanship, they also let you experience first-hand the skill and passion of Japanese artisans. These personal flower-based souvenirs will leave an imprint of your time in Japan that is more enduring than a simple Instagram picture. 
Ikebana Workshop at Ami Kyoto
Kyoto is famous for its streets lined with traditional machiya, which are traditional wooden townhouses that were popular with merchants and craftspeople dating back to the Edo period. While some machiya continue to be residences today, many of them have been converted into restaurants, shops, and craft houses.
Step inside a traditional machiya at Ami – a perfect setting to learn one of Japan's most famous art forms: ikebana. Meaning 'living flowers', ikebana focuses on minimalism and asymmetry. Here, you can learn how to make sense of the flowers, container, and the space around them, and create beautiful arrangements according to the season. You can partake in either the Demonstration Course, where the instructor will demonstrate the basic concepts, or the Hands-on Course where you can get creative with your own arrangement with help from the instructor.
373-26 Horiike-cho, Higashiyama-ku, Kyoto
Hands-on Course: 5,000 yen/person
Demonstration Course: 3,000 yen/person
Website: https://www.whattodoinkyoto.com/
Oharibako
Kyoto is Japan's spiritual heart, home to atmospheric temples, traditional teahouses, and sublime gardens. It is where geisha and maiko still go about their daily business, preserving yet another form of traditional culture.  
Situated near the famous Daitokuji Temple is Oharibako, an accessory shop nestled amidst a row of Kyoto's symbolic machiya townhouses, offering workshops in kanzashi which are ornamental hairpins traditionally worn to accompany kimonos. Try your hand at making your own tsumami-zaiku kanzashi using quality silk that is found in ornaments worn by real maiko. The workshop will teach you the art of tsumami-zaiku (literally 'pinching art') where you pinch the pieces of cloth – with fingers and tweezers – into shapes of flowers, then finally glue your handiwork onto a hairpin of your choice. 
25 Murasakino Shimomonzencho Kita-ku, Kyoto-shi, Kyoto
3,000 yen/person (before tax); apply via the form on the website
Daily: 10am - 7pm; Closed on Wednesdays and New Year holidays
Website: https://www.oharibako.com/workshop_en/
Nitta Textile Arts
Yonezawa is known for its bucolic setting once ruled by a powerful samurai clan. It is famous for the highly-prized Yonezawa beef, and still retains its rich history – it is particularly renowned for traditional cloth weaving, thanks to the continuous cultivation of benibana (safflower). Today, the humble flower is still painstakingly processed by hand to create an extravagant, expensive red dye that was traditionally used to colour the robes of nobles, and paint the lips of geisha. 
Located a 10-minute walk from Yonezawa Castle, Nitta is a samurai-class family that has continued the tradition of safflower-dyeing for five generations. Housed in a traditional residence which retains an air of grandeur, their workshop offers safflower-dyeing classes where you can design and dye your own handkerchief to bring home with you as a special souvenir. 
2-3-36 Matsugasaki, Yonezawa-shi, Yamagata
Handkerchief Dyeing: 1,100 yen/person (by prior reservation only)
Website: https://nitta-yonezawa.com/en/
M*cheri
Yokohama is Japan's second largest city, located less than half an hour from Tokyo by train. 
In addition to popular landmarks like Chinatown and the waterfront, the city also boasts a burgeoning contemporary art scene. From Koganecho to Minato Mirai, the city's creative environment makes it an inspirational destination. 
Get creative with your own hands a popular flower-based craft known as 'rejeflower' (a combination of 'resin' and 'jewellery'), the art of designing flower art preserved within UV-set resin. 
Try your hand at making your very own rejeflower accessory using fresh seasonal flowers at M*Cheri, which offers lessons incorporating rejeflower art into items like earrings and mobile phone cases. Materials and refreshments are provided, and you can bring home your creation on the same day. 
Walking distance from Myorenji Station, Yokohama
Earring making: 3,600 yen/person; 120-150 mins
Double-side mirror making: 3,800 yen/person; 120-150 mins
Mobile phone case making: 3,000 yen/person for 120 mins; 500 yen/phone case
Opening hours based on classes
Website: https://m-cheri-flower.com/ (Japanese)
Email: m.cheri.flower@gmail.com
(Class registration and relevant enquiry can be done via email as English support is available)