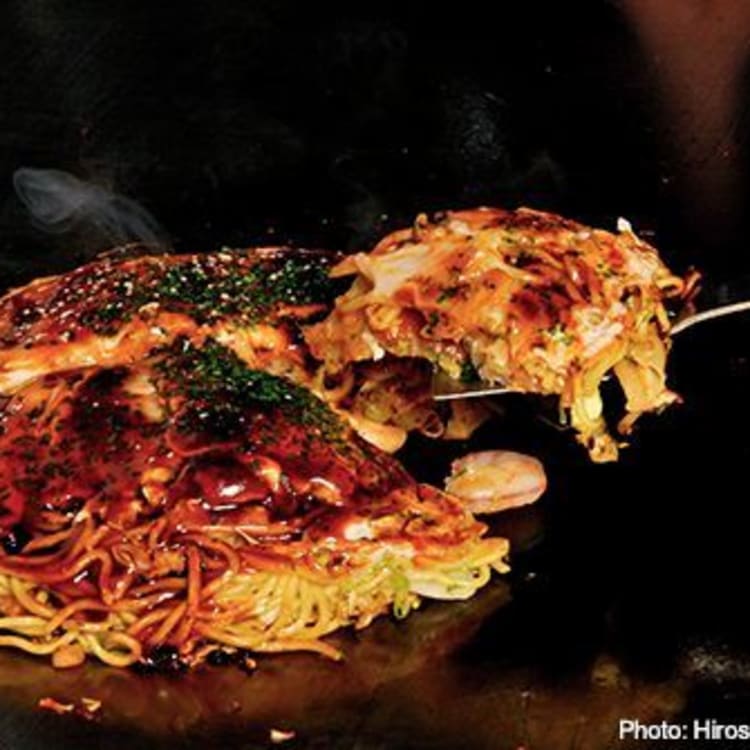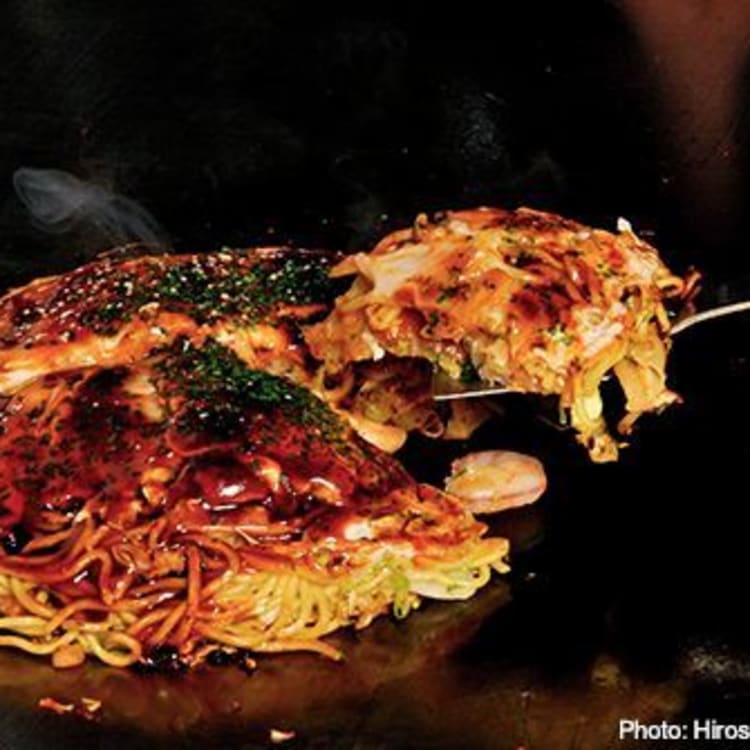 STORY
The (Good-Natured) Battle of Okonomiyaki: Osaka vs. Hiroshima
by JNTO on 01 February 2019
One of Japan's most famous delicacies is okonomiyaki, known as "Japanese pizza", which is a savoury Japanese pancake containing a variety of ingredients that differs by region. The name okonomiyaki comes from two words – "okonomi" (meaning "whatever you like") and "yaki" (meaning "grilled") – which implies a mix of any ingredients grilled on a special griddle.
The main ingredients are cabbage, flour, egg and meat or seafood, cooked on a hot griddle in front of customers and topped with a special sauce and bonito flakes. A small metal spatula is often provided to each diner to divide it up easily, since it's often a dish to be shared.
While many people may be familiar with Osaka-style okonomiyaki, its rival version in Hiroshima is not one to be missed.
Osaka vs. Hiroshima Okonomiyaki
In Osaka-style okonomiyaki, the ingredients in the batter – including grated Japanese yam and shredded cabbages – are mixed together in a bowl and then poured directly onto the hot griddle like a pancake. The additional seafood (like squid) or meat toppings are also added into the mix. While the dish may be prepared right in front of you by the chef, there is an option that you can experience to cook your own okonomiyaki at most restaurants.
In Hiroshima, the okonomiyaki ingredients include soba (or udon) noodles as well as fried egg. Unlike in Osaka, the ingredients are not all mixed together – cooking a Hiroshima-style okonomiyaki involves layering of ingredients; first the batter, then the noodles, and then the toppings, which are piled high at the beginning and then flipped frequently while cooking. The final result resembles something of a noodle pancake. Because it's more tricky to cook, it is more common in Hiroshima for professionals to prepare your meal rather than cooking it yourself.
No matter which version, the dish is always topped with a special okonomiyaki sauce which is a sweet-savoury brown sauce; other toppings include mayonnaise, seaweed powder, and bonito flakes.
Eating Okonomiyaki in Hiroshima
There are more than 800 restaurants serving the local version of okonomiyaki in Hiroshima, most of them are small with about a dozen or so counter seats. The Shintenchi district in downtown Hiroshima is where this dish originated from in the mid-20th century, and still has plenty of small okonomiyaki restaurants dotted around the area today. Some, like Shintenchi Mitchan offer English menus.
Shintenchi is also home to Okonomimura, an entire building dedicated to serving many varieties of Hiroshima-style okonomiyaki that you won't find in other parts of Japan. This four-storey building has a bustling atmosphere with over 20 counter-seat okonomiyaki stalls to choose from, each with a unique dish or atmosphere. For example, Sarashina offers okonomiyaki with skipjack and vinegar-soaked shredded kelp, and Kaeruttei's okonomiyaki uses no lard. Many of them have English menus, and prices start from around ¥800 for a basic okonomiyaki with noodles, egg, and meat.
If you prefer to dine in a bigger restaurant with table seating, head to Nagata-ya which has a classic Showa-style interior. Their basic okonomiyaki (¥700) contains cabbage, bean sprouts, pork, fried egg, and noodles which are cooked with pork bone broth for extra flavour. Other items in their menu include Original (¥1,350) which contains squid and shrimp, as well as Oyster (¥1,500) which is a Hiroshima specialty. There are also many vegetarian options, and you can pair your meal with local Hiroshima sake.
Okonomiyaki was a staple during the 40s and 50s, and made with whatever ingredients were available; today, this humble dish is a great representative of Japan's creativity with food, and makes a great dish to share with friends and family. Whether it is Osaka or Hiroshima-style, the rivalry remains good-natured since each is tasty in their own way. While in Hiroshima, sitting down at a counter and watching your food being prepared is a great way to enjoy the city's favourite comfort food.