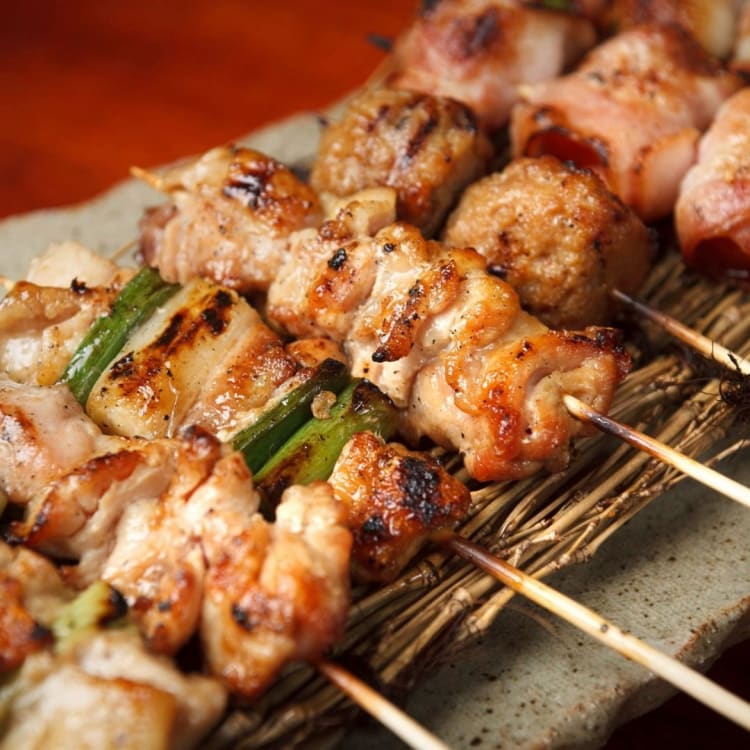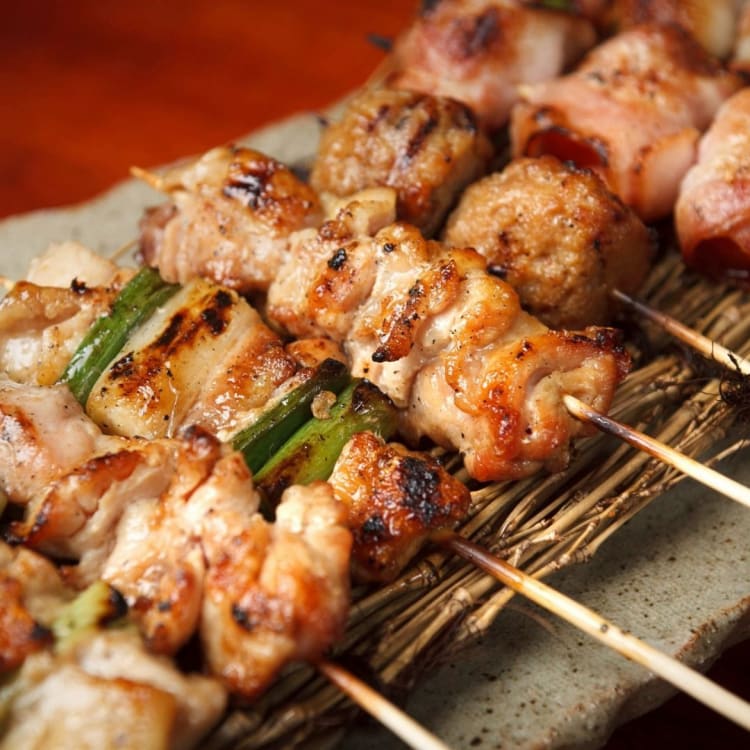 STORY
From a Classic Dish in Izakaya Bars to a High-end Course Meal at Ginza! A Thorough Introduction to the Tempting Gourmet - Yakitori
by JNTO on 06 September 2019
When taking about Japanese cuisine, Wagyu is definitely a hot pick while Yakitori is also popular as a finger food especially paired with alcohol. The skewered dish is usually associated with a modest image as a classic dish in izakaya bars while it also appears in the luxury course meals even as chicken specialties in Ginza. This time, we would like to give a thorough introduction to yakitori, a soul food that can be found in the streets and even in high-end restaurants!

Photo by Fukuoka City
What is Yakitori?
Yakitori is a Japanese food whereby chicken and vegetables are cut into one-bite size, skewered and charcoal-grilled. The meat is typically seasoned with refreshing salt or tare sauce (a kind of sweetened soy sauce base). The two seasonings can match with different ingredients. Innards usually taste better with tare sauce. There are plenty of choices, such as gizzard (the organ found in the digesting tract of chicken), tsukune (meatballs), chewy and tasteful chicken skin , cartilage (the soft but crunchy soft joints), liver (also a kind of innard), and negima (chicken breast meat and green onion), etc.

You can directly, rapaciously devoured the meat without using chopsticks. Put the finished skewers into the skewer stand at your table if there were any.
Not Only in Izakaya Bars and Yakitori Stalls during Festivals but even in High-end Restaurants!

It is a common dish in Japanese bars; and it is usually enjoyed as a finger food with alcohol. The food appears also in chicken specialties as a perfect match with beers. You can also see the delicious skewer in stalls in summer festivals, as grasp-and-go in convenience stores, as easy food at supermarkets, etc. It usually comes at around JPY150 per skewer as an unpretentious taste for everyone. In Japan, there are also skewer specialties that grill and serve one after another at counter bars in a decent manner. This kind of bars often serve the food in course meals.
Going Luxury at Ginza- Enjoying Yakitori with Wine and Champagne in Famous restaurants in Gourmet Guides!

In Ginza, there is a huge number of high-end yakitori specialty restaurants which are unique in their own ways. For instance, "Bird Land Ginza" make use of chicken called "Okukuji Shamo"; a premium muscular, meaty chicken with no excessive fats giving a crunchy and chewy texture. The skewers are carefully handled and prepared by experts, in order to dish out outstanding tastes to satisfy your taste buds.
On the other hand, "Ginza Toriyakou" serves Hinarijitori chicken in course meals and oyako rice bowls (simmered chicken and egg on rice) to you at its elegant and swanky counter bar seats. "Toriko Ginza" would be another brilliant choice at where you can savour yakitori with the wine selected by sommeliers. There are certainly numerous luxurious options besides having the finger-licking skewer in common bars.