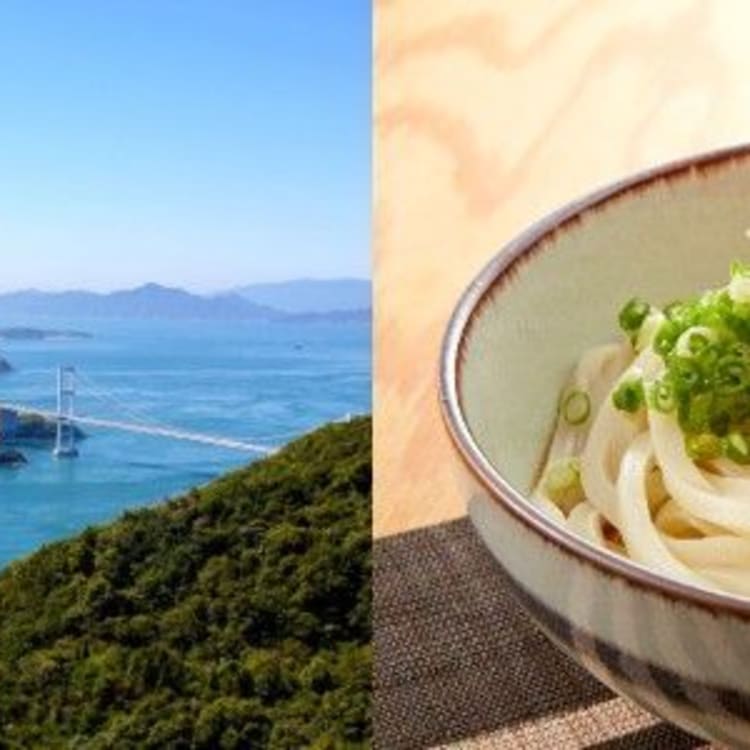 STORY
The Hidden Gems in Shikoku
by JNTO on 26 August 2019
When speaking of Japan, big cities like Tokyo usually come to mind before the lesser-known areas such as Shikoku. Shikoku, which means "four provinces" in Japanese, lives true to its name and comprises four prefectures: Ehime, Kagawa, Kochi and Tokushima.
Ehime prefecture is located in the north west of Shikoku. There, you can find Dogo Onsen, one of the oldest hot springs in Japan.
Kagawa prefecture is located in the north east of the Shikoku Island. It is also known as the "Udon Prefecture" for its udon noodles and noodle culture.
Kochi prefecture takes up most of the Southern part of Shikoku. Blessed with nature and clear water, you can get your hands on fresh and delicious seafood here.
Tokushima prefecture is located in the Eastern side of Shikoku. It is filled with attractions surrounded by Mother Nature.
Filled with Amazing Spots and Cultural Events!
Tokushima Prefecture
Awa Dance Festival (Awa Odori)

Awa Odori is a huge festival in Tokushima and the name "Awa Odori" reflects so. "Awa" is the former name for Tokushima prefecture while "Odori" means dance. Awa Odori is one of the largest dance festivals in Japan during the Obon season. The performers dance through the streets along with traditional instruments and props. It is worth to note that women and men wear different costumes, and the dance steps differ as well. Women usually wear Yukata (cotton robes) while men wear Happi (shorter version of Yukata) over pants or shorts.
There are multiple groups also known as ren that perform in this festival including famous people, companies and students. Each of these groups adds their own unique dances to the festival.
Akashi Strait Bridge (Akashi Kaikyo Bridge)
Not only is this the world's longest suspension bridge, but it is also one of the three motorways which provides a major link from Shikoku to Honshu. This seemingly endless bridge has over a thousand of illumination lights. With the colours of red, green and blue, combinations of patterns can be seen, and some are only used for special occasions.
The Naruto Whirlpools (Naruto no Uzushio)
Yes, you read that right! The name may ring a bell with some, but it has a meaning to it.
"Naruto Uzumaki" means whirlpool. This would resonate with you if you are fans of the anime Naruto. It is recommended to see the whirlpools on days when they become visibly big. You can see the whirlpools from sightseeing boats or through a high vantage point where you can see them through glass windows.
Whirlpool Sightseeing Boats
Address: 264-1 Oge, Tosadomariura, Naruto-cho, Naruto-shi, Tokushima
Access: Take the fixed route bus from JR Tokushima Station or Naruto Station bound for Naruto Park and alight at the Naruto Sight Seeing Port. Walk for less than a minute to reach the whirlpool sightseeing boat cruise. (Naruto Kanko Kisen)
Business Hours: 8:00 a.m. – 5:00 p.m. (Office)
※Boat schedule is subject to change. Depending on the weather, there are days when you cannot see the whirlpools. Please refer to official website of boat tour agencies for further details.
A lot of Hideaway Instagrammable Spots Kagawa Prefecture The magical beach, Chichibugahama
Kagawa Prefecture is also known as the "Udon Prefecture" for a perfect reason- their Sanuki Udon is a local favourite! It is also where Naoshima, the island of art is at. They are all Instagram worthy, but the salt pan Salar de Uyuni of Kagawa, the Chichibugahama beach might take the cake. There are ways to take that Instagram-perfect photo under all weather conditions.
When there is no wind nor tide, you can take a dune-like photo. During low tides, you can make full use of the puddles around the mudflat in the constructions of your images. The calm waters give you the opportunity to capture that clean reflection. In the evening, about 30 minutes before and after sunset, the sky glows in orange, creating a different feeling!
Chichibugahama
Address: 203-2 Nio Otsu, Nio-cho, Mitoyo, Kagawa
Access: Ride the bus (Nio Line) from JR Takuma Station and alight at Chichibugahama
※Mitoyo Community Buses do not run on Sundays and holidays.
The Prefecture of Sceneries and Delicious local Cuisines Kochi Prefecture The Shimanto River
What Kochi offers for scenery is the Shimanto River (Shimantogawa) - the longest river in Shikoku.
Located in the west of Kochi, the river originates from Mt. Irazuyama and flows through Nakatosa town and Shimanto town.
Shimanto River is divided into "upstream", "mid-stream" and "downstream". The "upstream" is the part with the greatest water flow stemmed from the mountain streams and branches in the basin. You can find Tarogawa Park for hot springs and fishing from spring to summer.
The "mid-stream" also has a massive water flow and a relatively greater width. You can enjoy activities such as canoeing or boat rides while having views of great sceneries of nature and the clear water.
The "downstream" is where the Shimanto City is. As it gets closer to the mouth of the river, the waterflow gets calmer. There is a dragonfly nature park which is considered to be one of the main highlights of this area.
The Sinking Bridge (Chinkabashi)
The bridge looks very different in different tides. There are no handrails on this bridge for protection, as the bridge, right from when it was built, was expected to be completely covered by water when the water flow increases sufficiently. It was believed that the handrails and other components may make the bridge less durable in floods.
The Sinking Bridge closest to the downstream of the river is Sada (Imanari). There are other bridges along the Shimanto River and whichever bridge you would choose to walk on, you can feel the bonding between human and nature while being immersed in the deep nature.
Address: Sada, Shimanto-shi, Kochi
Access: 20 minutes by car from Tosa Kuroshio Railway Nakamura Station
Local Gourmet is amazing too! Seared Bonito (Katsuo no Tataki) and Shimanto Eel
One of Kochi's most famous dishes is the Seared Bonito (Katsuo no Tataki). With the unique special seasoning and preparation, it could possibly be the food that represents the locals of Kochi and could give tourists a new taste to Bonito. The Shimanto River was once home to the eels. Currently, they are managed before being prepared in special recipes. They are just as delicious and famous as natural eels!