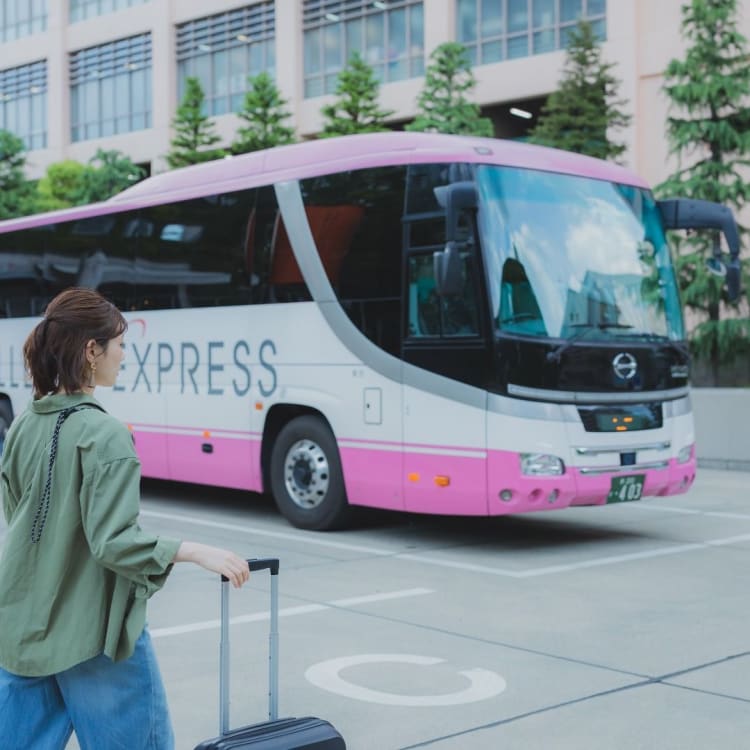 STORY
​Highway Buses from Tokyo- The Best Travel Hack to Save You Money
by JNTO on 27 November 2019
Including some outskirt cities to enjoy is key when planning a trip to Tokyo. You do not want to limit yourself to only the capital city or the Kanto area, but travelling by shinkansen (bullet train) and airplanes can cost quite a lot. Then, what you need is the highway buses to help you to discover the best time and places to visit especially when you are on a tighter budget.
Attraction Highway Buses- an Easier, Cheaper Way than Planes and Railways
The top-rated appealing point of highway bus is the relatively lower cost.
Despite the comparatively longer travelling time when travelling by these buses as compared with that when taking planes and trains, highway buses are certainly the cheaper alternatives. For instance, it costs about 10,000 to 15,000 yen to travel from Tokyo to Osaka by plane (Haneda – Kansai International Airport, approximately 1.5 hours); around 14,000 yen by the shinkansen (Tokyo – Shin Osaka station, approximately 2.5 hours). However, highway buses cost only about 5,000 yen (Shinjuku – Osaka Umeda, approximately 9.5 hours). Other hassles that you encounter when travelling by plane or shinkansen, you need to arrive at the airport early for checking in; walk and wait through gates and platforms- such situations happen if you are to take a bus. Isn't it a good thing to reduce such time loss when traveling?
Comfortable Bus Travel from Tokyo to Various Cities for Hot Spring, Fruit-Picking, and Amusement Parks!
When talking about highway buses, there are plenty of choices managed by various companies, while this time, one of which is "WILLER Travel". Surely it has bus routes connecting major big cities like Tokyo, Osaka, and Nagoya, it also gets you to amusement parks like Tokyo Disney Resort, Universal Studio Japan, and Fuji-Q Highland.
Buses depart from Shinjuku, Shibuya, Tokyo Station, Ginza, Ikebukuro, etc. As for Keio buses, there are routes for tourists like the "Shinjuku-Fujigoko line" running through Shinjuku and Mount Fuji 5-gome, a "Shinjuku-Kofu line" bringing you to Katsunuma and Isawa for fruit-picking spots, and "Shibuya-Karuizawa/Kusatsu line" getting you to Karuizawa and Kusatsu hot spring resort!
"Joshu Yumeguri" & "Tokyo Yumeguri" for Hot Spring Lovers
Bus routes "Joshu Yumeguri" and "Tokyo Yumeguri" are operated by JR Bus. Joshu refers to the Gunma prefecture, and "Joshu Yumeguri" brings you to the hot spring resorts in Gunma. With the buses, you can gain direct access to Kusatsu and Ikaho hot spring resorts with just half the price of shinkansen tickets! "Joshu Yumeguri" departs from Shinjuku Expressway Bus Terminal through Nerima and some other stops to Shibukawa station and Ikaho onsen.
The final stop is the nice foot massage ashiyu at Kusatsu bus terminal. It takes around 2.5 hours from Shinjuku to Ikaho Onsen, and around 4 hours to Kusatsu Onsen. "Tokyo Yumeguri", on the other hand, departs from the Yaesu exit of Tokyo station with no stopping at the bus terminal in Shinjuku or Ikaho, runs directly to Kusatsu Onsen in 4 hours.
Check Out These Bus Routes to Popular Outlet Malls!
The convenient buses also take you to outlet malls in outskirt areas including Gotemba Premium Outlet Mall and Mitsui Outlet Park Kisarazu. The Keikyu bus runs from Shinagawa station to Gotemba Premium Outline and takes about 1hr 35mins for each trip, and to Mitsui Outlet Park Kisarazu in just 50 minutes. From Shinjuku Expressway Bus Terminal, JR buses and Odakyu Hakone Highway Bus are available and can take you to Gotemba Premium Outlet Mall as well (Gotemba Premium Shinjuku route). If you would like to visit the Karuizawa Prince Shopping Plaza from major spots like Shinjuku, Ikebukuro, you can also hop onto a Seibu bus.