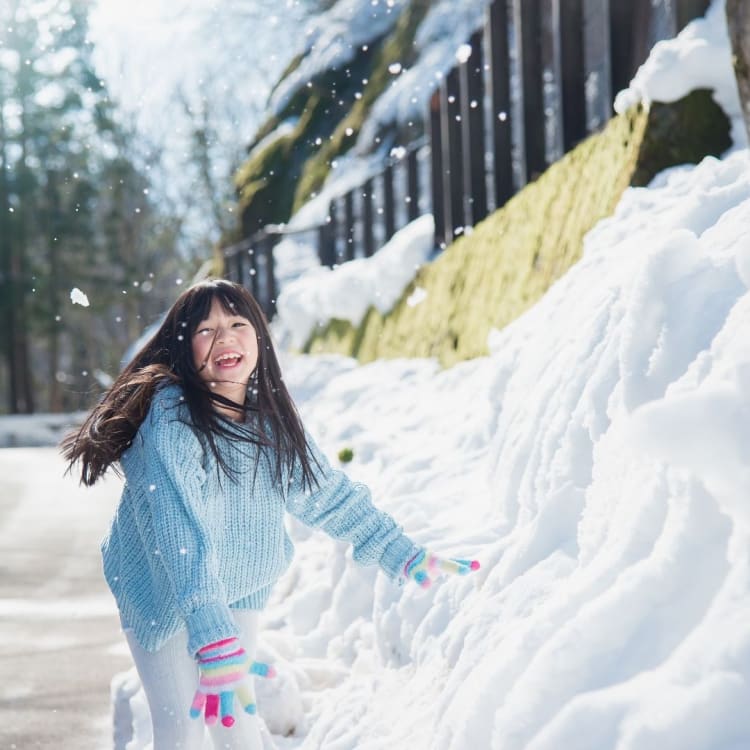 Story
​Hot Springs, Amusement Parks, and Ski Slopes! Enjoy Them All at Once at These Hotels!
by JNTO on 23 January 2020
Visitors to Japan with children may want to stay in areas with vast natural surroundings or those with a more local feel but may worry about the accessibility or rack their brains over what activities their children might enjoy. With such considerations in mind, we created this guide to "all-in-one" hotel accommodations filled with activities for families, such as hot springs, amusement parks, and ski slopes!
How do I get there? What can I do there? - How to Choose the Right Hotel when visiting Japan with Children

Perhaps the most important aspect of choosing a hotel when visiting Japan with children is ease of access from terminal stations. Confirming whether you can walk from the closest station to your accommodations or whether you will have to take additional forms of public transport like buses is also vital. Some hotels and ryokans provide free shuttle buses that will pick up and drop off visitors as well.
The second most important factor is whether the accommodations have sufficient facilities with at least a supermarket or convenience store located nearby. Depending on which hotel you choose, you may have to go to the next town to find somewhere to shop for even necessities. If there is no one nearby, you should try and stock up on diapers, drinks, and snacks while travelling. Confirming the facilities inside the hotel is important too. In a hotel with hot springs, it would be good to confirm whether rooms have private hot springs and if baby chairs are available. Some hotels have special playrooms and nurseries! Please note that some of these facilities require reservations. Make sure to check all the important details beforehand, in order not to disappoint your children.
Amusement Parks, Ski Slopes, Craft Activities, and More!
Rusutsu Resort Hotel & Convention (Hokkaido)
Located a 40-minute bus ride from Hokkaido's Lake Toya Hot Springs is Rusutsu Resort—Hokkaido's largest ski resort. Rusutsu Resort Hotel & Convention is famous for its powdery ski slopes and amusement park with over 60 different attractions.
This ginormous resort hotel has a golf course with 4 courses and 72 holes that every golf enthusiasts from beginners to pros can enjoy. There are also plenty of fun activities parents and children can enjoy on the ski slopes besides just skiing, such as snowmobiling and dogsledding.
Some enjoyable indoor activities for children include candle-making ,and making ice cream and fresh caramels from ingredients harvested in Hokkaido (activity reservations must be made by 5:00 pm of the day before the start of the activity). The hotel also houses Japan's largest glass screen used for projection mapping at 50 metres wide and 13 metres tall.
A limited-time winter programme based on an Ainu story with the theme of Hokkaido's rich natural surroundings will be featured at the hotel until 4 April 2020. The hotel even provides a baby bed and stroller rental, making this location very convenient for parents!
Rusutsu Resort Hotel & Convention
Address:13 Rusutsumura-Izumikawa, Abuta District, Hokkaido
Access: a 40-minute ride on the Donan Bus from Lake Toya Hot Springs Bus Terminal, or board the free bus from Sapporo for Rusutsu Resort (※Reservations required for free bus. Must reserve by 5:00 p.m. the day before.)
The Place for Seasonal Landscapes and for the Children's First Time Playing in the Snow!
Shirakaba Resort Ikenotaira Hotel (Nagano Prefecture)
This gigantic highland resort compound has plenty to offer, from its hotel accommodations, amusement facilities, and ski slopes, to its art museum.In winter, Ikenotaira Snow Park's children's activity area"Pota Snow Land" is the place to be learn about and interact with various animals at the park's petting zoo.
We recommend you try riding the snow racer down the ski slopes, giving you a different experience from usual sledding and skiing!
The lakeside gardens of Lake Shirakaba display dazzling landscapes in every season; visitors can enjoy the greenery of Kurumayama in the summer and the waters of Lake Shirakaba dressed in ice in the winter. And the resort also boasts a giant 182.4-square-metre open-air bath that the whole family can enjoy!
Shirakaba Resort Ikenotaira Hotel
Address: 1596 Ashida-hakkano, Tateshina, Kitasaku District, Nagano
Access: A train ride of about 2 hours and 10 minutes on the limited express from JR Shinjuku Station to Chino Station. From Chino Station, ride the Ikenotaira Hotel shuttle bus and you will arrive in approximately 40 minutes. There is also a bus that goes directly from Shinjuku Station to Ikenotaira Hotel.