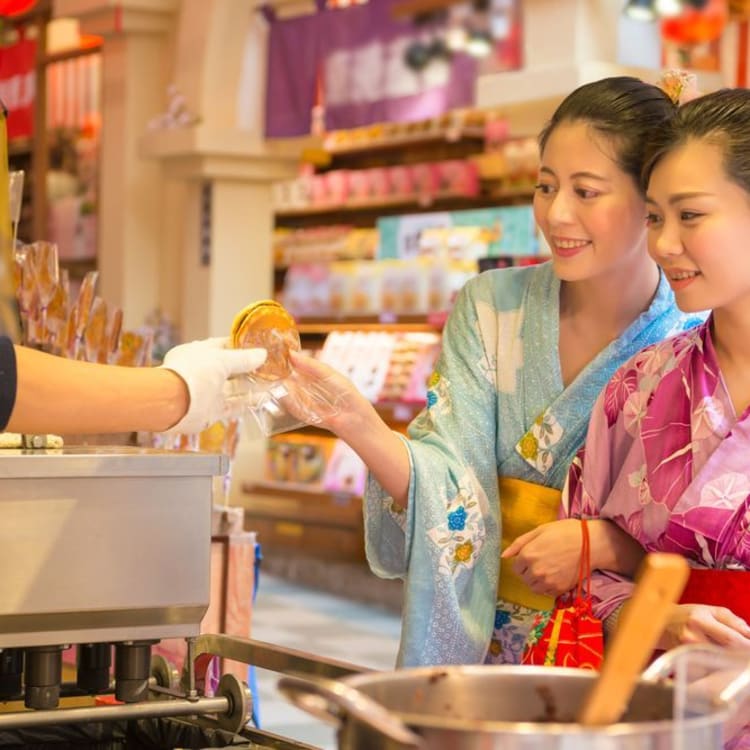 STORY
Instagrammable and Traditional Stalls in Summer Festival – The JapaneseNight Market!
by JNTO on 01 August 2019
Japan's summer may be hot and can hit temperatures of about 40 degrees, but the summer events make this season different in Japan from the rest of the world! One of the all-time favourite summer activities for all Japanese is definitely visiting of the food and game stalls in summer matsuri (festival).
You may have been to night markets in other countries, but do you know that Japanese stalls are equally enchanting with a unique tradition? Every year, there are thousands of festivals held all around Japan, which show how they are popular in the country.
If you are into festive atmosphere, fun games, and delicious street food, it is a must-visit for your next summer trip to Japan!
These traditional festivals with fun stalls are usually held in summertime. This may be a little difficult for visitors to imagine - just picture yourself walking down the aisle surrounded with traditional street food, wearing a traditional yukata when summer breeze blows gently against your hair like what you may have seen in Japanese anime and movies. It is definitely a unique experience!
The highlight– delicious Japanese street food
Never underestimate any temporary food stall or cart at the market; the market becomes heaven for street gourmet lovers. Street foods in Japan are so popular that they are even ranked. If you don't do not have a big appetite to try out all stalls at the market, you can choose a few from the top of the list!
The all-time favourite is definitely Takoyaki; this delightful street snack has undeniably captured hearts of many! Crispy on the outside, soft and chewy on the inside with the traditional tako (octopus) filling. Topped with lots of mayonnaise, delicious sauce, and bonito flakes, these little ball-shaped bites are like umami bombs!
A Twist to traditional snacks!
People love Takoyaki not only for its good taste but also for its convenience. As it is usually served in a package with about 6 to 8 Takoyaki balls, you can share them with your friends and save some space for other snacks! Besides traditional street food such as Yakisoba (Japanese fried noodles), chocolate banana (banana coated with chocolate with colourful sprinkles), and candy apples, there is still a huge number of other trendy and instagrammable snacks.
Japanese are definitely creative when producing new snacks! Taiyaki is a traditional Japanese pastry baked in fish-shaped casting mold, which is normally filled with red bean paste or custard. Recently, however, many variations have appeared such as mochi Taiyaki and croissant Taiyaki. One of the trendiest among them is Taiyaki parfait with ice-cream, fresh fruits, and cream stuffed in the "mouth" of the fish shaped pastry instead. This cute street dessert simply tastes as good as it looks!
Exclusive! Regional snacks
In Japan, as there are different regions and prefectures, you can enjoy exclusive local delights at each local market. Candle Boy is a sausage skewer wrapped with sticky rice. You can find this yummy snack at stalls in Hokkaido and Yamagata. Whereas in Shizuoka prefecture, you can find Sakurabo, literally means sakura stick, which is an 80-centimetre long sakura flavoured choux sandwich with pink cream fillings. It is a must-buy instagrammable snack at markets when you visit them!
Besides snacks, there are also seasonal fruits you can enjoy at the market. One of the popular choices is Kodama suika (mini watermelon) which is available during summer. It is a watermelon in the size of a baby's head and is suitable for eating while walking. The most popular way to eat it is split the watermelon into half and eat it with a spoon, so the melon is like a bowl. Although fresh fruits in Japan may cost you a bit, the taste is definitely promising and satisfying!
Fun games to play at the game stalls!
You can find some of favorite night market games such as shooting games and aiming games at markets in Japan too! In addition, you can play Japanese traditional games such as goldfish scooping. It looks easy, but the special scoop is just made of paper! The tip is to never havethe scoop in water for too long or otherwise it breaks soon!
Besides food and games, you can also get traditional Japanese hand-crafted souvenirs at some markets. For photo lovers, remember to wear a yukata when going to a market. Yukata refers to a summer version of kimono, it is made with light and breathable materials designed especially for summer. Now you are ready to enjoy a complete Japanese stall experience inside out!