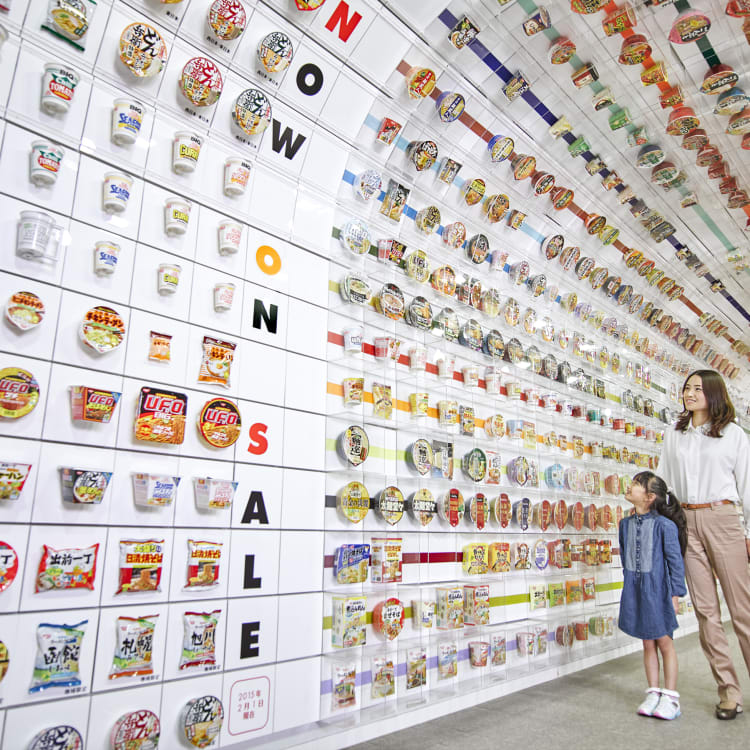 Story
From Japan to the world
By JNTO On 01 September 2021
The story of Nissin CUP NOODLES
Fans of the humble instant noodle would love to get to know Momofuku Ando (1910-2007), as he created the world's first instant noodle called Chicken Ramen back in 1958. When he invented this extremely affordable, instant food source to address the food shortages in Japan right after WWII, it was epoch-making.
Ando's company, Nissin Foods, continued his legacy by enhancing this amazing food, making it even more convenient by creating the iconic CUP NOODLES in 1971. Sold in over 100 countries with record sales for the last 4 years in a row, CUP NOODLES celebrates its 50th anniversary this year on 18 September. 
The birth of instant noodle
The instant noodle idea was created out of the need for an affordable and easy-to-cook sustenance to fuel the development of Japan after WWII. Ando developed the world's first instant noodles in a little shed in his hometown of Ikeda in Osaka Prefecture.
Using the tools in his shed and through a process of trial and error, Ando successfully developed the entire production method of flash-frying the noodles, from noodle-making to steaming, seasoning, and dehydrating in oil heat. Not only were the instant noodles ready to eat in three minutes by adding boiling water, the dried noodle blocks – nicknamed "magic ramen" – had a long shelf life that exceeded that of frozen noodles.
Chicken Ramen became an instant popular sensation when it was released on 25 August 1958.
The invention of CUP NOODLES
By 1971 Ando once again created an iconic food item, the CUP NOODLES ready to eat in just three minutes by cooking it in its own container. The inspiration for that creation came from his trip to the U.S. in 1966 to investigate the possibility of expanding sales of Chicken Ramen overseas.
Ando was inspired by how local supermarket managers ate the Chicken Ramen. First, they broke up the ramen noodle blocks, put them in a cup, and then poured in hot water before eating the noodles with a fork. It was then that Ando realised that making instant ramen into a global food product required another level of convenience. 
Launched on 18 September 1971, CUP NOODLES revolutionised the food industry. The Styrofoam cup combined three functions: a packaging material, a cooking container, and an eating vessel itself. This was made possible by suspending the flash-fried noodles halfway in the upright Styrofoam container so that hot water can circulate thoroughly from below to cook the noodles evenly.
The creation of CUP NOODLES was a culmination of innovative ideas that made Japanese instant ramen a global food. With more than 150 varieties launched so far, including flavours unique to some countries – like Chilli Crab in Singapore, Galinha Caipira in Brazil, and Mazedaar Masala in India – it spurred plenty of similar inspired products in the market today.
Ramen in space
"Pursuing his long-held dream to invent a ramen that can be eaten in space, Momofuku started work on Space Ramen. Along with applying various techniques for eating in weightless environments, Space Ramen is based on the hot oil instant drying method that Momofuku invented in 1958. With Space Ramen, Momofuku's creative thinking transcended the bounds of earth to contribute to creating food that people can eat even in space."
Explore the legacy of Momofuku Ando
With his tireless pursuit of all things innovative, Momofuku Ando embodied the spirit of Nissin as the father of the instant noodle industry. You can learn more about Ando himself, and trace the history of the first Chicken Ramen and the innovations behind CUP NOODLES at the CUP NOODLES MUSEUM. There is one in Yokohama, and another in Ikeda, Osaka where Ando established his first workshop.