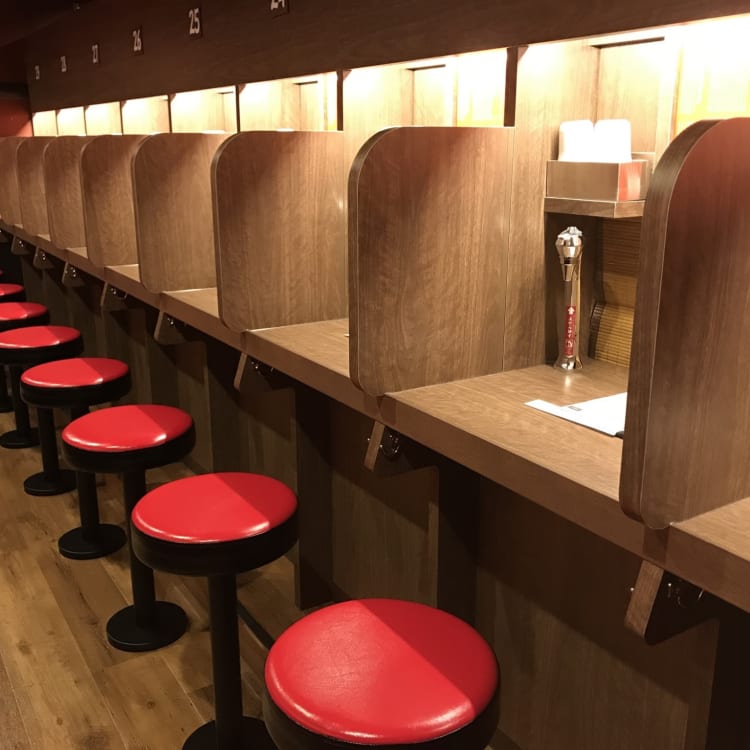 Story
The Japanese custom of solo dining 
A quiet way to savour your meal
By JNTO on 22 April 2021​
When it comes to dining out, some of us may have reservations about eating alone. In Japan, however, eating alone has been quite common for some time now. The trend of solo dining began decades ago to cater to people who were more interested in eating than socialising, like the Japanese salarymen who are used to working late and therefore had to dine out more often than not. As the trend grew in popularity, these restaurants inadvertently changed the negative perception of dining alone.  
At many eateries these days, you can find single-seater booths and counter seats that accommodate solo diners, whether it's for ramen, beer, sushi, yakiniku, or any meal you can imagine. As many fans can attest, dining alone has another hidden benefit: there is no need to share food with others!  
Dinning alone can also mean that you can finish your food in your own pace and sometimes have the added bonus of being a safer and more hygienic option. Here are some restaurants in Japan where you can slurp, swish, and sizzle your meal for one: 
Slurp your noodles at ICHIRAN Ramen 
Founded in 1960, ICHIRAN is famous in Japan not just for their delicious tonkotsu (pork-based broth) ramen; it also introduced the concept of solo dining where diners could savour their noodles in private, partitioned booths known as "ICHIRAN's own Ramen Focus Booth."   
Today there are over 80 Ichiran branches all over Japan. When you enter the store, you will start by purchasing a ticket from a machine. Depending on the outlet, you will then consult a light panel, which will indicate the free booths you can occupy. Once you have seated, you can tailor your bowl by filling in the order sheet to customise your meal. Some options to customize your meal are selecting noodle firmness, broth fat content, and more. Each bowl of ramen comes with a slice of pork and green onions.
The booth is partitioned so there is no contact between you and neighbouring diners or the servers, who will slide you your bowl of noodles from the bamboo blinds in front of you. Each booth has its own water spigot installed so you can savour your noodles in complete solitude.
The Classic Tonkotsu Ramen starts from 890 yen, and you can even grab some take-home ramen kits on your way out. 
ICHIRAN Ramen  
Locations: Various locations across Japan, from Hokkaido to Okinawa  
Website: https://en.ichiran.com/index.php 
Swish to your heart's content at Shabu Shabu Let Us 
Shabu shabu is normally a communal hot pot meal. The thinly-sliced meat and fresh vegetables are served raw and cooked tableside where each piece of meat is lightly swished around in boiling broth before eating.  
Shabu Shabu Let Us is a modern take on the hot pot where each diner gets their own pot, whether you dine solo or with others. The Shabu Shabu Course is a 120-minute all-you-can-eat with a free flow meat of your choice. The basic option is pork, and you can add Black Angus beef, mature beef tongue, as well as high-grade wagyu. The course includes a huge range of side items ranging from appetisers and fresh vegetables to noodles and dessert. 
There are 8 types of soup stock here, including kelp, creamy soy milk, and collagen as well as spicy flavours like Chinese Mala and spicy Korean. These pair well with the equally huge range of sauces and condiments, which include unconventional flavours like sriracha sauce, truffle oil, and mala sauce. Lunch sets are also available. 
Shabu Shabu Let Us 
Location: Ax Building Naka-Meguro 2F, 2-12-1 Kami-Meguro, Meguro-ku, Tokyo (2-min walk from Naka-Meguro Station) 
Website: https://shabushabu-let-us.com/en/index.html 
Sizzle away at Aka to Shimo 
Yakiniku – cuts of assorted meats cooked over a charcoal grill and dipped in tare sauce – is also normally a communal dining experience. But nowadays, yakiniku restaurants also cater to solo diners: the hitori-yakiniku, or one-person yakiniku, features individual grills for diners who would eat their meal at a counter. 
One such restaurant is Aka To Shimo, where solo diners are set up with a one-person gas-fired brazier at counter seats. Diners with a large appetite can opt for the Standard Course which includes assorted cuts of beef, appetisers, soup, rice bowl, salad, and dessert. Their signature menu includes 5 different cuts of branded wagyu beef, including lean and marbled meat sourced from all over Japan. A specialty here is a combination of beef slices topped with Ezo Bafun Uni, a creamy sea urchin. 
There are also platters that include cuts like tongue, ribs, loin, and skirt steak, as well as fillets that are flambéed by chefs in front of customers. Their side dishes include salads, Korean side dishes, rice sets, and soups 
Aka to Shimo 
Location: Shimura Bldg 1F, 2-16-12 Sangenjaya, Setagaya, Tokyo (3-min walk from Sangenjaya Station) 
Website: https://akatoshimo.owst.jp/en/