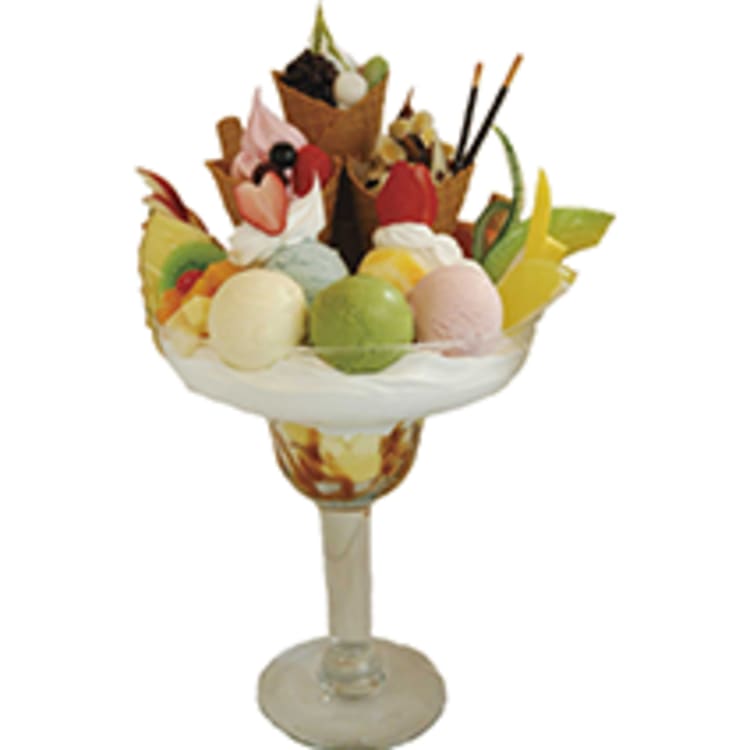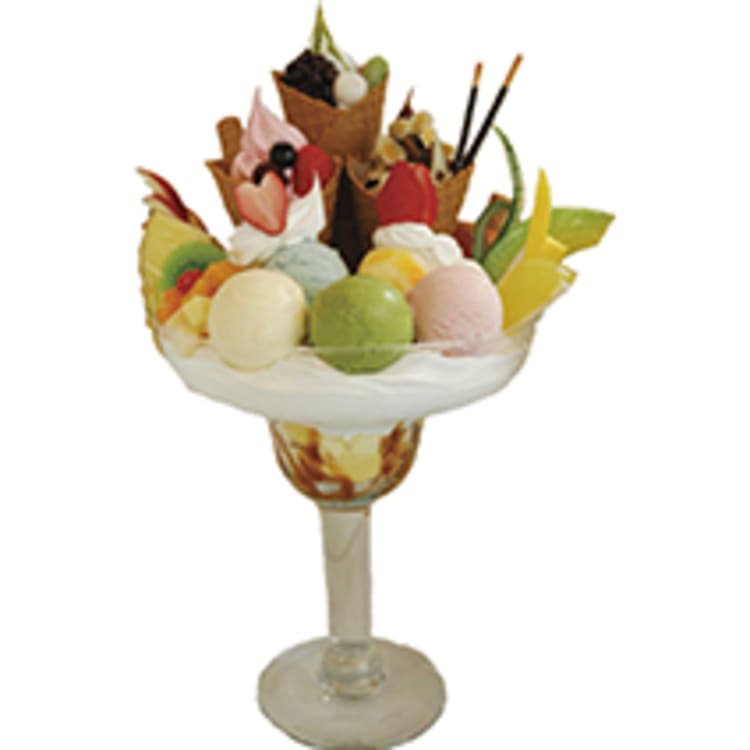 STORY
Japan's art of sweets: Parfait
by JNTO Gourmet on 27 August 2018
Parfaits may have originated from France, but Japan takes it one step further by including local ingredients and tons of creativity to the mix. There are basically two types of 'parfait' – the original French version which is a rich cold dessert made with whipped cream, eggs, and fruit, and the American version which more like a sundae topped with ice cream, granola, fruits, whipped cream, and served in a tall glass.
The Japanese variety is closer to the American one, but it has truly evolved into its very own modern 'king of desserts' – imagine a mixture of mochi rice cakes, glazed fruits, red bean paste, or green tea jelly stacked over a handful of cornflakes. It's not difficult to find over-the-top varieties topped with taiyaki (fish-shaped red bean buns) or even whole cakes, some artfully stacked so high that they seem gravity defying. It's no wonder they're popular Instagram stars.
While most parfaits are catered to single diners, don't be surprised to find jumbo parfaits – some up to 30cm high – that make eating a challenge even for a group of friends. You can try finishing the gigantic Cinderella Parfait (4,200 yen) at Cafe Fusha in Hiroshima, which is made for 4-5 diners.
Decadent parfaits can be enjoyed almost everywhere in Japan, from classic 'fruit parlours' to cafes, restaurants, and parfait stands. These desserts are so popular you can even get them anytime you want in Japan – convenience stores like Lawsons and 7-Eleven have their own seasonal parfaits.
Parfait vs. kakigori and other desserts
Parfait is a little similar to kakigori (shaved ice dessert topped with colourful syrup) which is also popular in Japan – but while kakigori is a firm summer favourite, parfaits are eaten year-round, as many versions contain seasonal fruits. A kakigori is similar to ice kacang, while parfaits contain ice cream layered with other ingredients in a tall glass.
The closest comparison to parfait would be the sundae – both are layers of ice cream topped with ingredients like fruits or wafers. However, parfaits tend to have a crunchy element – like granolas – and many contain mochi or jelly to give it a unique texture and Japanese flavour.
There's more than just chocolate parfait
Parfaits are very versatile and many shops have a large menu of parfait creations, many of which are Instagram-worthy.
Fruit parfaits are very popular since they feature fresh, seasonal fruits. You can have strawberry parfaits in winter, cherry parfaits in spring, peach parfaits in summer, and grape parfaits in autumn. Housed in a 150-year-old traditional Japanese store in the Bikan Historical Quarter, Kurashiki Momoko specialises in products made from local Okayama fruits, and their extensive parfait menu is seasonal, so the availability of certain flavours depends on when you visit. Check out their Summer and Autumn specials (2,700 yen each), as well as their White Strawberry Parfait (2,376 yen), available from December to May, which is generously topped with rare white strawberries.
If you love all things matcha (powdered green tea), then head to Kyoto where you can find matcha parfait made using local high-quality Uji tea powder. Places like Ito Kyuemon Uji (at their JR Uji Station branch) not only serves gorgeous tall matcha parfaits – complete with green tea jelly, shiratama (glutinous rice dumplings), and red bean paste – you can also find limited-availability seasonal specials like the Sakura Parfait (1,180 yen) in spring, and the Momiji Parfait (1,180 yen), an autumn special made with sweet potato and chestnut, available from September to early December.
Uniquely parfait
If you haven't heard of shime parfait, then head up to Sapporo (Hokkaido) to sample this unique nightlife culture – yes, in the Susukino district, people eat parfaits after a night of drinking. The name 'shime parfait' literally means 'parfait to finish up', and you can find them at specialty 'night parfait' shops like Parfait Shop Nanakamadou. It serves glasses of incredibly photogenic parfaits made with fresh milk and seasonal fruits from Hokkaido. Catered to an adult palate, the parfaits are not too sweet and some are served in a tall glass with an empty space in the middle to create a unique visual.
There are plenty of Instagram-worthy parfait creations out there, and while most of them are served in a clear tall glass, Tsurukamero, situated in the fashion district of Harajuku, serves gorgeous Bonsai Parfaits (800 yen) in chocolate, matcha, and berry banana flavours. Each parfait is presented like a piece of bonsai art, complete with a sprig of mini pine tree branch. The matcha parfait comes with a taiyaki (fish-shaped red bean bun) and a red bean ice cream on a stick.
Challenging the idea of a 'parfait' is the very popular Parfait Dora from Kyoto, which is a new take on Japanese dorayaki (Japanese confection of two pancakes typically filled with red bean paste). Instead of red bean, the pancakes are filled with a generous amount of fresh cream and fruits – it contains the ingredients of a parfait, but not the presentation.
Another interesting take on classic parfait is what is collectively known as KAGA Parfait –a five-layer parfait made using local vegetables from Kaga like sweet potato, cucumber, eggplant, radish and squash. There are 16 guidelines to follow in order to be certified as 'KAGA Parfait', and only six stores in Kaga serve them. Priced at 880 yen, each store offers their own version of KAGA Parfait, using the vegetables to make jellies and sponge cakes. In addition, the parfaits are served with Kaga stem tea, on locally-made lacquerware tray and Kutani plate.
Make your own (non edible) parfait
If you fancy making your own parfait and bring it home in your luggage, then you can try your hand at making your very own shokuhin sampuru – those plastic sample foods that you see displayed at many Japanese restaurants. There are many food sample workshops where you can make your own plastic parfait – it generally takes 20-40 minutes.
 
Gujo Hachiman in Gifu Prefecture makes 80% of Japan's food samples and there are four workshops in town you can try, including Sample Village Iwasaki, where you can make a mini parfait (1,150 yen). Other locations where you can make fruit parfaits include Tokyo's Yamato Sample in Ikebukuro (1,080 yen), and Osaka's Morino Sample (3,000 yen).