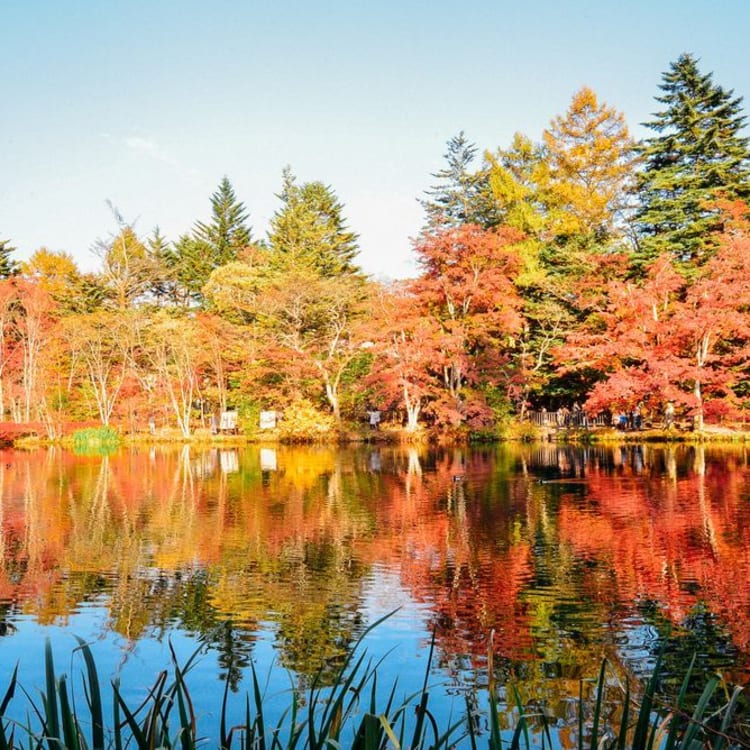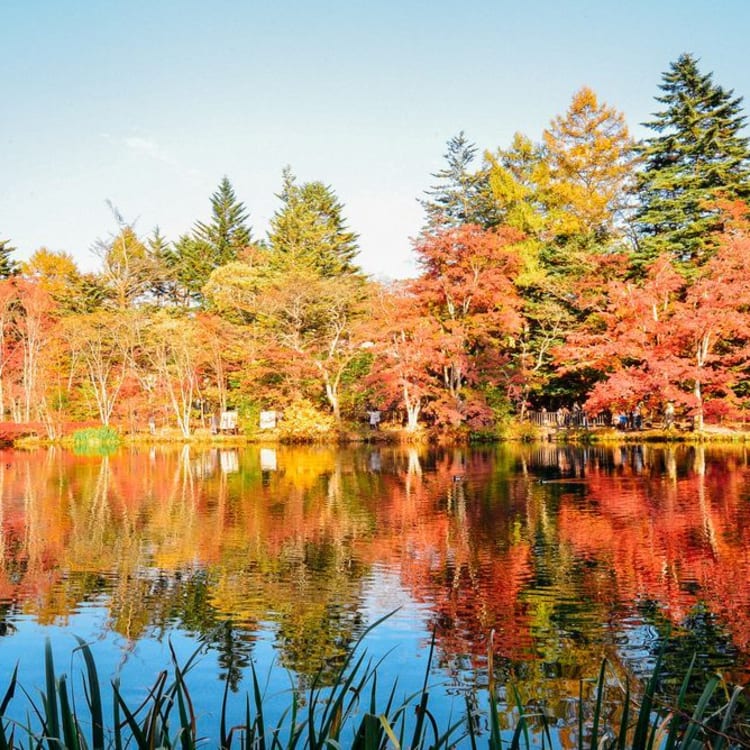 STORY
​Just a 4-Hour Travel from Tokyo to Indulge in Nature! Hotspots to Enjoy Starry Sky and Hot Springs
by JNTO on 09 September 2019
There are numerous enjoyable places to have a good time and be amazed by nature on the outskirts of metropolitan Tokyo.
This time, we would love to pick up some good spots accessible within four hours from Tokyo, including spots for starry sky-watching, highland trekking, and glamour camping which is the hot talk of Japan!
Achi Village in Nagano Prefecture - the Best Star-Gazing spot in Japan!
Achi Village is famous for its breathtaking starry sky, and it was recognized as the number 1 stargazing spot in the "Nationwide Star-Gazing Sessions" by the Ministry of the Environment of Japan in 2006.
To fully enjoy the impressive starry sky, just join the "Paradise in the Sky, the Best Starry Sky-Watching Night Tour" at "Heaven Garden Field" (Hebunsonohara) on the highland of Fujimidai. The tour is around mid-April to mid-October, which starts with a 2,549-metre long, 15-minute ropeway ride that takes you to an altitude of 1,400 metres to enjoy close up of the starry sky! At the peak, participants are required to follow some signals and instructions such as switching off all lights. The sparkling stars here seems almost reachable, and such sight is completely different from the ordinary night sky in Tokyo! Be mindful that Achi village is not open for visit in winter because of heavy snow, so it is now the best season to do stargazing! Start your planning!
"Paradise in the Sky, the Best Starry Sky-Watching Night Tour"2019
Address: "Heaven Garden Field" (Hebunsonohara), Fujimidai Kogen Ropeway, 3731-4, Chisato Achi-mura, Shimoina-gun, Nagano 395-0304
Access: [Railway & bus] Take the Azusa, the express train of JR Chuo line at JR Shinjuku station and get off at Kamisuwa station, which takes approximately 2 hrs.
Then, get on Achi Hirugami Bus for Suwa (round trip reservation only) and get off at Star Village Achi, which takes approximately 1 hour 30 minutes.
[Rental Car] From Shinjuku (Hatsudai IC interchange), go via Chuo expressway for approximately 3 hours 20 minutes. At Iidayamamoto interchange, head to national route no. 153, national route no. 245 for approximately 10 minutes.
Event period: 13 April (Saturday) - 21 October (Monday) 2019 (not available from 24 September (Tuesday) to 11 October (Friday))
※The gondola fare is included in the tour participation fee.
※By reservation. Tickets are available online at 10 am, 2 weeks in advance of the visit day (i.e. advanced reservation for a fixed date)
 
Karuizawa in Nagano Prefecture - Amazing Views and Shopping Experience
Karuizawa is the representing resort highland in Japan, with an altitude of about 900 to1,000 metres. It attracts a lot of visitors throughout the year as it is cooling even in summer, a scenic spot for red leaves in autumn, and a ski resort in winter. Since it takes only about 1 hour 20 minutes to reach here from Tokyo by shinkansen, it is good as a destination even for day trip.
In autumn, it is highly recommendable to rent a bike and cycle around the reddish forest. You do not want to miss out the red leaves at Kumoba Pond (Kumobaike)which is sometimes also referred to as the Swan Lake. The reflection of the red leaves on the lake surface will capture your full attention. To walk one lap around the lake, it takes about 20 minutes. The best season to see the leaves is usually from mid-October to early-November.
And, remember to visit Karuizawa Prince Shopping Plaza, which is an outlet mall, right in front of Karuizawa station. You can also take a 5-minute bus ride to reach Kyu-Karuizawa Ginza for mouth-watering confectioners and delicious restaurants. Be amazed by the mocha soft serve ice cream at Mikado Coffee of Karuizawa Kyudoten and grilled rice dumpling by Chimoto honten, Karuizawa main store. In addition, there are many villas in Karuizawa that house the high-end restaurant "Hermitage de Tamura" and the luxury hotel "Hoshinoya".
Kumoba Pond
Address: Roppontsuji, Karuizawa-machi, Kitasaku-gun, Nagano
Access: Approximately 25 minutes walk from Karuizawa station
Experiencing the Newest Instagrammable Glamour Camping at Lake Okutama (Circus Outdoor TOKYO)
It just takes about 2 hours to reach headstream of Tamagawa River in Okutama, West Tokyo, which is a location with mountains, waterfalls, and rivers for outdoor activities like canyoneering, rafting, and glamour camping which is a new attitude of camping becoming popular in recent years. As the name goes, it is a "glamorous" "camping" that it is a new style of camping whereby you do not have to prepare the tent, tableware, charcoals, or any other equipment usually essential for camping.
All you need will be well set on the deck chair and dining table for you. Even pillows and stove are provided, some camp sites even have hair dryers and electric kettles.
It is a new style of camping that even beginners can enjoywithout any hassle.
Circus Outdoor TOKYO was opened in March 2018 as a glamour camping site that soon became a hot topic in town. Rooms are the utmost high quality ones used to receive important guests, with the tent interior designed by a famous designer who knows the European culture mainly between 1850 and 1930. Together with the cuisine prepared by top-ranked chefs, the camping experience is discernible.
There are two dining styles for dinner; enjoying it while immersing yourself in the outdoor living space of your tent, or watching the chef cook right in front of you at the dining area. Both are splendid course meals directed by the chef, and cooked without fire.
Other glamour camping facilities like Okutama Glamourous Camping River Terrace, Interaction plaza and Woodland bothy are equally fine and fascinating.
Circus Outdoor TOKYO
Address: 290-1, Kawano, Okutama-machi, Nishitama-gun, Tokyo
Access: [Railway & bus] take JR Chuo line rapid train at JR Shinjuku station and head to Aome station; transit to JR Aome line, train bound for Okutama, and get off at Okutama station. It takes about 35 minutes.
Ride on Nishi Tokyo Oku 09, Oku 10, Oku 11, or Oku 12 (Okutama station / Lake Nakaokutama) for approximately 30 minutes, and get off at "Nakaokutamako (Lake Nakaokutama).
* Holiday express Okutama is available at Shinjuku station on Saturdays, Sundays, and public holidays, the direct access to Okutama station can save you time as you do not have to transit at Aome.
[Rental car] Exit from Hachiouji Daini (no. 2) interchange and head to Takiyama Kaidou (national route 411) to Okutama, and proceed to Aome Kaidou (national route 411) and head to Lake Okutama. Search for "Circus Outdoor TOKYO" in Google map or enter "Okutama Rest Center" in your GPS.