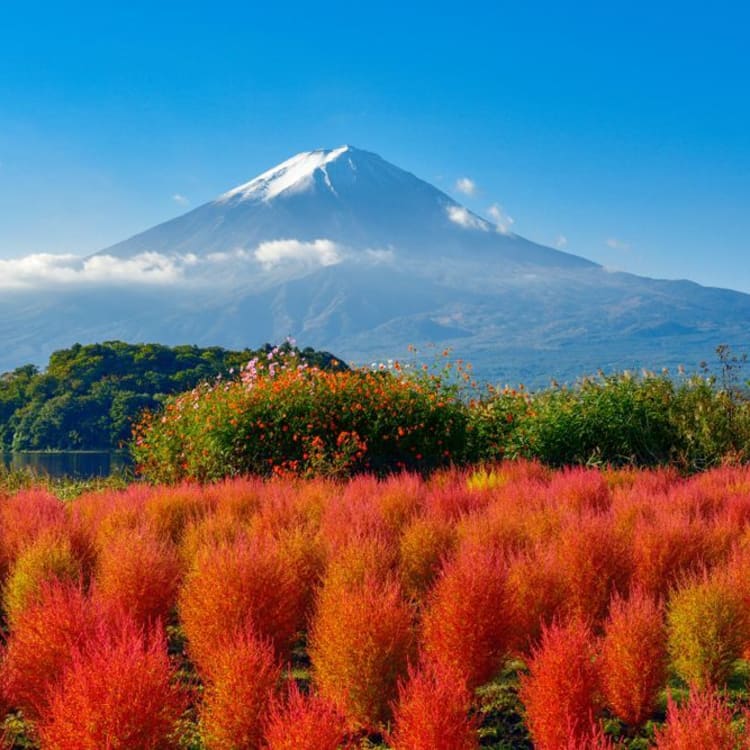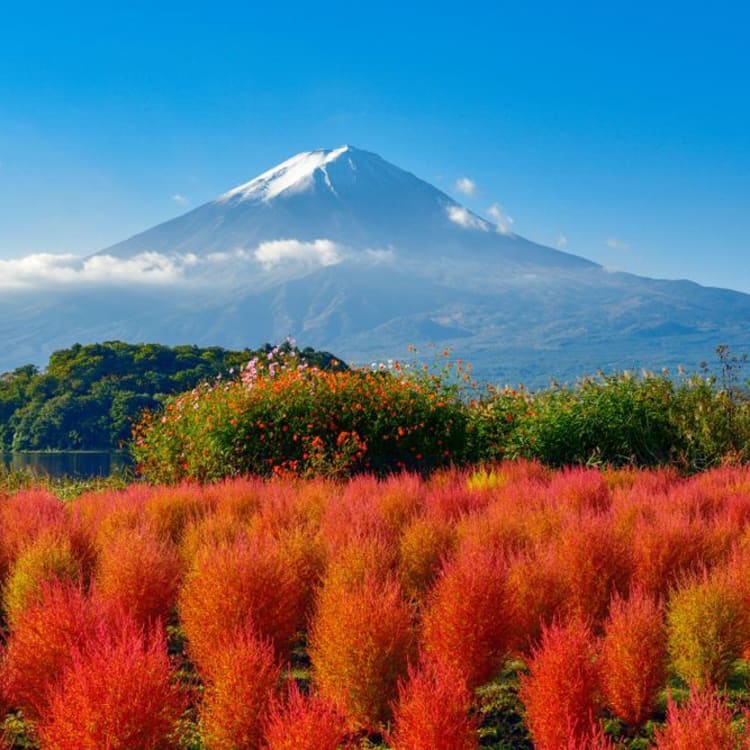 STORY
Not Just Ginkgo and Maple! Striking Picturesque Spot of Kochia!
by JNTO on 03 October 2019
Kochia, turning reddish in October and becoming deep red in the autumn season, are very much impressive. From a distance, they look like a sea of red.like a soft, fluffy carpet. It offers something different from the more common ginkgo and maple, and is widely loved in Japan. Let us have a look of some good Kochia spots!
Soft and Fluffy…like a Natural Carpet! Red Kochia, a Different yet Tasteful View
Kochia is tiny and lovely in shape. In terms of texture, it is fluffy and soft to touch. Kochia is harvested and dried to be made into brooms. Kochia turns reddish around mid-October, and a deep red field of Kochia in autumn is very much striking. The colour-changing process of Kochia is a slow one as it starts at the tip of its flower and slowly the remaining parts of the flowers from late September to early October.
Hitachi Seaside Park - The Kochia Festival(Ibaraki Prefecture)
Hitachi Seaside Park is as large as 200 hectares, with various types of flowers blooming in its grass fields in their corresponding seasons, and the park is certainly the representative visiting spot of the Ibaraki prefecture. The Kochia Festival is an annual autumn event (21st September to 20th October in 2019) that attracts a lot of visitors. The best time to see Kochia is, in fact, near the end of the festival period in mid-October. Under the radiant sun, the huge carpet field of Kochia is just so breathtaking. The 32,000 Kochia, complemented by over 2 million cosmos over the hills in the park will surely amaze you!
Hitachi Seaside Park
Address: 605-4, Onuma, Mawarari, Hitachinaka city, Ibaraki
Access: At the East exit of Katsuta station (JR Joban line), there is a bus for the west entrance or south entrance of the park
Opening period: [spring] 26th March – 31st May; [summer] 21st July – 31st August; [autumn] 1st October -31st October; [winter] 25th – 30th December, 2nd – 7th January
※This Park is open every day during this period
Opening Hours: varies in different seasons, please confirm on the official website (https://english.ibarakiguide.jp/kochiacarnival2019.html).
Kochia red leaves season: late September – late October
 
Hakodateyama Kokia Park - the Spot in Your Travel plan to Lake Biwa (Shiga Prefecture)
Hakodateyama Kokia Park is located close to the Lake Biwa, and it is found in the Lake Biwa Hakodateyama Lily Garden of the famous skiing resort, Mt. Hakodateyama. Visitors can find over 2,000 Kochia in four different spots while the observatory at the peak is where you should visit; the spot where you can take in a bird's eye view of Lake Biwa packed with the beautiful, reddish Kochia.
 
Lake Biwa Hakodateyama Lily Garden
Address: Imazucho Hiokimae, Takashima city, Shiga
Access: Get on a bus for and ride for 20 mins at JR Oumiimazu station of JR Kosei line, get off at Hakodateyama, and walk for approximately 8 mins to the gondola.
Kochia red leaves season: around 14th September – 14th October
(please be mindful to check the operation hours of the gondola at the official website)
Opening hours: 9:00 am – 5:00 pm [Night gondola] 9:00 am – 8:00 pm
Hirugano Picnic Garden - Breathtaking Kochia Views up above from the Gondola Ride!(Gifu Prefecture)
Hirugano Picnic Garden is on the Hirugano highlands in Gujo city of Gifu. It is a nice skiing resort "Hirugano Kogen" in winter. However, when you are visiting in autumn, it will seem like you have ventured into an ocean of red while being impressed by the massive number of 10,000 Kochia planted on the slope. It takes about 10 minutes to walk around the flower farms, or you can go on the observatory gondola to take in winning views of the resort skyline and beyond at over the altitude of 1,000 metres. There is an aerial runway that enables you travel just above the flowers and trees. It is absolutely an exciting activity while you enjoy a different yet tasteful nature view!
Hirugano Picnic Garden
Address: 4670-75, Hirugano, Gujo Takasu-cho, Gifu
Access: take the Nagoya Shiragawago line of Gifu bus, or the free shuttle bus at Hirugano Kogen Rest Area
Opening period: 7th July – 22nd October
Opening hours:8:30 am-5:00 pm
※Gondola's opening hours are from 9:00 am-4:00 pm (the last ride is at 4:30 pm, going downward)
Kochia red leaves season: late September – late October