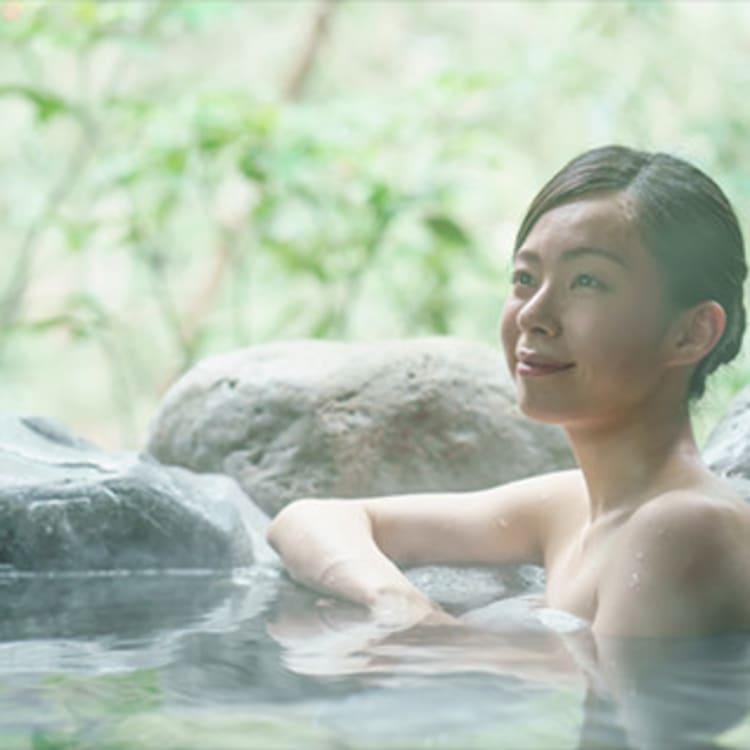 Story
ONSEN
By JNTO on 25 August 2020
Why Japanese people love hot springs
Gushing out from the earth, "onsen" hot springs are a pure blessing from the mother planet and offer a supreme spot to relax both mind and body. As of today, Japan has about 27,000 hot spring sources, of which some 9,500, which comprise about 35% of the total, are concentrated in Kyushu (according to 2015 data compiled by the Ministry of the Environment of Japan).
Japan has a long history of hot springs. The reported oldest documents in Japan, "Kojiki" ("Records of Ancient Matters", compiled in 712) and "Nihonshoki" ("The Chronicles of Japan", finished in the 8th century), describe people enjoying the "onsen" waters. In the Sengoku "Warring States" Period (the 15th to 16th centuries), dominated by the samurai, famous feudal warlords visited hot springs to heal their battle injuries. In the peaceful period after the wars ended, not only highly-ranked "shogun" generals but also common people are said to have visited hot springs to heal their fatigue or injuries for several weeks during the farming or fishing off-seasons, which was called "toji" ("onsen" therapy).
Such a custom of healing in hot springs has been passed down among the generations of Japanese until today. When people are tired from work, want to freshen up, or have a long rest, they go to hot springs, regardless of their age, to recharge their batteries for the next day.
Why hot springs are good for you
The main benefits of "onsen" are said to be (1) the medicinal effects from the distinctive minerals contained within the water, (2) the physical effects of heat, flotation, water pressure, etc., and (3) effects of health resort therapy from the variations in the natural environment and climate.
As for the medicinal effects, "onsen" water minerals are absorbed through the skin, carried throughout the body, and act on the muscles, cells, and nervous system. As for the physical effects, warming up the body promotes blood circulation, relieves pain and enhances metabolism.
The effects of health resort therapy are said to differ between mountain areas and ocean areas. An "onsen" that is located at high altitudes over 1,000 meters above sea level is good for energetic persons as it stimulates body systems. An "onsen" that is located at middle altitudes up to 300 meters above sea level is good for persons with insomnia or high blood pressure, for example – those who need rest. On the other hand, an "onsen" in ocean areas is good for people with chronic fatigue, elderly people, and persons in the process of recovering from illness, as this environment has a warm, gentle climate.
Types of Onsen
The most popular kind of onsen is the whole body submersion type but there is much more to onsen than that. Footbaths, mud baths or sand baths are also available and in Kyushu, Japan's "Onsen Kingdom," you can try them all, either in ryokan inns where you can stay the night, spa resorts or even facilities where you can just drop by during a day trip. Come, relax and give your skin a treatment it has never felt before!
Whole body bath
Immersing the body from the neck down in the hot spring's water (or "zenshin-yoku") is the standard and most pleasant way to enjoy an onsen and benefit from the spring's active ingredients: they are absorbed by the skin as the water's pressure works like a massage. However, as the same pressure can cause strain to the blood vessels, lungs and heart, seniors or people suffering from hypertension or arteriosclerosis should opt instead for a "hanshin-yoku (half body bath)," where the water goes only up to waist level. Staying too long in the hot water can be trying even for younger and healthy bathers, so it is recommended to have on your head a hand-towel soaked in fresh water. This will prevent any momentary dizziness that might occur. And if you want to combine the warmth of the water with the feeling of fresh air on your skin, head for the "rotenburo" open-air bath. They are usually among the highlights of any onsen experience!
Partial bath (Footbath / Hand bath)
As the name suggests, these are baths where instead of getting in the water you just let a part of your body soak. For example, in "ashi-yu" only your legs from the shins down are immersed; in "te-yu" only your hands. Since you don't get naked you can enjoy a mixed-company onsen experience. This is a very practical solution if you're feeling weak, have an injury in some other part of your body or you're just in a hurry, but you will be amazed at how warm your whole body will feel after soaking your hands or feet for just 20 minutes. Ashi-yu footbaths are available in many onsen towns. You can find them, among other places, at Kagoshima and Oita airports, at Yufuin JR Station in Oita, and at the Obama Onsen in Nagasaki Prefecture's Unzen City. The latter has a long footbath, 105 meters long, which commands a great view of the sea. Foot and hand baths are usually free so they are a great way to start experiencing onsen – getting your feet wet, as it were!
In this type of bath, called "ne-yu," the whole body is submerged in the water but in a horizontal position, with the head touching the tub's edge. This means that while you get all the benefits from the regular bath, the burden to the heart is comparatively minimal. The water being at a relatively low temperature of around 37 degrees Celsius also makes this bath milder and more appropriate for people with health issues. This does not mean that its benefits are negligible, though. After floating for 20-30 minutes in a shallow bath tub, you will feel airy, light and relaxed. This type of bath is said to be effective for the healing of mental fatigue, insomnia, hypertension and arteriosclerosis. Many spa resorts combine this type of bath with jet (air bubble) baths, so in essence you get a bath and a massage!
Cascading bath
What we have here, in the "utase-yu" bath (literally meaning "hitting bath") is water falling from a man-made 2-3 meter waterfall. As the hot water falls, it massages your shoulders, back, waist and hips and takes away all the tension and stiffness that everyday life puts in the muscles of these areas. If you try it standing, the effect becomes stronger, as if you're having a shiatsu session, but depending on each bather's body condition it might even become painful. If you remain seated the water pressure is reduced and you can bathe for a longer time. The judge of the optimum body position will of course be you so find what suits you and let the water work its magic. Since the water flies in all directions, it is also advisable to have a shower cap with you if you want to keep your hair dry!
Mud bath
In a "doro-yu (mud bath)" the spring's water is muddy and is loaded with minerals that will do your skin a world of good. When you get out of the tub, you can let the mud dry on your skin. Since the mud is very fine, besides feeling great, it will be as if you have put on a mud mask on your whole body, leaving your skin moist and smooth. As for its other health benefits, because the warm mud stimulates perspiration, it is good for relieving stiff shoulders, nerve and joint pains. The mud is not a good conductor of heat so it will warm your body gradually, giving you a wonderful sensation. At the same time you need to be careful because this can trick you into forgetting how long you stay in the mud and may result in dizziness! One of the most famous mud onsens is Myoban Onsen in Oita Prefecture's Beppu Onsen that also features an outdoor mixed bath (there is a fence separating the men's and women's baths but since you're covered in mud, you don't need to worry about visibility anyway.) Another fine mud bath can also be found in Kirishima Onsen, Kagoshima Prefecture.
Sand bath / Steaming sand bath
We're referring here to Kagoshima Prefecture's Ibusuki Onsen "suna-mushi (steaming sand)" and Oita Prefecture's Beppu Onsen "suna-yu (sand bath)". Owing to geothermal sources directly below it, the sand in these onsen is quite warm so laying down on it and getting almost completely buried in it (the face stays out, of course!) feels absolutely fantastic. The steam emanating from the sand and the sand's pressure enhance the warming effect. After 10 minutes, the sand's temperature and weight won't bother you anymore and you can stay there for quite some time. Your complexion will look much better when you get up! There aren't many onsen of this kind in Japan so when in Kyushu, be sure to give one of them a try.
Steam bath (Mist sauna / Mist box)
The steam bath includes "joki-yoku", also called "mushiburo." Water from the hot spring is poured onto heated stones, generating a large amount of steam so you can literally bathe in steam to warm up your body. These treatments are truly detoxing and their effect on both your looks and inner body is invaluable. For those who do not have much time to spend at a regular onsen, such places as Kannawa Onsen in Oita Prefecture's Beppu Onsen are highly recommended. If you want to try something that will allow you to breath in the onsen's beneficial steam without even taking your clothes off, try the "onsen kyunyu," literally "onsen breathing", allowing you to moisturize your facial skin and throat by breathing in from specially designed boxes with pipes. Another option is "ashi mushi," where you put your bare feet in a steaming box to warm your body from the inside.
Heat bath (Stone sauna / Ondol - Korean-style underfloor heater)
Natural stones or rock slates are heated with the onsen's water at about 45-50 degrees Celsius but instead of just sitting near them, like in the sauna, in these places you get to lie on them wearing only a bath robe. This can maximize the relaxation effect the heat has on your body and at the same time increased perspiration increases metabolism and expels wastes from your body, and you feel clean inside and out – the silky sense and the glowing look of your skin will attest to that! Since you lie directly on the heated stone bed it also said to have a moxibustion effect. This type of treatment, known as "on-netsu-yoku," is particularly popular among Japan's younger women because of its effects on their appearance and health. You should definitely try it either at a day spa or at a ryokan where you spend the night. Keep in mind though that you should take breaks, keep well hydrated, and shower so sweat doesn't stay on your skin.
Drinking onsen water
This is not really onsen in the narrow sense but it is a way to benefit from the active ingredients in the hot spring's water. In Japanese it is called "insen" and it means "to drink the spring." You drink the onsen's water allowing it to have a more direct impact on your internal organs. One cup a day is said to be enough for the effects to be visible. Keep in mind that you can only drink the water from onsen that have acquired the necessary certification from the healthcare authorities. In Oita Prefecture, Beppu Onsen's Kannawa Onsen and Nagayu Onsen do have such certification: look for facilities that provide drinking cups. Two points to keep in mind, though: drinking onsen water with chloride is not recommended for people with kidney problems or hypertension, and as a general rule, children under the age of 15 should avoid drinking any kind of onsen water.
How to bathe in an onsen and onsen manners
You can expect lots of positive results from taking an onsen bath such as recovering from fatigue, improving health, and making your skin more beautiful. There are even more advantages if you know the correct way to take an onsen bath. It may seem as though there are many strict rules but, as long as you are considerate of other people, you won't have any problems. Onsen are public places, so be sure to display good manners to enjoy it to the fullest!
(1) Always wash your body well before getting into one of the soaking tubs. Then, immerse yourself in the bath water until your forehead starts sweating.
Before getting into a tub, be sure to rinse, using about 10 bucketfuls of the bath water. Start from the part of the body farthest from the heart, the hands and lower legs, and finally the whole body. This not only cleanses the body but also conditions it to the components and temperature of the hot water and prevents any rapid increase in blood pressure or a stroke. If you are wearing make-up, it is best to wash it off at this stage.
You should get out when your forehead starts to sweat and rest. And, you shouldn't take more than 3 baths a day!
(2) Never immerse a towel, your hair,
or any accessories in an onsen soaking tub or pool.
It is bad manners to wash or wring out a towel in an onsen bathtub because towels are prone to contain soap residue and bacteria. Never wash your body or hair in a bathtub. Most onsen rules prohibit dyeing hair or doing laundry in a washing area. If you have long hair, please tie or clip it up or wrap it in a towel before getting in a bathtub because hair is also considered to be unsanitary. Soak a towel in cold water, fold it and wear it on your head to prevent dizziness.
Some onsen spas, especially mixed gender ones, may allow people to wear a bathing suit or covering, but bathing naked is most usual. Another consideration should be taken for accessories. Onsen waters often contain various minerals such as sulfur that may discolor precious metals. Be sure to remove all accessories before soaking at an onsen.
(3) Drink lots of water before and after taking a bath.
But, remember, alcohol is not a source of water!
Even if bathing for only 10 minutes, lots of water is depleted from your body from sweating and so the blood becomes thicker. In order to prevent not only dehydration but also serious complications such as heart attacks and strokes, drink a cup of room temperature or warm water or a sports drink before and after taking a bath. It is especially important to drink water 15 to 30 minutes before taking a bath.
Please note that alcohol does not prevent dehydration. It actually promotes dehydration by increasing the volume of urine. Please refrain from drinking alcohol 1 to 2 hours after taking a bath!
(4) Don't eat just before or after taking a bath.
Soaking in a bath promotes blood circulation of the whole body, so it may cause indigestion by reducing the amount of blood going to the stomach. Therefore, it is best not to take a bath right after eating. It is also a bad idea to take a bath right after drinking alcohol, as you may easily fall down in a bathing area, fall asleep in a tub, or become dehydrated.
In order to fully enjoy your meal, rest for about 30 minutes to 1 hour after taking a bath and then start eating.
(5) Dry off before leaving the bathing room
Onsen water has an exfoliating effect that helps slough off dead skin, so, to get the full effect, don't wash it off after soaking. Just dry off using a towel. Applying a moisturizer after taking an onsen will extend the effects and help make your skin smooth and beautiful just like a facial. However, if your skin or mucosa is sensitive, it may be better to wash off with tap water, especially if the onsen water is very acidic or sulfurous.
Enter the changing area without drying shows bad manners because dripping on the floor is disrespectful to others. Please make sure to dry your body and towel dry your hair before leaving the bathing area.
(6) If you have a fever, do not take a bath.
Onsen bathing is not a cure-all for everything! If you have any acute illness, especially any infection with a fever, never take a bath. If you are exhausted, such as from having a severe illness or undergone surgery, soaking in a bath is not recommended. If you have any half-healed wounds, please take measures to prevent germs from entering the wound, such as a good water-proof bandage.
If you have a tattoo, it is better to confirm in advance if tattoos are allowed, as many onsen refuse entrance to anyone with a tattoo. If possible, it is best to cover it with a bandage.
(7) After using, always return the pail and stool to their original place and refrain from talking loudly while in the bathtub.
Onsen are public spaces with many people coming and going. Don't claim a shared space with your belongings or a towel. Make sure to rinse after washing and return any equipment used to its original place, ready for the next user. Since the floor of the washing area may be slippery, don't run. The bathing tubs are usually nice and wide, but they are not a swimming pool. Please don't swim or paddle around. Immerse yourself into the water quietly, relax, and comfortably take full advantage of soaking at an onsen.
Popular onsen resorts in Kyushu
Kyushu is well known as the "Kingdom of Onsen". It has a variety of unique onsen resorts, including one with the largest amount of onsen water discharge in Japan, others in mountains or near the ocean, onsen with a long history, and others featuring several different baths with different water qualities and different therapeutic effects all in the same place. Only a small number of onsen resorts in Kyushu is introduced here, sorted by prefecture. Also, check out "Section 2" above which tells you about "Types of Onsen" and enjoy your Kyushu onsen journey!
Oita
Beppu Onsen Village
"Beppu Hatto", a generic name that includes eight onsen resorts (Beppu, Kannawa, Myoban, Kankaiji, Kamegawa, Shibaseki, Hamawaki, and Horita), has been used by people since olden times. Beppu is also well known as an "Onsen Paradise", since it has Japan's largest number sources of springs and largest amount of onsen water discharge. Various unusual onsen, such as mud baths, sand baths, steam baths, or drinking-water onsen, can be enjoyed. Why not stay in Beppu for one or more nights and enjoy them all!
Access
・From Oita Station to Beppu Station on JR Nippo Line
・From Oita Airport to Beppu Station by Airport Bus
Yufuin Onsen
Located in the middle of expansive natural settings with a great view of Mt. Yufudake, Yufuin onsen resort is quite popular and has the second largest number of onsen wellsprings after Beppu. The hot spring water here is mild and smooth to the touch. In addition to hot springs, the town has galleries, private art museums, stylish cafes, accessory shops and other attractions, and is thus very popular for its "atmospheric" townscapes. Strolling on Yunotsubo Kaido, a road connecting Yufuin Station to Lake Kinrin, is also a good choice to enjoy Yufuin.
Access
・From Oita Station to Yufuin Station via JR Limited Express train "Yufu"
・From Oita Airport via Expressway Bus bound for Yufuin Ekimae Bus Center
Nagayu Onsen
Enjoy an unusually highly-concentration carbonated hot spring. Upon soaking in a bath, bubbles of carbonic gas stick to your skin and burst. Carbonic gas is absorbed into the body, which improves blood circulation, alleviates dullness and swelling of the skin, and prevents the oxidation of the blood, producing an anti-aging effect.
Access
・From Oita Expressway Yufuin Interchange, via Route 210, Prefectural Road 30
Kumamoto
Kurokawa Onsen
Kurokawa Onsen is a popular onsen resort for its secluded atmosphere deep in the mountains, which will put you in the mood to go strolling in the town in yukata and "geta" clogs. Each hot spring well here has a different water type, such as a sulfur spring, an alum spring, or a salt spring, which is quite rare. It is recommended to buy a "Nyuto Tegata" passport, allowing you to enjoy three different onsen inns and baths out of more than 20 choices!
Access
・Buses bound for Kurokawa Onsen from Aso Kumamoto Airport, Beppu Station, Yufuin Station, and Fukuoka Airport
Aso Uchinomaki Onsen
The origin of this onsen dates back to ancient times when onsen were created by the volcanic activity along the foot of the huge outer rim of the crater of Mt. Aso. Almost half of all onsen wells in Kumamoto Prefecture are said to be scattered about in this area, each of which has different spring qualities and effects. Among other hot springs in Aso, Uchinomaki Onsen is the largest in scale. The water here contains a small amount of lithium, which can be effective for relaxation and makes this hot spring stand out from other hot springs in Japan. Enjoying the hot spring in the great rural scenery of Aso will further multiply the relaxing effect.
Access
・Buses bound for Aso from Kumamoto Station, Aso Kumamoto Airport, Yufuin Station and Kurokawa Onsen area
Hitoyoshi Onsen
Onsen inns and 30 other facilities, such as day-visit spas and public baths, are found here and there in this castle town along the Kuma River. The velvety texture of the onsen water is popularly known as the "spring water of beauty" because of its efficacy in removing dead skin. From Kumamoto Station to Hitoyosi Onsen, there are sightseeing trains and a steam locomotive train running in the steep mountains along the Kuma River. Check their timetable and give them a try!
Access
・From Kumamoto Station to Hitoyoshi Station on the JR Hisatsu Line
Kagoshima
Ibusuki Onsen
An onsen resort amidst palm trees presents visitors with a tropical atmosphere. The chief feature of this onsen is the steaming sand bath, where people lie and are covered with sand warmed by the ground temperature of the geothermal source beneath. Listening to the sound of waves on the beach while covered with warm sand makes you so comfortable you may fall pleasantly asleep. The sand bath is said to have a high detoxification effect as wastes and toxins in your body are discharged with sweat.
Access
・From Kagoshima Chuo Station to Ibusuki Station via train on the JR Ibusuki Makurazaki Line or Sightseeing Limited Express "Ibusuki no Tamatebako"
・From Kagoshima to Ibusuki by Airport Bus
Kirishima Onsen Village
Kirishima Onsen Village is packed with various types of onsen that gush out from the foot of the huge Kirishima Mountain Range. This onsen highland resort is known as a spiritual place where, according to the legend, a god descended in ancient times to found the Japanese nation, and is popular among women as a "power spot." Various kinds of onsen facilities are available, such as a natural spa from which the spring water flows directly from the source, footbaths, spots for drinking onsen water and self-cooking inns, where you can use onsen water to cook your own meal.
Access
・From Kagoshima Chuo Station to Kirishima Jingu Station via Limited Express "Kirishima" on the JR Nippo Main Line
・From Kagoshima Airport to Kirishima by Airport Bus
Nagasaki
Unzen Onsen
A cloud of steam covers this onsen resort on the foot of Fugendake on Mt. Unzen, with the smell of sulfur floating in the air. The strongly acidic spring water containing sulfur has so high an anti-bactericidal effect that your skin feels a tingling sensation when you soak in a bath. The mountain range of Unzen surrounding the area creates seasonal beauty. In spring, Unzen azaleas paint the mountains in pink, in autumn the color of leaves changes spectacularly, and in winter silver frost presents breathtaking scenery.
Access
・Expressway Bus bound for Unzen from Nagasaki Station or Isahaya Station
Hirado Onsen
Hirado is an exotic onsen town on the seashore, which flourished as the first trading port of Japan, opening to the outside world in 1609. The town still has the remains of merchant houses, churches, temples and a castle lying next to each other, retaining much of the atmosphere of interaction between Japan and the Netherlands during the Edo period, when trading with Western countries flourished. There are some large-scale onsen hotels with features such as an open-air bath overlooking the ocean, or a large bathroom where you can watch fish and sea turtles swimming in an aquarium-like tank, or an open-air bath overlooking Hirado Castle.
Access
・Bus bound for Hirado Sanbashi from Matsuura Railway Tabira-Hiradoguchi Station
Saga
Ureshino Onsen
Ureshino Onsen is a hot spring area along the Ureshino River, where green tea fields spread forth to the edge of the surrounding mountains, and which once flourished as a post-station town. Its onsen water feels as smooth as soap, and it cleans and cleanses your skin. Considered to be one of the "Three best onsen for beautiful skin" in Japan, its onsen water makes your skin fresh and youthful after taking a bath. It is also a good idea to visit Toyotamahime-jinja Shrine, which enshrines the god of beautiful skin.
Access
・JR Bus bound for Ureshino Onsen from Takeo Onsen Station on the JR Sasebo Line
Takeo Onsen
Takeo Onsen is a venerable onsen with a 1,300-year history and with an impressive vermilion two-storied gate that is designated a National Important Cultural Property. It will be a great experience to soak in "Motoyu," a bath built in 1876, which is the oldest wooden public bath in existence in Japan. This onsen is also called the "hot spring of beauty" because its slightly alkaline, simple spring water has a high moisture-retaining effect making your skin smooth.
Access
・From Hakata Station (Fukuoka) to Takeo Onsen Station on the JR Sasebo Line
Miyazaki
Aoshima Onsen
This onsen resort is located in Aoshima Island, which is a well-known sub-tropical resort site in Miyazaki, overlooking the Pacific Ocean. The spring water that gushes from the source here is so thick that you may even feel a bit of sliminess. During the Edo period, lords of the Obi domain in Miyazaki are said to have bathed here. The onsen water contains elements that make the skin moisturized, smooth, and beautiful. You can have a very relaxing time while soaking in an open-air bath overlooking the Pacific Ocean.
Access
・From Miyazaki Station to Aoshima Station on the JR Nichinan Line
Fukuoka
Harazuru Onsen
Located on the Fukuoka-Oita border along the Chikugo River, Harazuru Onsen is also an onsen known for beautiful skin effects. Its spring water has two different qualities. One is a slightly alkaline simple spring that removes dead skin, and the other is a simple sulfur spring that removes skin oil and melanin pigment in layers of dead skin, both of which have led to this onsen being nicknamed the "hot spring of double beautiful skin." Just about one hour from the gateway to Kyushu, Fukuoka/Hakata, by car, it is very easy to access.
Access
・From Hakata Station to Haki Bus Stop via Nishitetsu Expressway Bus bound for Hita
・From Hakata Station to Chikugo-Yoshii Station on the JR Kyudai Line