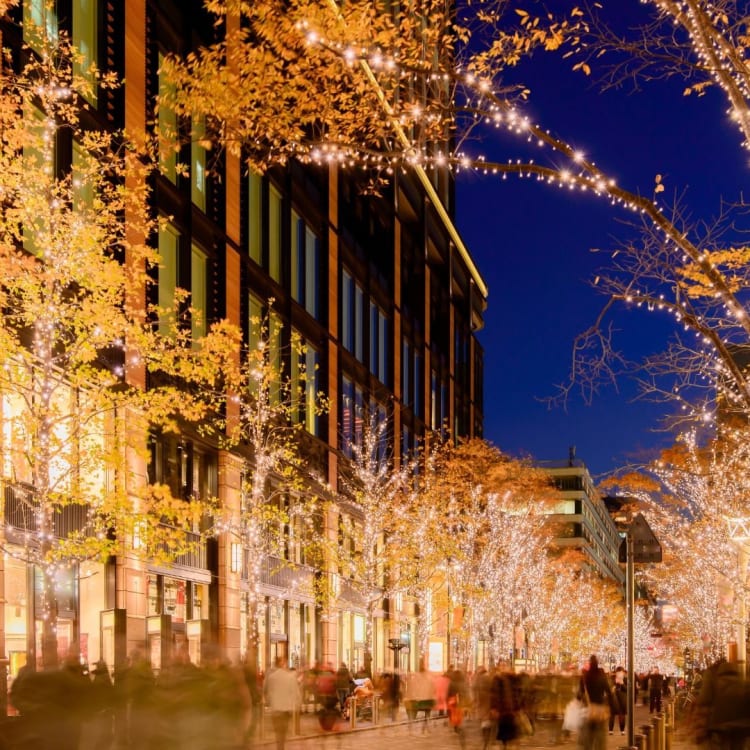 STORY
A Sight Worth A Million Dollars! Japan's Top Three Night Views in December!
by JNTO on 27 November 2019
As the year nears its end, many areas in Japan begin to see snowfall and head into the winter season. Temperature begin to drops, and cloudy weather disperses, making the night sky more vivid than that of summer. Various locales are set up with dazzling illuminations, creating a romantic atmosphere for all to enjoy.
The three most famous and representative nightscapes of Japan are that of the following: Hakodate, Kobe, and Nagasaki. Join us as we explore Japan's famous nightscape viewing spots and the observation decks, ropeways, and other night sightseeing activities that make the experiences even more enjoyable!
This spot offers visitors the gaze over the city's brilliant winter illuminations from up high!
The clear winter air in Japan makes it easier to see lights even from afar, creating the perfect conditions to enjoy viewing the night sky! There are plenty of observation decks that enable you gaze upon the city's night views for free, and some that offer other attractions to make the experience even more enriched and unique.
Before we head over to the top three night views, let us first look at some spots which are worth mentioning for breathtaking day views.
One such place is the Okurayama Lookout, an actual ski jumping ramp where visitors can experience the views from the perspective of a ski jumper. At Toba Observatory in Mie's Toba City, guests can enjoy the view of the ocean from restaurants that serve Ise's famous seafood.
And in Osaka, visitors can access the Umeda Sky Building's famous air garden observation deck via its see-through lift.
One of the world's new top three nightscapes!
Mt. Inasayama Observatory (Nagasaki)
©Inasayama
Mt. Inasayama Observatory was ranked as one of the world's new top three nightscapes, along with those of Hong Kong and Monaco, at the 2012 Nightscape Summit in Nagasaki. Visitors can reach the mountain's summit in about 5 minutes via the Nagasaki Ropeway. Views of the far-off lights of the city can be enjoyed from the all-glass carriages of the ropeway as well.
The panorama of Nagasaki City is breathtaking from the mountain's 333-metre high summit! On clear days, visitors can even see the distant Goto Islands!

You can also check out https://www.japanbyjapan.com/discover/inasayama for more relevant information


Mt. Inasayama Park
Address: Inasamachi, Nagasaki City, Nagasaki
Access: (Via bus and ropeway) Ride Nagasaki Bus 3 or 4 from Nagasaki-eki-mae bus stop (heading toward Shimo-Ohashi, Koebaru, Aikawa), get off at Ropeway-mae bus stop, then just walk for 2 minutes. (Via bus only) Ride Nagasaki Bus 5 from Nagasaki-eki-mae bus stop (toward Inasayama), then get off at Inasayama bus stop.
Operation Hours:【Observatory】8:00 a.m. - 10:00 p.m., 【Ropeway】9:00 a.m. - 10:00 p.m.
※ Access is unavailable after the ropeway stops operation for the day. (The observation area is open 24 hours.)
 
Enjoy the view of Hakodate and oceans!
Mt. Hakodate Observation Deck(Hokkaido)
 
Hakodate City's surrounding oceans and mountains can all be viewed from Mt. Hakodate Observation Deck.
From the west side of its summit, visitors can view Hakodate Bay, and from its east side, the Tsugaru Straits that connects its surrounding oceans. The city lights beautifully shine upon the old city district's church and western architectures.
On clear nights, you may even be able to see as far as Aomori's northern peninsula. Visitors can reach the mountain's summit in 3 minutes conveniently via the ropeway. After enjoying the views the observation deck has to offer, guests can enjoy Yunokawa hot springs, located about 30 minutes from Hakodate by train. The surrounding area is famous as a hot spring town, so there are plenty of baths for you to enjoy! Hakodate Asaichi (morning market) near Hakodate Station is open until 2:00 pm, so visiting the observation deck after Asaichi is recommended. The winds atop the observation deck are quite strong in other seasons as well, so make sure to bring a jacket.
Mt. Hakodate Observation Deck
Address: Biwako Valley Ropeway Station, 19-7, Motomachi, Hakodate City, Hokkaido
Access: Approximately 13 minutes via city rail from Hakodate Station, get off at Jujigai Station, walk for approximately 10 minutes until you reach Hakodate Ropeway Biwako Station.
Operation Hours:【Observatory】10:00 am - 10:00 pm (open until 9:00 pm between 16 October and 24 April),【Ropeway】10:00 am - 10:00 pm (open until 9:00 pm between 16 October and 24 April)

 
Easily accessible by cable car and ropeway!
Maya View Line Kikuseidai(Hyogo)
Mt. Maya is the best spot to view the scenery. The dazzling city night lights continue all the way from Osaka Bay up to the Kii Peninsula.
Visitors can access Mt. Maya via the ropeway and cable car that connects the summit and foothills. Atop Mt. Maya's summit lies Tenjoji Temple, famous as a spot to pray for safe birth and conception. If you have the time, do not miss the chance to visit this historic temple!
Maya View Line Kikuseidai
Address: 2-2 Mayasancho, Nada Ward, Kobe City, Hyogo
Access: (via train) Ride city bus 18 from Sannomiya Station, get off at Maya Cable Shita bus stop, it is located close to the exit of Hoshi no Eki on the Maya View Line (Ropeway/cable car)
operation hours of observation deck : 24 hours
operation hours of Maya View Line : 10:00 a.m. - 5:30 p.m. ※ Fri, Sat, Sun, Public Holidays - 10:00 am to 8:50 pm(from 20 March to 19 July and, 1 September to 31 October)
10:00 a.m. - 8:50 p.m.(from 20 July to 31 August), 10:00 a.m. - 5:30 p.m.(from 1 November to 19 March),10:00 am - 7:50 pm.※ Fri, Sat, Sun, Public Holidays
※The observation deck has no set holiday.
※The Maya View Line is closed every Tuesday. On Tuesdays that coincide with a public holiday, the Maya View Line will close the following day.