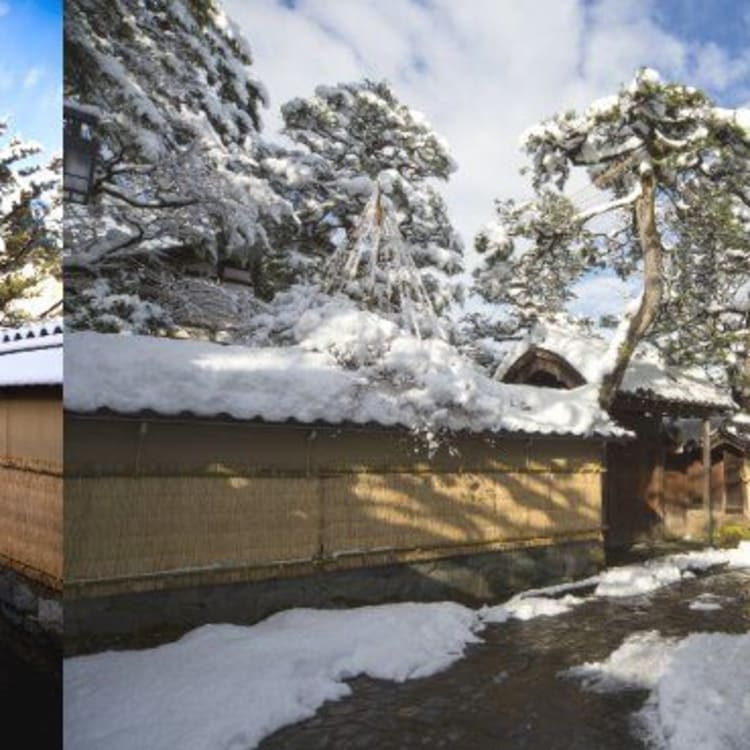 STORY
Snow×Historical Samurai Residences! Photogenic Walk in Historical Sites
by JNTO on 27 November 2019
The streets where Bukeyashiki (Samurai residences) of various standings remain can be found in Japan(including prefectures of Akita,Iwate, Nagano, or Kyushu region ).Visiting them is like travelling back to the ancient time.
Today, we are going to look at the ways to fully enjoy the unique history of samurai by renting kimono, photo shooting at the residences, strolling along the streets to take in the ambience of authentic samurai village and, very importantly, savouring winter cuisine.
Touring around Samurai Residences, and Enjoying Echizen Snowcrab and Blowfish!
Ichijodani Asakurashi Iseki (Fukui Prefecture)
Ichijodani Asakurashi Iseki(Ichijodani Asakura Family Historic Ruins)is located about 10 km from Fukui city center and in its southeast direction. The Asakura family ruled the area in the Sengoku age of Warring States for 100 years, and the ruins were also the family's base. Similar to Kinkakuji Temple in Kyoto and Itsukushima Shrine in Hiroshima, this ruins have also been designated as a Special Historic Site, Special Place of Scenic Beauty and Important National Property.Remember to check out the "Old Town Restoration(Japanese name is fukugenmachinami)", which resembles the luxury Samurai residences and prosperity of down town lives. Particularly, the residences are restored in such details that the house storage, wells, and toilets are like inviting you back to the old times.
After the visit of the historical spot, you can head over to "Asakura Village Rikyuan" to have a break and warm your body with the Ichijo soba noodles. You can also take the opportunity to taste local winter classics such as the "Echizen Snowcrab", and the king of blowfish "Tiger Blowfish", and "Willow Flounder", which are served even in the imperial menu!
In Fukui, you can also enjoy Awara hot spring and have a comfortable stay in a hot spring inn.
 
Ichijodani Asakura Family Historic Ruins, Restored Town(Fukugen Machi Nami)
Address: Kidonouchi-cho, Fukui
Access: At Fukui station, take Kyofuku Bus for Jokyoji, get off at "Fukugen Machi Nami"
Opening Hours: 9:00 a.m. – 5:00 p.m. (Last Admission 4:30 p.m.)
 
Rental Kimono and Photo Shooting at Samurai Residences!
"Samurai Houses of Kakunodate" (Akita Prefecture)
 
Kakunotate is located at Semboku City in Akita Prefecture. This spot of historical Samurai houses is also famous for its trees tunnels of cherry blossoms, and it is also known as the "little Kyoto of the Michinoku country".
The late Edo period is reflected in the samurai houses here- its city planning, architectural structure of the main hall, entrance and backyard warehouse, along with the black partition walls guarding the structures within. You can also find a number of kimono rental shops at Kakunodate and it is recommended that you try walking around in kimono for a unique and unforgettable experience. There are even shops guiding you directly to the scenic spots!
Rickshaw rides are also popular among tourists. At Kakunodate, you may want to try out the town's signatures, Hinai chicken and kiritanpo rice cake pot. You can find several restaurants serving these signature delicacies at kakunodate, so you can certainly enjoy both the beautiful sceneries delicious local cuisine here!
Samurai Houses of Kakunodate
Address: Kakunodate-machi, Semboku City, Akita Prefecture
Access: 20-minute walk from Kakunodate station
※ Facilities have different opening hours
 
"Matsushiro Samurai Houses"- Castle town, Sanada Treasure Museum and many other highlights (Nagano Prefecture)
 
The Sanada noble family was very active in Matsushiro town of Nagano City during the Sengoku age of Warring States, and supported the town to develop rapidly and sustainably from the Edo period to Meiji for over 250 years as a castle town.
 
Among these historical residences, we especially recommend the Higuchi house.
 
The main house, mud warehouse, long corridor and entrance have also been restored, so you can explore how the lives were like of these samurai living in these samurai houses. After the exploration of these houses, you can visit Sanada Treasure Museum for their display of interesting artifacts- beautifully-crafted samurai swords, armours, various tools, and manuscripts. At the "Wakuwaku room", visitors can even try them on! So, put on the armour and pose as a samurai for your camera!
 
Matsushiro Samurai Houses
Address: Matsushiro, Matsushiro-machi, Nagano
Access:30-minute bus ride from Nagano Station Zenkoji Exit 3 to Alpico Kotsu Matsushiro (No. 30), then get off at Matsushiro Station and just a short walk of about 3 minutes
※ Facilities have different opening hours
Deepen your Understanding of Japan by Exploring one of its Important Heritages!
When you tour around Japan, it is recommended that you visit these samurai residences to understand and appreciate the samurai culture and history which is an important part of Japan's heritage. Rental kimono, rickshaws, walks that can rejuvenate your souls, and delicious local cuisine…let the spirits of samurai live out and enrich your memories in Japan!