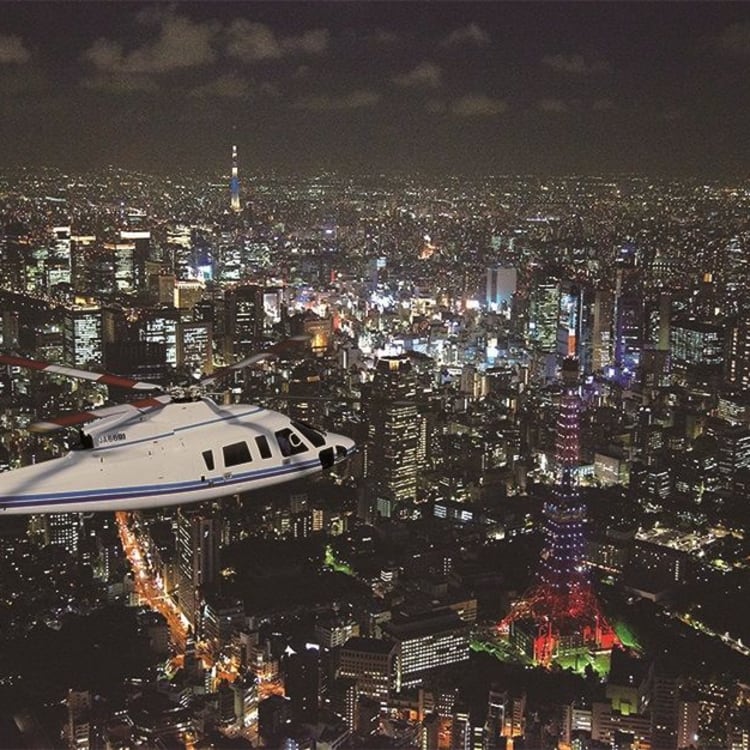 STORY
Special Ways to See Tokyo Come Alive at Night!
by JNTO on 11 July 2019
Despite its huge size and constant renewal, Tokyo has its fair share of historical buildings and surprising pockets of delightful natural charm. But perhaps most iconic are the nightlife and mesmerizing illuminated cityscapes. You can just take a stroll along the street to enjoy the night breeze and canyons of neon, or venture into an underground pub to find where the real locals hang out. You can also go to the top of the world's second-tallest free-standing structure to capture the galaxy of glittering city lights from a bird's eye view. But we are going to introduce three unique ways to enjoy this beautiful night gem from a different perspective.
Rise above the ordinary,
Helicopter night tour(Excel Air Service)
Tired of crowded touristy night-viewing spots? Ever dreamt about having the entire night view for just you with your loved ones? Well in Japan your wish can come true.
If you are going to spend an unforgettable night in Tokyo, you could consider a helicopter tour. At night time, the views of the illuminated Rainbow Bridge, Tokyo Tower, Tokyo Sky Tree, etc. are especially beautiful and very romantic!
There are several companies that provide helicopter trips and among these is the Excel Air Service.
Before take-off, you can relax at their Urayasu Heliport lounge, where you can enjoy a wonderful sunset view by the seaside with your favourite drink.
There is a variety of night flights to cater to different needs and budgets. The most popular night course is the Jewel Box chartered flight for which you can choose the time, with four options from 30 minutes to 60 minutes and includes a bottle of champagne.
The 40-minute charter may be recommended however, as it takes in Maihama, Odaiba, Tokyo Tower, Yokohama, Shibuya, Roppongi, Shinjuku, Ueno, Tokyo Sky Tree, Kasai Rinkai Park and Maihama. If money is no object, you could instead pick the 60-minute option which takes you all the way to suburbs of Tokyo in Chiba or Kanagawa. As the Jewel Box is a private charter, you will get to enjoy the entire luxurious journey with just your love or loved ones! It makes for a popular choice for wedding proposal or anniversary celebration. If you want to make the flight even more special, there are also additional options such as cakes and flowers for your precious moments!
If you just want to experience a short flight, there is also a 15-minute Tokyo Night Cruise with prices from 23,700 yen per adult and 16,600 yen for children up to 12 years.(This price is as of July 2019)
Of course, if you prefer a daylight view, there are options for that too.
Excel Air Service
Information&Reservation:https://urayasu1e.excel-air.com/
URAYASU Heliport
Address:14, Chidori, Urayasu, Chiba
Access: Free shuttle service from JR Keiyo Line Maihama Station,Approximately 20 minutes by taxi from Tozai Line Urayasu Station
Operating Hours:11:00 a.m.~5:00 p.m.(Office)
Fantastic, just like a SF movie!
Factory night cruise(Rec.System)
Visitors love a boat cruise. But have you ever taken a night cruise past an industrial zone? It may not sound very appealing or be your typical romantic night cruise, but we believethat this will be a unique and awesome experience!
This 90-minute cruise starts with the wonderful sunset or night view of the Minato Mirai waterfront business district in Yokohama, and returns to Yokohama Bay Bridge after touring the Kawasaki factory area with seven or eight stops to allow you to take photographs.
If you have ever driven past Yokohama Bay Bridge at night, you probably noticed the sparkling factory lights of these castles of steel.
The experience of passing under Daikoku Ohashi bridge and seeing the Minato Mirai Ferris wheel is something you cannot get anywhere else.
The cruise takes you to the Keihin Industrial Zone in Kawasaki City, one of the five major industrial areas in Japan, and a fascinating night scene spot.
Transformed into an illuminated wonderland by night, these factories can make for a surprisingly romantic evening on the water.
If you come to Japan, please enjoy this unusual adventure!
Rec.System
Information&Reservation:http://www.tabione.com/en/factory_cruise/
Factory Night Cruise
Departs from:Pier Nippon Maru or Zo no Hana ( Elephant's Nose) Pier
Access:About 3 minutes' walk from JR Sakuragicho Station (Pier Nippon Maru),or3 minutes' walk from Minato Mirai Line Nihon Odori Station(Zo no Hana Pier)
Shall we go to see Mount. Fuji and Sky Tree?
Free observation deck(Bunkyo Civic Center)
Skyscrapers have mushroomed across Tokyo in the last quarter of a century. You are probably already familiar with all the highest and best-known observation decks affording incredible panoramic views of Tokyo. However, if you are looking for a tranquil place to enjoy the view without too many tourists, the Bunkyo Civic Center Building is definitely worth a visit.
The 25th floor has a 330 degree panoramic viewing deck, and while it may not be the highest, its location means you can have a great view of Shinjuku, Ikebukuro and Tokyo Sky Tree, and even Mount Fuji on a clear day.
If the weather is fine in November to February, you may even be lucky enough to see Diamond Fuji, when the setting sun appears to sit on the summit of Mount.Fuji and sparkle like a diamond.
The best part
Admission is free and it is much less crowded here compared to the usual well-known viewing decks in Tokyo where you may need to squeeze through people to find the best photo spot. While you can stay and take as many pictures as you want, tripods and monopods are not allowed. We recommend dusk to dark as the time for the best views, but please note closing time is local time 8:30 p.m.
Although drinking alcohol here is not normally allowed, the monthly "Sky View Lounge BAR" event is an exception.
Bunkyo Civic Center
Address:1-16-21 Kasuga Bunkyo-ku, Tokyo
Access:1 minute walk from Tokyo Metro Korakuen Station and Marunouchi Line (Exit 4a / 5), North / South Line Exit 5
Operating Hours: 9:00 a.m. - 8:30 p.m.※Close on Year-end and New Year (29 Dec – 3 Jan), and May 3rd Sunday closed