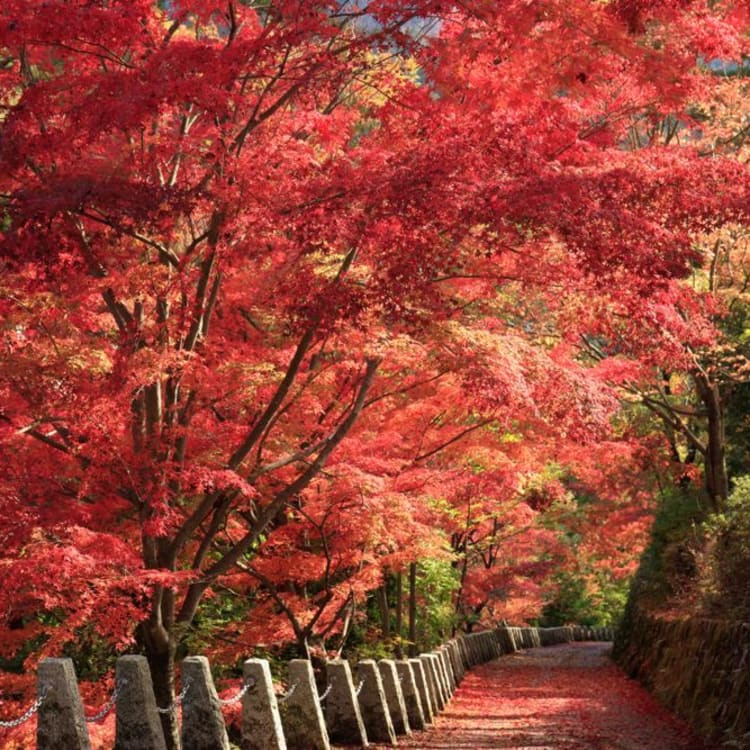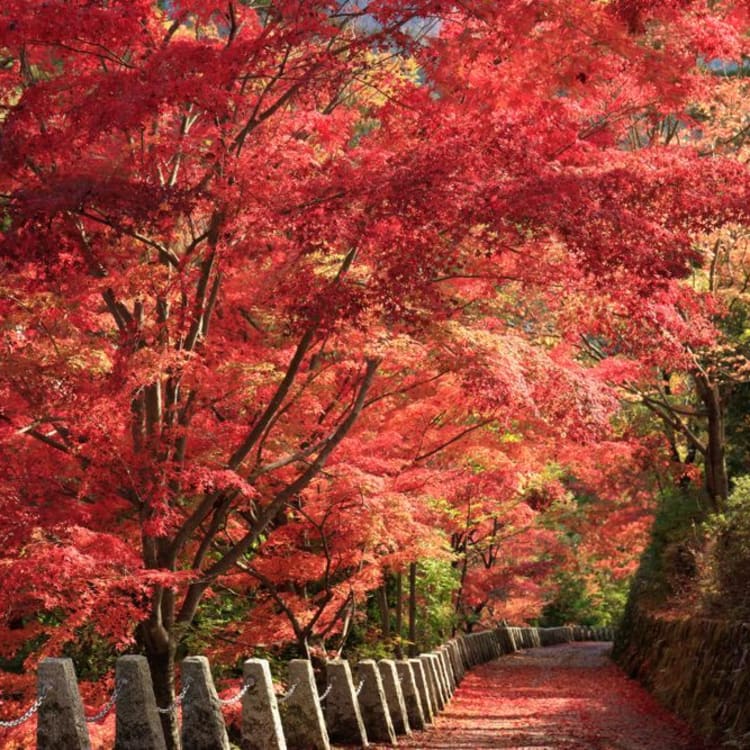 STORY
UNESCO-Designated! Enjoy Spectacular Autumn Colours and World Heritage Sites on Japan's Mountains
"Kouyou" refers to autumn leaves (written as "red leaves" in Japanese)."Momijigari", the act of viewing autumn leaves, has long been a popular activity among both locals and international visitors. The cool temperatures of Japan's autumn season are often seen as a welcome departure from countries with higher temperatures all year round.
As thousands flock to Japan every year to experience the classic combination of its traditional architecture with autumn colours as background, you may wish to look for somewhere off the beaten path.
With that in mind, here are three places that may be your destinations for a getaway.
World Heritage Sites and Autumn Leaf-Viewing All in One Spot
Gokayama (Toyama Prefecture)
Located in Toyama Prefecture, Gokayama is surrounded by mountains and is home to 40 villages. The region has developed a unique culture.
Gokayama is known for its thatched roof houses, which bundles of thatched straw are joined at roof top to prevent snow from piling up. These can be seen in the villages of Suganuma and Ainokura, which were designated as UNESCO world heritage sites in 1995, thanks to the local preservation efforts.
Some of the houses have been changed into guesthouses and spending a night in one of them is absolutely a rare but memorable experience. The architecture looks almost untouched by time, making it easy for one to imagine how autumn in the past may have been like.
While exploring the villages, try looking for one of their vantage points where you can get a better view of how the gradients of red and yellow leaves "trickle" down the mountainside. The houses are picturesque amid the autumn backdrop, with the scenery awash in crimson.
To many, food is never far from our minds- while you are here, have a taste of Gokayama's local specialties, which are the tofu and tochi-mochi (horse chestnut mochi), and cleanse your palate with a simple yet rich mountain flavor.
It is highly recommended to visit Gokayama between the end of October and early November. If you wish to immerse yourself in the local culture, you could take the opportunity to enjoy autumn performances of the region's Kokiriko folk dances at Kaminashi Village, or even make your own sasara, a wooden instrument used in Kokiriko.
Gokayama
Address: Nanto, Toyama, Japan
Access: Take the World Heritage Bus at JR Johana Station for 40 minutes, then get off at Suganuma bus stop
Famous for Cherry Blossoms in Spring but Equally Breathtaking in Autumn
Mount Yoshino (Nara Prefecture)
Further to the east of Osaka Prefecture lies Nara Prefecture. The main city of Nara contains well-known attractions such as Todaiji and the Nara Park. To the south of Nara City is Mount Yoshino, or Yoshinoyama in Japanese.
In spring, the thousands of cherry blossom trees lining the slopes make the mountain an extremely popular cherry blossom viewing spot. However, the autumn view is no less stunning, as the trees create a fiery sea of crimson, orange and gold. Numerous shops and rest points can be found on the mountain, allowing travellers to rest their feet and enjoy local snacks while taking in the views.
While the scenery may be the main attraction for some, Mount Yoshino is also a center of Shugendo (mountain worship) in Japan, a school of thought that originated in the Heian Era which draws from a variety of different practices.
The trees on Mount Yoshino have been carefully cultivated and preserved not for the purpose of viewing, but for their close connection with the Shugendo practice. For its deep cultural significance, Mount Yoshino was designated as part of a cultural UNESCO World Heritage Site in 2004 along with several temples on the mountain itself.
As Mount Yoshino is located in western Japan, the colours change between the end of November and early December. If you are able to stay past sundown, you can consider seeing how the special autumn illuminations evoke a different yet no less beautiful atmosphere.
Mount Yoshino
Address: Yoshino-cho, Yoshino-gun, Nara
Access: Take the Kintetsu Express or Limited Express train from Kashiharajingu Station, then take the Yoshinoyama Ropeway to Senbonguchi Station for 3 minutes
A Sacred Land Close to the Heaven, 1,000m above Sea Level
Mount Koya (Wakayama Prefecture)
Mount Koya, or Koyasan, is perhaps more widely known for being the birthplace of Japanese Buddhism. Mount Koya in Wakayama Prefecture was discovered 1,200 years ago by priest Kukai (also known as Kobo Daishi). It is now a home to numerous temples under the Mount Koya Shingon Buddhism sect. Coincidentally, it was designated as a UNESCO World Heritage Site in 2004, at the same time as Mount Yoshino.
Mount Koya's temple town is relatively compact which allows you to explore places of interest on foot. This presents visitors a perfect chance to enjoy the fall foliage at their own pace. While many might visit Mount Koya for its religious significance, the crimson-dappled trees add their own individual charms, promising a unique autumn experience.
Some of the temples offer temple stays, where you can get a glimpse into the lives of the mountain inhabitants. Have a taste of their hearty vegetarian meals, or participate in meditation and prayer sessions led by the monks of Mount Koya.
The mountain also houses one of the Japan's largest cemeteries – Okunoin is where many people, including several prominent historical figures, have erected their tombstones. While the idea of walking through a cemetery may seem eerie, the atmosphere instills a sense of sacredness and peace instead. Exploring the cemetery by day, and then again by night, is an experience not to be missed.
Autumn leaves of Mount Koya hit their peak around early November. Getting there by public transport requires a few transits, but the experience will surely be a rewarding one.
Mount Koya
Address: 20 Koyasan, Koya-cho, Ito-gun, Wakayama
Access: Take the Nankai Koya Line at Namba Station and get off at Gokurakubashi Station, then take the Nankai Koyasan Cable Car for 5 minutes.
A game of serendipity, or a part of the nature's cycle?
While locking down your travel dates to get the right timing can be tricky, the transitory nature of the seasons is undeniably poetic and reminds us to treasure every moment in the present.
Let the fall colours lift your spirits and rejuvenate your senses, so that you may depart with a lighter load on your shoulders. And even after you leave, you may do so with the knowledge that autumn will be back in a year, to dazzle us once again.