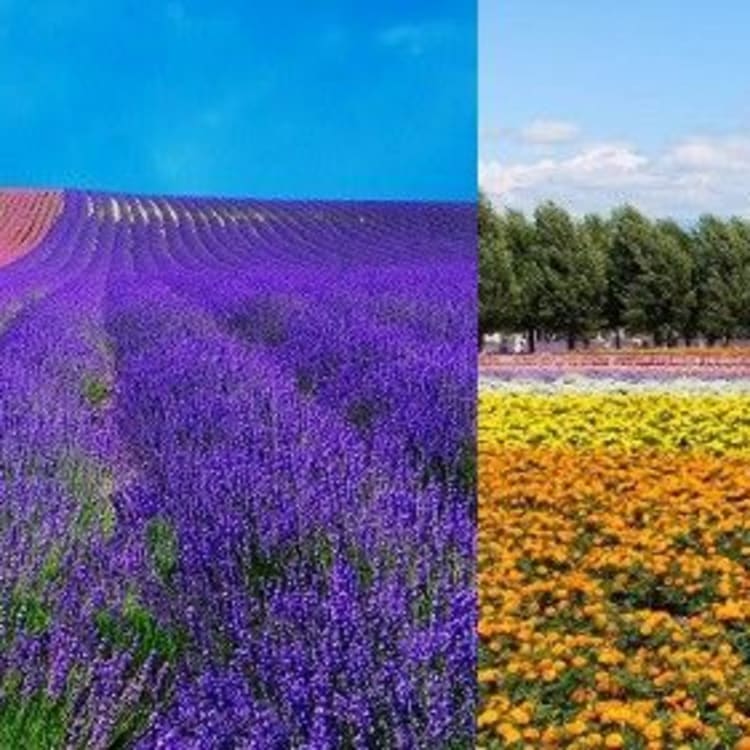 STORY
Summer Exclusive! Guide to Enjoying the Flower Season & Our Top 3 Summer Flower Fields
by JNTO on 12 June 2019
Cherry blossoms in spring, sunflowers in summer, cosmos in autumn and the narcissus in winter. In Japan, colourful flowers are abundant and, without any doubt, they are social media – worthy. Of course different flowers coe into bloom in different seasons. This time, we'll take a look at some summer flowers.
If you visit Japan in June, you will see the bloom of hydrangea and lavender
Hydrangea blooms coincide with Japan's rainy season. Light blue, pink and purple flowers are perfect for photographs and social media! They come into flower from the start of June to the beginning of July. Kamakura in Kanagawa and Yoshimine Temple in Kyoto are famous for these pretty flowers.
We must also mention Furano in Hokkaido.Viewing the lavender fields is hugely popular asthe flowers spread like a beautiful sea of purple. Depending on the variety, the flowering season varies from late June to around early August.
July is the best! Lotus and sunflower season!
Have you ever visited a sunflower field? The contrast between the blue summer sky, and the yellow and orange petals creates a stunning landscape. The flowering time of the sunflowers is from July to September. Hokuryu Town in Hokkaido and Yanagawa in Fukuoka are famous for their sunflower fields.. Lotus, which gives a waterscape a refreshing and poetic feeling, is another of those flowers which reminds people that summer has arrived. Mid-July to Mid-August is the best time to catch these flowers in bloom. "Kodai Hasu no Sato" (Ancient Lotus Village in Japanese) in Gyoda Cityin Saitama, and Mimuroto-ji Temple in Kyoto are well-known for beautiful lotus.
Top 3 flower fields selected by our users
We have surely piqued your interests in Japan's flower fields, haven't we! Now, let us finally have a look at the three flower fields recommended by our users
Kodai Hasu no Sato (Ancient Lotus Village)
Lotus blooms across Kodai Hasu no Sato in Gyoda City, Saitama Prefecture. Here, lotus flowers have sprouted naturally for 3,000 years.
The characteristic of the ancient lotus is the size of its flower, whichcan beas big as an adult's palm. The flowering season is until the beginning of August.
For an even closer look at this village of lotus, you may refer to
https://japanbyjapan.com/discover/kodai-hasu-no-sato
Kodai Hasu no Sato
Adress:2375-1 Oaza Kobari, Gyoda, Saitama
Access:From JR Takasaki Line Gyoda Station East Exit, take the Gyoda City city loop bus
Operating hours:Anytime(garden only)
Lotus flowering season (from mid-June to early August): 07: 00-16:30 (receptionist: 16:00)
Discover Sunflower Fields!
This is the Yanagawa Sunflower Garden in Yanagawa, Fukuoka Prefecture. Can you believe that 500,000 sunflowers grow here!
Himawari, the Japanese name for sunflower means "growing towards the sun". As the name suggests, it is only in summertime that you can see the sunflower turning toward the hot sun. Yanagawa Sunflower Garden is only open for 10 days. If you can visit at the right time then you are super lucky!
For an even closer look at this sea of sunflowers, you may refer to
https://japanbyjapan.com/discover/golden-carpet-sunflowers-blooming-summer
Yanagawa Sunflower Garden
Adress:389 Hashimotomachi, Yanagawa, Fukuoka
Access:Special temporary bus service from Nishitetsu Yanagawa Station east exit to Yanagawa Sunflower Garden
Operating Period: only end of July
Speakingof Hokkaido flowers ... the first thought would likely be the lavenders.
No, not only that! Peonies will be in full bloom from the end of May to June too.
The "Peony Festival" is held at Otaru Kihinkan where you can enjoy the lovely view of 700 beautiful full-bloomed peonies contrasting against the historic buildings and impressively large trees.
For an even closer look at this festival, you may refer to
https://japanbyjapan.com/discover/otaru-kihinkan-luxurious-villa-recalls-glory-days-herring-fishinghttps://japanbyjapan.com/discover/otaru-kihinkan-luxurious-villa-recalls-glory-days-herring-fishing
Otaru Kihinkan
Adress:3-63 Shukutsu, Otaru, Hokkaido
Access:Bus from JR Otaru Station for "Otaru Aquarium". Get off at "Gototsu 3-chome", and walk for about 5 minutes.
Operating Hours:09:00~17:00(April to October), 09:00~16:00(November to March)