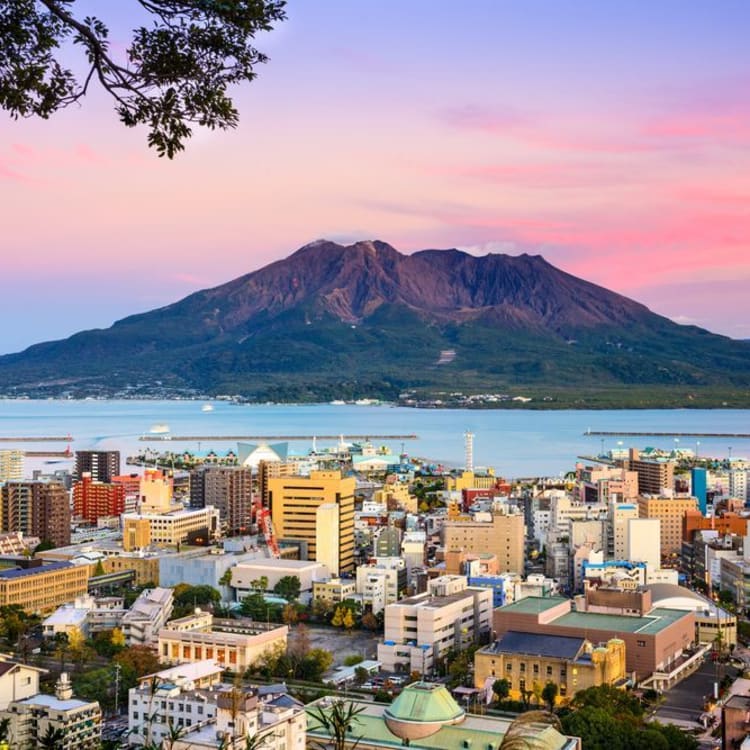 STORY
Summer Paradise! Instagrammable water spots in Kyushu!
by JNTO on 05 July 2019
Kyushu (meaning "nine provinces") is the third largest of the Japanese islands and is located southwest of the main island Honshu. As an early centre of the Japanese civilization, Kyushu is a combination of mesmerising historical treasures and modern cities. Furthermore, it is also surrounded by beauty of nature.
Living on the island of endless summer, Singaporeans may be tired of the season. However, summertime in Kyushu is still attractive as it provides a completely different enchanting experience. During summer in Kyushu, you will find lots of fun activities to do and stunning nature to see. In this article, we will introduce the must-visit sites of natural heritage and refreshing scenery, which will guarantee you a wonderful summer experience.
A 360-degree beauty, Nabegataki Falls (Kumamoto Prefecture)
If you are a nature lover, Nabegataki Falls in Kumamoto prefecture is the perfect place for summer. It is regarded as one of the most beautiful waterfalls in Japan. Not only does it boast stand-alone beauty and a spectacular view, the air in and around the Nabegataki Falls is said to have a calming effect for your mind and soul. The temperature during summer is usually lower due to the cool mist thrown up by the falls. If you make it there in springtime, the waterfall is lit up every year in early April.
What is special?
Unlike many other waterfalls, Nabegataki is famous for the view through the waterfall from behind.
Yes! You can go behind the waterfall and look out through the veil of water. You can loop around it to discover totally different perspectives from standing in front of it.
Apart from the waterfall itself, Nabegataki also has a little surprise for visitors. There are heart-shaped stones hidden on the path to the waterfall. There is a saying that if you can find all six of these heart stones, they will bring you happiness.
Nabegataki
Address: Kurobuchi, Oguni-machi, Aso-gun, Kumamoto Prefecture
Access:Nabegataki Falls is a bit difficult to reach by public transport, so it is better to drive if possible. 10 minutes by car or taxi from Road Station Oguni Yu Station
※There is space for 123 cars at the parking lot.
Opening time:9:00 a.m. - 5:00 p.m. (Last admission:4:30 p.m.)
Japan's largest underwater limestone cave
Inazumi Underwater Cave and Harajiri Falls (Oita Prefecture)
Another natural wonder that you should check out in Kyushu is the Inazumi Underwater Cave. It is located in Mie township, Bungo Ono in Oita Prefecture, and is the largest underwater cave in Japan. This particular cave is also one of the world's most unusual limestone caverns because it is very rare that you can see stalactites underwater. The cave system was formed 300 million years ago during the Paleozoic era and was submerged 300,000 years ago when Mount Aso erupted, giving it its current form.
What is inside?
There is a number of features inside the 200-metre long cave system, each with their own names, such as the "Rainbow Falls" at entrance, Nagori no Ike (Lake Remnants), Bell Hall, Emerald Spring, and Jigen no Fuchi (Deep Pool). Each area is unique in its own way.
For example, "Bell Hall" has numerous bell-shaped sculptures and helictites formed on the ceiling. At Jigen no Fuchi, you can see countless stalactites in the crystal-clear water. As its name suggests, the water extends to a depth of over 40 metres. There are also clear streams flowing through the cave. The sight of the seemingly endless variety of beautiful stalactites is unforgettable.
The temperature inside the caves is a constant 16 degrees centigrade all year round, which means that it is cool in summer and warm in winter. It is a perfect place to visit at any time of year.
Apart from the astonishing limestone cave, Harajiri Falls is another attraction not to be missed when you visit Oita.
They are located in southernOita and are ranked among Japan's top 100 waterfalls. The falls are around 20 metres high and are formed as a result of another Mount Aso eruption 90,000 years ago. There is a suspension bridge across the river facing the falls and a path across the top, providing different viewing points.
Inazumi Underwater Cave
Address: 300 Nazuru, Mie-machi-oaza, Bungo Ono, Oita
Access: Approximately 20 minutes by car from Mie-machi Station
Opening time: 9:00 a.m. - 5:00 p.m.
Harajiri Falls
Address: 936-1 Ogatamachi Harajiri, Bung Ono, Oita Prefecture
Access: Approximately 10 minutes by car from JR Hohi Honsen Ogata Station
Island life in Japan
Instagrammable Itoshima (Fukuoka Prefecture)
Itoshima is a beautiful city in Fukuoka Prefecture facing the Genkai Sea in Kyushu.
Just about 40 minutes by train or car from Fukuoka, the city is famous for its broad sandy beaches and especially the seascape of the Sakurai Futamigaura Beach with its torii gate and the so-called "wedded rocks", two outcrops in the water joined by a Shinto rope that make for a perfect sunset shot. According to a 2013 survey by a popular national magazine, Itoshima was ranked top of a list of cities most Japanese would want to move to. It is not hard to see why Japanese love this place so much: it has the same laid-back feel as Shonan near Kamakura, south of Tokyo. The city includes the peninsula, which is bordered by the Genkai Sea to the north and mountains to the south, with low-lying farmland in between. In other words, whether you are a beach lover or a hiker, Itoshima can satisfy you all year round. If you come to Japan and have been to all the mainstream destinations, do not miss Itoshima which is not too touristy and never too busy even in the height of summer. Its beauty is hard to beat.