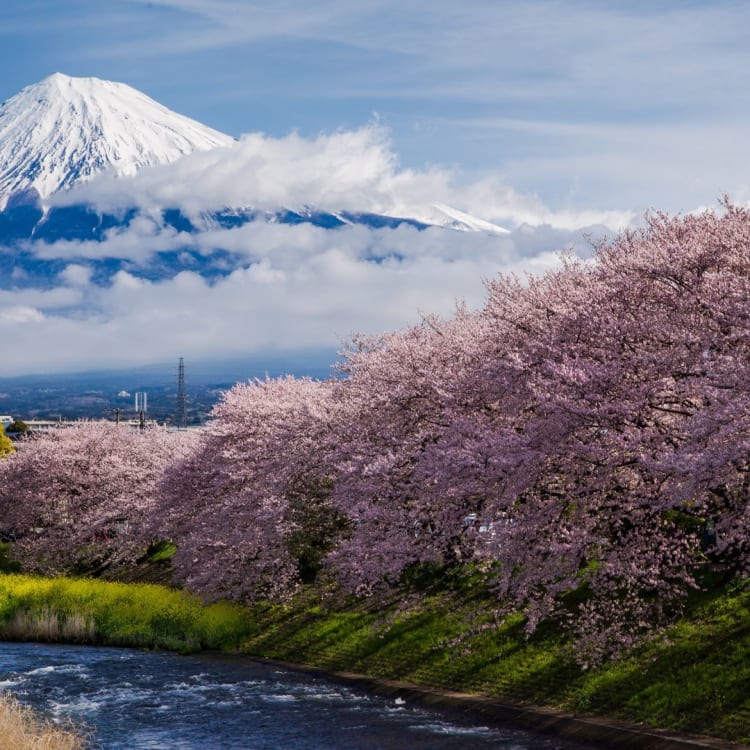 Story
Time for Japan's Favourite Spring Activity! Hanami Manners and What to Bring
By JNTO on 19 February 2020
"Sakura", or cherry blossoms, are the flowers that signal the coming of spring for Japan. From March to May, cherry blossoms begin to bloom throughout most of Honshu.(However, many may not be familiar with the fact that the earliest sakura bloom actually starts at Okinawa around the middle to late January!) 
Many celebrate the beauty of the cherry blossoms during this season by enjoying "Hanami", a traditional practice in which people enjoy picnics and drinks below the brightly-coloured flowers bloom. There are many famous Hanami spots, such as Tokyo's Ueno Park and the Meguro River area, Aomori's Hirosaki Park, which is lauded as one of Japan's three largest cherry blossom viewing spots, and Osaka Castle Park in Osaka.
Let's learn about the proper manners associated with and various ways to enjoy Hanami for your next trip to Japan in spring.
What is Hanami? — Varieties of cherry blossom trees and timing when they will reach full-bloom
Hanami is just as the name suggests in Japanese: "Hana" means "flower" and "mi" means "to view," which combine together to create the phrase "flower-viewing". 
There are various theories as to where Hanami originated, but the most popular of them is that of aristocrats reciting poems while enjoying flower-viewing during the Nara period (710-794). Originally, many people spent time viewing the Japanese plum blossom. However, as the cherry blossom grew in popularity as the representative flower of spring, more people began to favour it as their choice of flower to enjoy viewing during Hanami.
The "sa" in "sakura" represents the gods of rice fields and harvest, and "kura" means "a place where the gods reside," leading to another theory in which farmers would pray for a bountiful harvest by celebrating Hanami when the rice planting season began.
Even today, Hanami is the most popular activity to welcome the coming of spring in Japan. In recent times, people enjoy Hanami under the fully-bloomed cherry blossoms while enjoying a meal with friends or co-workers, and there are even areas where you can view the flowers at night all lit up called "yozakura." 
The periods in which the cherry blossoms bloom depends on their type and the region they are located in. The Hikan-zakura, an early-blooming, bright-pink blossom that tends to face
downwards, commonly blooms in mid-January in Okinawa.
In Shizuoka's Kawazu town, the Kawazu-zakura blooms from late-February to late-March, one of the earliest blooming varieties of cherry blossom in Honshu. There are plenty of other spots to enjoy various varieties of cherry blossom from March to April throughout Honshu as well. Such varieties include the most representative variety of cherry blossom, Yoshino, and the Yama-zakura that bloom in the wild in Nara's Yoshino town.
In Tohoku, some cherry blossoms start to bloom at some spots at the beginning of May. In Hokkaido, people enjoy the Yoshino sakura that blossoms from the end of April to the end of May, as well as the vibrantly coloured blossoms of the Ezoyama-zakura.
What to bring and prepare to enjoy Hanami to the fullest!
1. Tips about what to bring and wear: Hanami foods and seasonal clothing
If you are planning on doing Hanami in the park, you will need to prepare what you would for a picnic: a sheet or blanket big enough for all the people participating and the appropriate amount of food and drinks. You may be able to skimp out on preparing some food and drink items if there are food stalls nearby, but they tend to draw long lines around lunch time, so take that into consideration when you plan on what you intend to bring. Department stores and delicatessens sell sushi and special Hanami bentos (lunch boxes) as well. If you are looking to enjoy an authentic Japanese experience under the cherry blossoms, we recommend buying a bento chocked full of traditional Japanese delights!

The average low temperature in Tokyo in March is about 5 °C, and the average high is around 10 °C (based on data as of 2019), so make sure you bring proper clothing to keep warm while staying outside for extended periods. Bringing a blanket and some pocket warmers might be a good idea as well. The temperatures can drop even lower at night, so make sure to bundle up if you will be out in the evening to view the yozakura!
2. Manners you need to know: saving a spot and disposing of trash ​​​​​

As the seasons change and temperatures rise, people tend to spend more time outdoors. In particular, Hanami season is a time when areas around popular spots tend to crowd, making it hard to find open parking spaces or to even grab a taxi. 
The best method of travel during the Hanami season is to take the train or public buses to the stop nearest to the spot you are looking to visit and walk from there.

The general rule of saving a spot to sit at is first-come first-served and taking up more space than you need or stealing the spot of others who were there before you is considered extremely rude. 
There are not many public trash bins in Japan and the general rule for disposing of trash is to take whatever trash you have home. Another important thing to remember is that the cherry blossom trees are the property of the parks and grounds they grow on and you may not, under any circumstance, break off branches or pull flowers from them.
Minding the local manners while viewing the cherry blossoms is the most authentic way to enjoy Hanami!