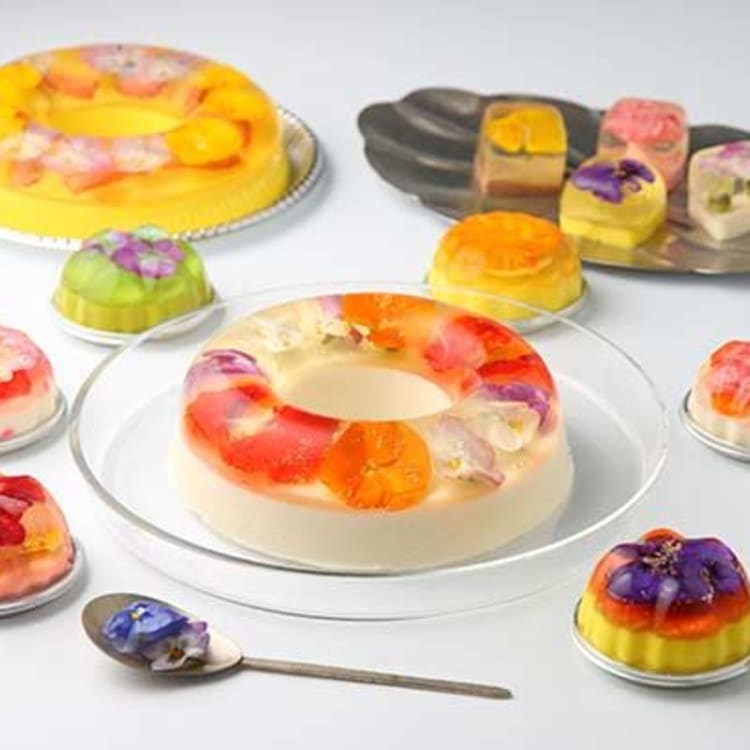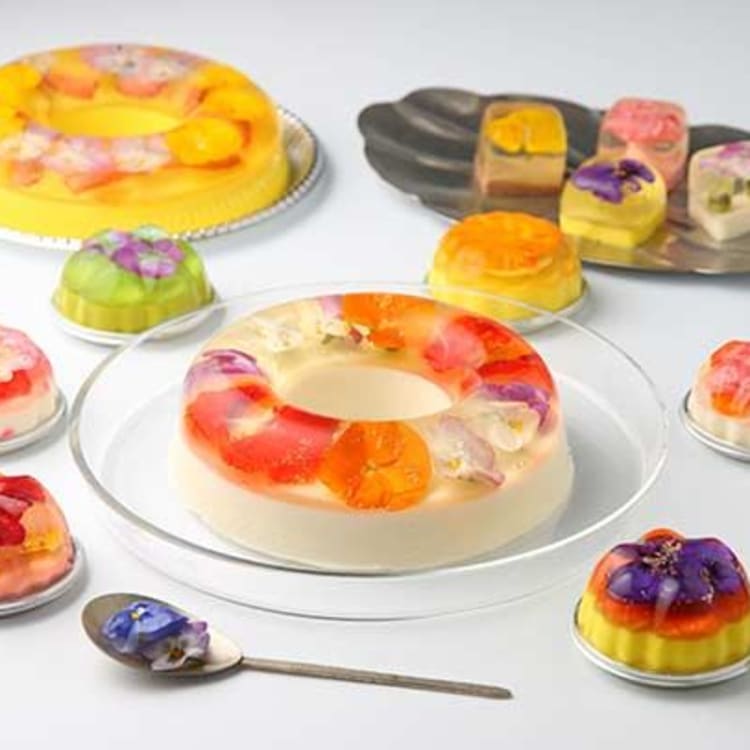 Story
A treat for the eyes and palate: Flower-inspired sweets
by JNTO on 26 March 2020
While we admire flowers for their ability to brighten up any dining space, flowers are also great themes for dessert. Whether they are made with edible flowers or are flower-inspired creations, they offer a unique aesthetic to your teatime experience. These days, flower-themed desserts can be enjoyed at patisseries and cafes across Japan, making them instantly Instagrammable. 
havaro
Located right next to the entrance to Tokyo Disney Resort is Ikspiari, a large shopping centre with a wide array of shops and restaurants.
Inside Ikspiari you will find havaro, a patisserie that specialises in exquisite desserts using seasonal edible flowers like rapeseed, perilla flowers, and salted cherry. Edible flowers are rich in vitamins and minerals, adding a unique burst of flavour and colours. havaro's signature creation is the Flower Bavarois – a clear gelatin dessert that showcases the pretty flowers suspended within. Each piece, which comes in different shapes and sizes, is unique since no two are alike.  
Ikspiari 1F, 1-4 Maihama, Urayasu, Chiba
Monday - Friday: 11am - 9pm
Saturday, Sunday & Holidays: 10am – 9pm
(*Opening hours may be subject to change.)
Website: https://www.hana-no-babaroa.com/concept/ (Japanese)
Tsuruya-Yoshinobu
Kyoto is a city rich in royal history, and one of the places where you can immerse yourself in its opulence is at the Kyoto Imperial Palace, located within the vast Kyoto Imperial Park.
Tsuruya-Yoshinobu is one of the most famous Kyo-gashi – Kyoto-made wagashi confectioneries used for traditional events like tea ceremonies – maker, having served royalty since its establishment in 1803. Its flagship store, not far from the palace, is built in the architectural style of a mercantile house where dine-in guests can witness their wagashi made fresh at the counter. Since the flavours of wagashi are often dependent on season, expect pretty little creations made with fresh, seasonal flowers. 
340-1, Nishifunabashi-cho, Kamigyo-ku, Kyoto
9am - 6pm; Dine-in 9:30am - 618pm (last order at 5:30pm)
Website: https://www.tsuruyayoshinobu.jp/shop/pages/en_about.aspx
Ito Kyuemon
A small city situated between Kyoto and Nara, Uji is an important cultural centre that is also famous for its green tea which is widely regarded to be of superior quality. 
A famous producer of high-grade Uji green tea is Ito Kyuemon, and its flagship store is located in Uji. In addition to its tea, the company is renowned for its innovative seasonal desserts which you can savour at their dine-in restaurant. In June when the rainy season brings in blooming hydrangeas, you can find limited-edition Hydrangea Parfait, Hydrangea Panna Cotta, and Hydrangea Kinton (a sweet potato confectionery) – all green tea-based desserts with blue hues inspired by the gorgeous purple variety. 
19-3 AraMaki, Todo, Uji City, Kyoto
10am - 6:30pm (last order at 6pm)
Website: https://www.itohkyuemon.co.jp/corporate/about/
L'angela
Situated at the foot of Mt. Fuji, Fuji City boasts great views of the magnificent, iconic mountain which its summit is within city borders. Located within the city is a unique patisserie famous for its one creation: madeleines. 
Traditionally from France, madeleines are small, buttery sponge cakes with a shell-like shape. However, the madeleines at L'angela are uniquely shaped like a rose and given the name 'Bellelaine'. Using selected fresh ingredients from all over Japan, these rose madeleines are carefully handmade one by one. Available in various flavours like lemon, green tea, vanilla, coffee, and chocolate, these Bellelaine are available in gift boxes to take home.
6-1 Heigaki-cho, Fuji City, Shizuoka
Tuesday - Saturday: 10am - 6pm
Closed on Sundays & Monday
Website: https://langela.info/ (Japanese)
Farm Tomita
When it comes to Hokkaido, spring and summer seasons always bring to mind colourful fields of flowers. From poppies in spring to lavenders in summer, Farm Tomita in Furano is arguably one of the most famous places to go flower-viewing. 
Farm Tomita has a number of shops and cafes that sell lavender-flavoured desserts. In addition to their ever-popular soft-serve ice cream, you can also try other lavender-flavoured items like macaron, milk candy, jelly, milk custard, and cheesecake which blend the refreshing taste of lavender with the rich flavour of cream cheese. This vast farm is a great place to spend an entire day marvelling at the rainbow of colours while enjoying flower-infused snacks.