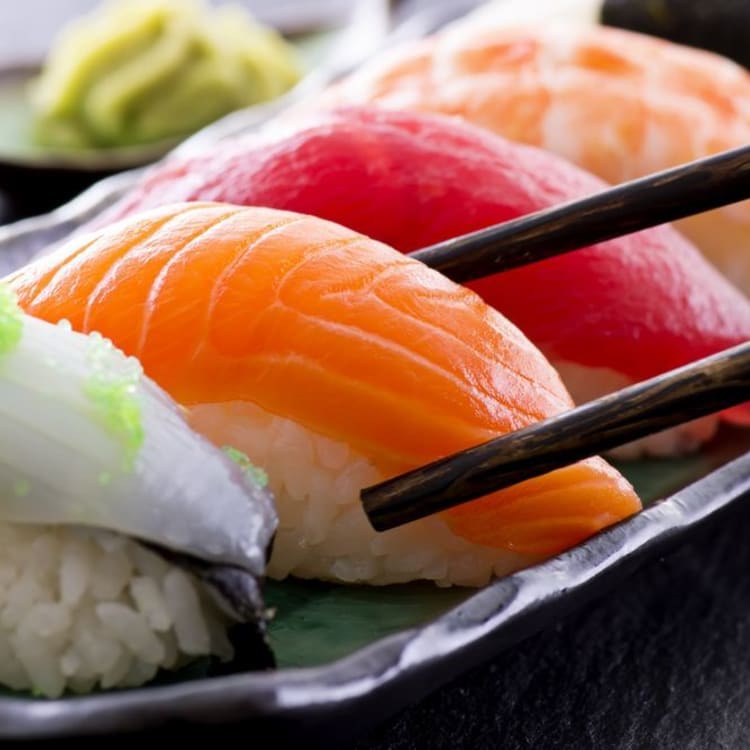 STORY
Try Out Delicious Sushi Here- Featured Sushi Spots!
by JNTO on 03 July 2019
Many Singaporeans love sushi. While the different varieties that you can find in a chain sushi restaurant in Singapore can satisfy your cravings, we want to introduce a couple of interesting and exquisite sushi spots that are scattered throughout Japan.
For many tourists who come to Japan, it is still a special feeling to eat sushi in the place where it originated from.
Lake Biwa: Funazushi, the "Original" Sushi
Tuna, salmon, swordfish... you name it! Many Singaporeans have experiences and knowledge of sushi, but few would know about "Funazushi". Even for Japanese, many are unfamiliar with "Funazushi". It is dubbed the "stinkiest sushi in the world", but do not be intimidated by its epithet. Each to their likings; it may be smelly to some, but it may also be the personal favourite for some.
Funazushi is a type of lacto-fermented salted fish pickled with rice, one of the types of the oldest form of sushi (also known as "Narezushi") . Texts written in the Nara Period (710-794 CE) contain the word "Funazushi".The dish traditionally used "nigorobuna", a type of wild goldfish that is only found in Lake Biwa in Shiga Prefecture, near Kyoto, where salt and rice were also historically abundant. Today, due to overfishing, Crucian Carp is also used.
As with most fermented dishes, "Narezushi" evolved as a way of preserving food, but nowadays it is considered a luxury dish because it takes so much time and effort, anything between one and three years, to achieve the right taste.
In fact, the ingredients used are simply common: fish, salt and rice. The organs are removed from the fish,except for the stomach which is stuffed with salt. The fish is then packed tightly, covered in layers of salt in a wooden pail and stored with a weighted lid for several months. It is then mixed with rice and stored again in a cool,dark place for another two or three years.During fermentation, lactic acid produced from the fermenting proteins prevents the fish from putrefying and gives Funazushi its distinctive, tangy, and sour flavour,which is often likened to blue cheese.
Compared to the modern-day version, where the fish sits on top of a rice ball or is rolled in rice, Funazushi does not look like sushi, because it is coated in slimy rice.
Unique taste, yet nutritious
Some may find the unique smell, flavour, and appearance of Funazushi challenging. But once acquired, the taste can become addictive, although it can be expensive.It is also a very healthy food as it is rich in lactic acid bacteria, vitamin B1, calcium, and minerals that are actually very good for your skin. Since the olden days, Japanese have believed that Funazushi is an effective cure for stomach ailments.
Here is a review by our JAPAN by Japan user who actually ate Funazushi: 
https://japanbyjapan.com/discover/funa-sushi
As the home of this ancient dish, the area around Lake Biwa is dotted with shops famous for serving Funazushi.
Matsushima: Fresh and cheap seafood market
If you are visiting Miyagi Prefecture in northern Honshu, the chances are your trip will include Matsushima Bay. When you are there, Matsushima Fish Market is one of the many must-see spots.
This is not just a huge wholesale fish market to wander around, but somewhere to buy fresh-caught seafood to take to eat at home, or to feast on oysters and other local specialities at any of the many eateries.
Matsushima is probably best known for its oysters and there are plenty of oyster stalls with all-you-can-eat deal just in front of the entrance to the Fish Market. If that is not enough to satisfy you, you can find another stand selling delicious oyster burgers on the first floor!
There are also other varieties of local seafood like anago (conger eel) and nori (seaweed). The seafood in Matsushima is regarded as such high quality because of its proximity to the waters of the Sanriku Coast which is rich in plankton and other nutrients.
If you have had your fill of fish, there are ramen restaurants and various souvenir shops located on the second floor.
Tips for enjoying your food here
First, you have to choose your dish (there are menus with photos, so there is no need to worry if you cannot read Japanese) and pay at the cashier located on the first floor. After receiving a numbered ticket, you make your way to the second floor to find a table and wait for your food to be brought to you. Soy sauce and wasabi are provided at each table.You will hear your number being called out loudly through their announcement system when your order is ready. After you have enjoyed your meal, you are expected to throw away your disposable trays and chopsticks in the appropriate bins.
Matsushima Fish Market
Address:4-10 Matsushimafugendo, Matsushima,, Miyagi
Access:From Sengoku Line Matsushima Kaigan Station, 10 minutes on foot
Operating hours:8:00 a.m. - 5:00 p.m. (the last order at 3:00 p.m.)