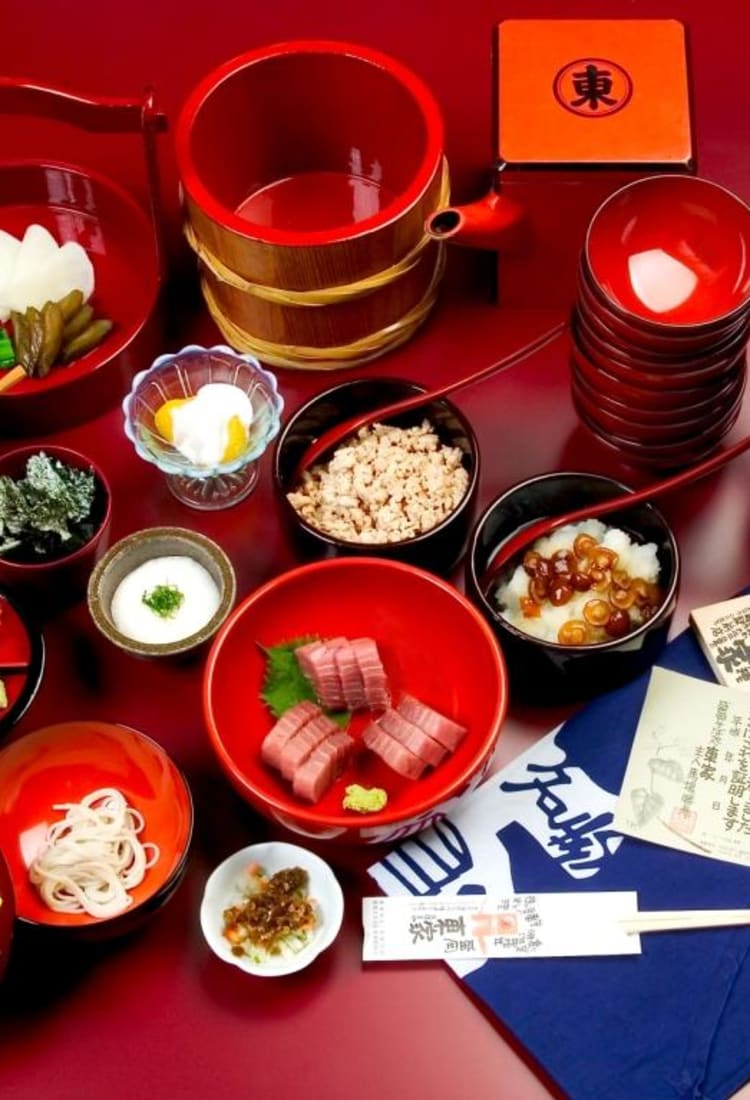 Story
Unique Soba-eating Experience of Iwate Prefecture
by JNTO on 11 November 2020
An all-you-can-eat challenge
Iwate prefecture has a unique soba-eating tradition – Wanko Soba - where guests are shown the true spirit of hospitality. This soba noodle meal includes yakumi, a handful of condiments and small side dishes that vary from season to season. Furthermore, the meal usually comes with tuna sashimi, mushrooms, and more dishes made with local ingredients. What makes wanko soba uniquely interesting is that once you have eaten your soba, your bowl will get topped up with more noodles – almost instantly – by the attending staff (okyuji-san) armed with a tray full of noodle-filled bowls. 
Whenever each portion of noodles is placed into your bowl, the staff will chant "hai jan jan, hai don don" as a means of encouragement for you to eat more. The noodles just keep coming unless you quickly slide a cover over your bowl to end the onslaught of noodles.
Traditionally, diners were not expected to finish up their noodles quickly as they were meant to be savoured as a cuisine. However, wanko soba has evolved into an eating challenge, and competitions nowadays are held in Iwate twice a year to determine who eats the most number of bowls. The record holder is a woman from Morioka who managed to finish a whopping 570 bowls!
What to expect from a wanko soba meal
Diners, usually provided with a disposable apron, are encouraged to try the first portion of noodles without condiments to enjoy the true taste of the soba. The subsequent portions can be enjoyed with condiments and yakumi accompaniments to create more variations. 
A fresh portion will continue to replace your eaten one. Those emptied bowls (of the new portions) are then placed on the dining table – the more bowls you finish, the taller the stack of empty bowls, making it easy to visualize and count the number of portions you have eaten! The tip of being able to taking in the most you possibly can is that you empty the bit of broth from your bowl (each time yours get refilled) into a tub on the table instead of drinking it. 
Once you have had your fill, the only way to end the meal is to cover your bowl quickly with a lid before the staff tries to slide another portion in!  
To conclude your challenge, you can admire the tower of empty bowls you have built on the table. Based on the average from various records, most people should be able to manage 80 bowls as about 10 to 15 bowls is equivalent to one usual portion of soba noodles. Men are encouraged to tuck away 100 bowls. All diners will each be awarded with a certificate indicating the total number of bowls eaten. This fun tradition showcases the hospitality of the locals, whereby guests get to savour fresh soba noodles in a convivial ambience. 
Where to find wanko soba
Wanko soba is best experienced in Iwate prefecture, with Morioka and Hanamaki being the two famous cities when it comes to this delicacy; the latter is the birthplace of this custom. A number of restaurants have been operating since the 1900s, like Azumaya in Morioka City and Kajiya in Hanamaki. A wanko soba meal typically costs about 3,500 yen.
You may wish to refer to Iwate prefecture's official site for a list of restaurants that serve the unique cuisine.