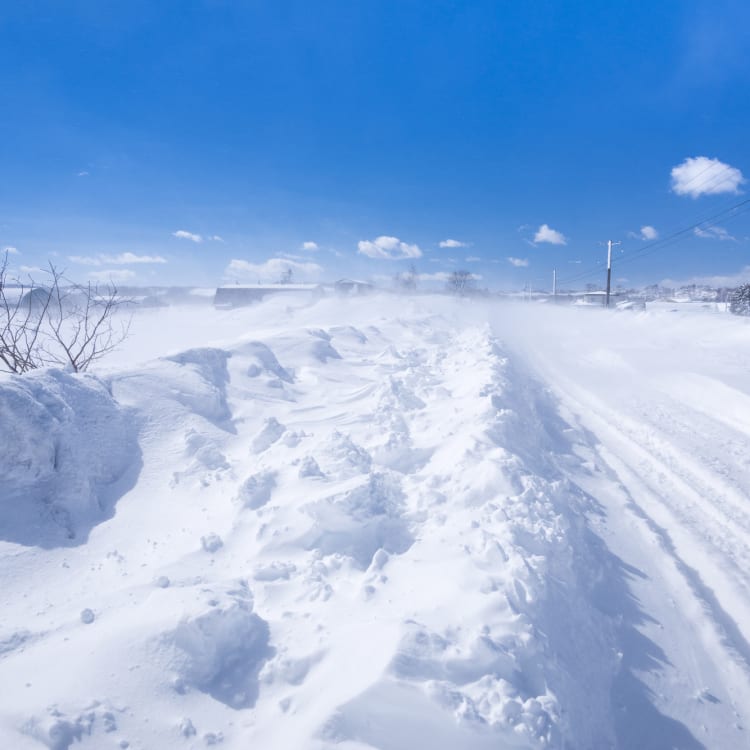 Story
What you Need to Know When Driving in Japan during Winter
By JNTO On 22 June 2022
Learn the essentials to have a pleasant, safe drive in Japan's wintry times
Many people seem to prefer visiting Japan in winter, especially for those in the tropical climates who rarely experience snow. While the beautiful snowscape is a sight to be admired at, many dangers may occur during this particular season, so it is necessary to know the essential precautions. The most obvious example is driving on snowy roads. Driving on snow-covered roads is extremely dangerous due to slipping, possibility of tires or even the vehicle itself getting stuck, and whiteouts caused by snowstorms, so we highly recommend that you as much as possible avoid driving in snow and use trains, buses, or cabs instead.
Taking into account that driving in winter can be quite dangerous, one should always be aware of the surroundings, especially when the roads are filled with snow or appear to be icy and slippery. As ice forms on the roads more easily at low-temperate areas, it is most common of icy roads to occur in the early mornings and evenings, and mountain roads can stay frozen even during the day when the conditions are especially flavourable. Drivers must be extremely cautious when driving in areas prone to freezing, such as bridges, overpasses, shadowy mountain roads, and tunnel entrances/exits.
Below are some important and useful tips to help you ensure that you have a pleasant and safe drive during the snowy season if such a drive would be needed.
Matters and items that you need to check during rental car bookings
When renting a car in Japan in winter, make sure that the vehicle is suitable for icy or snowy roads. Confirm with the rental car company in advance that the tires are not regular tires but the studless ones. Studless tires are required when driving in wintry areas as it helps make the vehicle less prone to slipping. Do also ensure that the car comes equipped with a jack stand and snow chains, regardless of having studless snow tires. Other items you may need to verify are jumper cables and blankets for emergencies.
Plan ahead and well
One of the rules of thumb is to avoid driving on icy or snow-covered roads as much as possible. When planning and before you head out for your drive, remember to check the weather forecast of your intended destinations. If it will likely be rainy or snowy on the day itself or a day before your journey, it is recommended to take public transportation instead. Depending on the weather conditions, you may have to take detours which may lengthen your travel. It is important to note that car navigation systems may not always be up to date with latest information on the road conditions especially for secondary roads. If you have to drive under the relatively harsher conditions, do keep in mind that you need to cater more time for delays and stick to major highways to avoid narrow lanes that may be closed due to severe snowfall.
Always drive carefully
When driving in the wintry months, always proceed with caution, maintain a reasonable distance between you and the vehicle in front, and avoid abrupt driving manoeuvres during lane changes, braking, and acceleration. While in traffic, step on the brake earlier than usual since roads are slippery. When making turns, it is safer to slow down carefully. Lastly, when starting the car, do not accelerate abruptly. Remember that slower is safer during the winter season while on the road.
Safety in a Snowstorm
If you get caught in a snowstorm, get off the road to find the nearest sheltered rest area like a convenience store or bus station, and stay there until it is safe to return to the road. In the event that you are unable to do so, cautiously pull over to the side of the road, turn on your hazard lights, and call for help (#110 for police or #9910 for roadside assistance). In order to enable the rescuers to find you more easily, provide them with the information you can find from the location markers posted at every kilometre on the highway. While you are waiting for help in a winter storm, remember to unblock and remove the snow near the exhaust pipe to prevent carbon monoxide poisoning in the car.
While a road trip in snow-covered landscape can be exhilarating, knowing the essentials and planning ahead are some of the vital ways for you to have a pleasant and safe drive in the wintry times in Japan. Check out Japan Automobile Federation (JAF) to learn even more ways to do so.