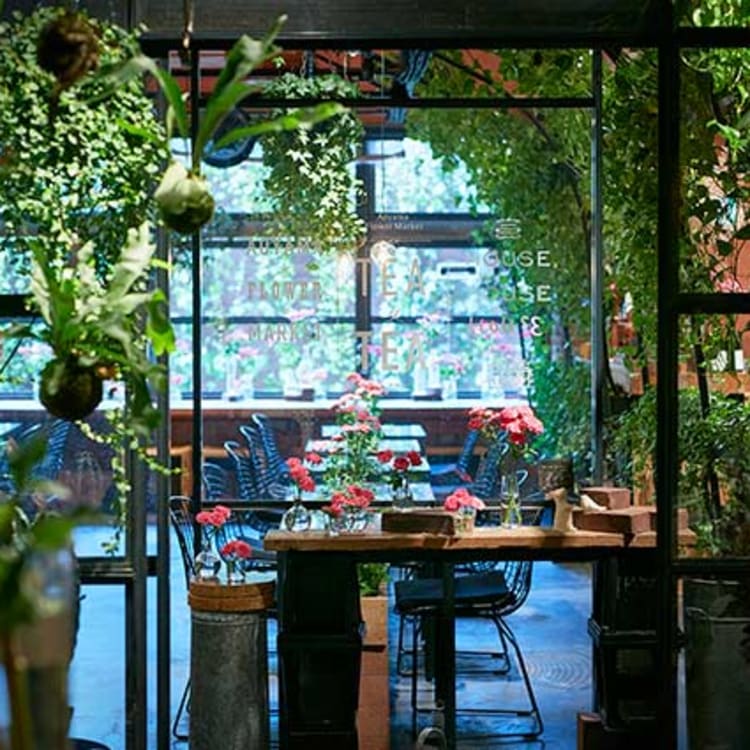 Story
Where flower meets food: Japan's Instagram-worthy flower cafes
by JNTO on 26 March 2020
Japan is no stranger to unique and interesting cafes, and one of the latest trends blooming across the country is flower cafes. Combining a flower shop and a cafe, they are lush spaces where you can enjoy a cuppa and relax amidst colourful, fragrant flowers. It goes without saying that these cafes are also great for your Instagram feed! 
Aoyama Flower Market TEA HOUSE, Tokyo
The Aoyama district is one of Tokyo's trendiest areas, brimming with a mixture of high-end fashion boutiques, design houses, and some of the fanciest cafes in Japan. It is a great area to go window shopping, visiting art galleries, or simply enjoying the charm of this sophisticated neighbourhood.
Situated right next to Omotesando Station is the flagship store of the Aoyama Flower Market TEA HOUSE. Here, you can sip on a range of herbal teas and dine on flower-themed delicacies including the Flower Parfait as you immerse in the lush atmosphere of this gorgeous greenhouse-inspired setting with fresh flowers everywhere you turn. This Instagram-worthy cafe – decorated with glass and brick – is like a little fairytale land you never want to leave. 
5-1-2 Minami-Aoyama, Minato-ku, Tokyo
Monday-Saturday: 11am - 8pm (Last order at 7:30pm)
Sundays & holidays: 11am - 7pm (Last order at 6:30pm)
Lunch: 11am - 3pm (Weekdays only)
* No reservations accepted
Website: http://foreign.aoyamaflowermarket.com/foreign/teahouse/pc/
1er ÉTAGE, Kyoto
Kyoto's Kawaramachi is the city's vibrant downtown district where traditional Japan and contemporary culture meet. While you can pray at the Yasaka Shrine, spot a maiko in the geisha district of Gion, or taste traditional sweets at Nishiki Market, there is a palpable youthful vibe at the chic cafes dotted around the area.  
Just 5 minutes from Kawaramachi Station is 1er ÉTAGE ('Premier Étage'), a fashionable, quiet cafe decorated with antique furniture and dried flowers that fill the place from wall to ceiling.  
Exotic aromas fill the room, creating an oasis of calm where you can relax with drinks and seasonal homemade cakes. If you cannot get enough of taking Instabae (Japanese buzzword for showing off your taken photos on Instagram) images, the shop also retails bouquets of dried flowers and can create wreaths according to your budget. 
342 Iseya-cho, Nakagyo-ku, Kyoto
Daily: 12pm - 7pm
Website: https://www.instagram.com/1er_etage/?hl=en
Avant l'aube, Fukuoka City
Fukuoka City is the gateway to Kyushu, and home to Tenjin and neighbouring Imaizumi, trendy shopping districts which boast an impressive array of chic, independent clothing stores that cater to the younger cognoscenti. Tenjin is also famous for its iconic yatai (food stalls), an integral part of Fukuoka's bustling nightlife where food is served until the early hours of the morning. 
Pull up a seat by the bar at Avant l'aube, a floral shop located in Imaizumi decorated with exquisite flower arrangements.  
Here, you can enjoy unique coffee and tea concoctions like the Fukuoka-grown Gyokuro, the finest Japanese green tea served in a martini glass. In addition to cakes, like the flower-topped chocolate gateau, the shop also serves alcohol at night when you can taste locally-sourced sake and shochu.
2-3-18, Imaizumi, Chuo-ku, Fukuoka-shi, Fukuoka
Sunday: 11am - 6pm
Tuesday & Wednesday: 11am - 9pm
Thursday – Saturday: 11am - 11pm
Closed on Mondays
Website: https://avant-laube.com/ (Japanese)
Pâtisserie Au Fraisvert Radieux, Mihama
Mihama is located on the charming Chita Peninsula – surrounded by the ocean, it is a place of scenic beauty located south of Nagoya. Here, you can walk the charming little streets of fishermen islands, enjoy beach activities, savour fresh seafood, or learn about traditional pottery at Tokoname (there is a street dedicated to manekineko, the fortune cat).
Situated in a beautiful white cottage perched on a hill, Pâtisserie Au Fraisvert Radieux boasts ocean views from its shady outdoor terrace. The garden is dotted with blooms of wild flowers, adding colour to this lush green space.
With a seasonal menu consisting of locally-sourced produce, the cafe is particularly famous for its gorgeous cakes, delicious cookies, and Instagram-worthy elaborate parfaits featuring local fruits. 
14-1 Tachido Kitagata Mihama-cho, Chita-gun, Aichi
Monday, Tuesday, Thursday - Sunday: 10am - 6pm
Close on Wednesdays, and 2nd & 4th Tuesdays
Website: http://fraisvert-radieux.com/ (Japanese)