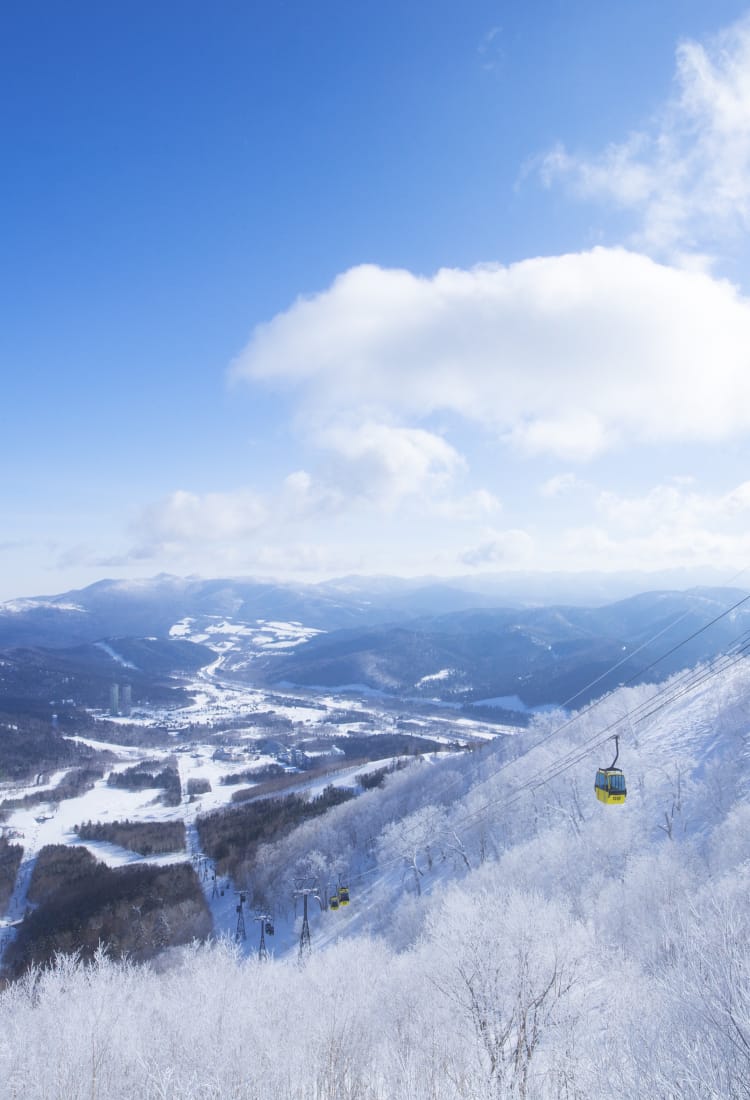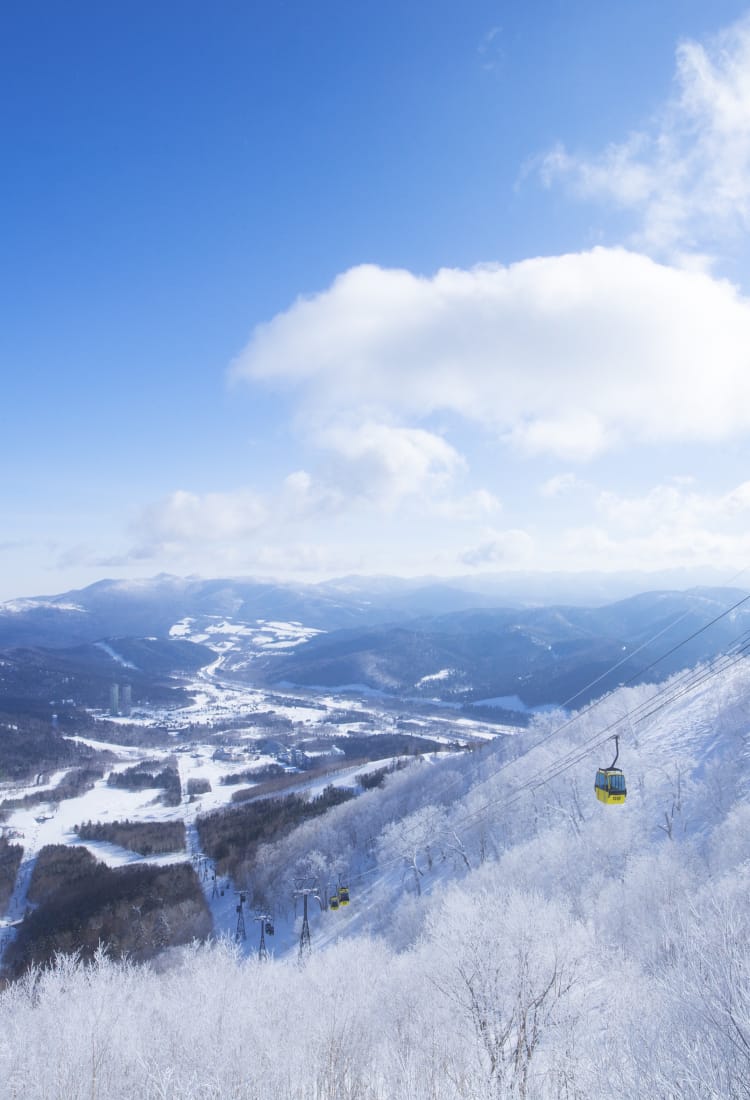 MODEL ROUTE
Hokkaido
Route (Day 1)
New Chitose Airport → (90 minutes by JR Rapid Airport and JR Limited Express Super Ozora) → Hoshino Resorts TOMAMU
Hoshino Resorts TOMAMU
Hoshino Resorts TOMAMU is located in Shimukappu village of Yufutsu district, very close to the central part of Hokkaido. It is a naturally abundant area, with over 90% of the village covered in woodland, and is very popular among both domestic and foreign tourists as a major resort where you can enjoy various activities throughout the year. This time, we are introducing some of the best winter attractions of Tomamu that can be enjoyed from early December till late March.
Snow Activities
With magnificent sites and best quality snow, Tomamu offers a diverse range of snow activities for visitors. In addition to skiing and snowboarding, you can enjoy snow car tours, snow cart, and backcountry skiing.
Ice Village
The Ice Village, which is made only during the winters, offers an altogether a new sensational experience spots, where you can enjoy a variety of attractions in a fantasy world of churches, hotels and other facilities built with ice.
Terrace of Frost Trees
The Terrace of Frost Trees is one of the most scenic spots at Hoshino Resorts TOMAMU, and can be accessed by a single "Unkai Gondola" ride. The scene of trees covered in frost, gleaming pure white on the majestic mountainside is mystical and sublime. Hoshino Resorts TOMAMU
Address: Naka-Tomamu, Shimukappu-mura, Yufutsu-gun, Hokkaido
URL:
https://www.snowtomamu.jp/winter/en/ (English)
Soup Curry
Just like Indian curry, "soup curry," which originated in Sapporo, Hokkaido, is characterised by rich and delicious, soupy gravy. The dish has its original roots from China & South Korea with medical herb hotpots including plenty of vegetables making it light & healthier. Soup curry includes plenty of vegetables cut chunkily, making it a light and healthy dish. Chicken is often used, but vegetarian versions that include just vegetables are also available. Soup Curry GARAKU
Address: B1F Okumura Building, Minami 2-jo Nishi 2-6-1, Chuo-ku, Sapporo-shi, Hokkaido
Route (Day 2)
Hoshino Resorts TOMAMU → (120 minutes by JR Limited Express Super Ozora and bus) → Historical Village of Hokkaido → (50 minutes by train) → Sapporo Station area
Historical Village of Hokkaido
The Historical ''Kaitaku Village of Hokkaido'' in Sapporo city is a museum popular among tourists that was restored around 150 years ago & vibrantly show cases life in Hokkaido, when the region first began to be populated as a part of Japan. Inside the facility, visitors can take a ride on a horse-drawn tram from spring to autumn and a horse-drawn sled through the snow from winter to spring. The museum has a number of exhibits that provide a vivid sense of the atmosphere of those times, and is very enjoyable for both adults and children. Historical Village of Hokkaido
Address: 50-1 Konopporo, Atsubetsu-cho, Atsubetsu-ku, Sapporo-shi, Hokkaido URL:
http://www.kaitaku.or.jp/en/en.htm (English)
Area around Sapporo Station
Sapporo Station, located at the heart of Sapporo city, is the transport and commercial hub of Hokkaido. In addition to being a major shopping zone, represented by the JR Tower, which is directly linked to the train station, the area is also a central location for tourism, gourmet restaurants, art and other cultural offerings. Here we introduce some of the major tourist attractions around Sapporo Station.
Sapporo Clock Tower
The Sapporo Clock Tower, designated as an Important Cultural Heritage Property of Japan, is within 10 minutes walking distance from Sapporo Station. The building is standing tall since 130 years and is attractive spot, with a clock lodged in its triangular roof. A number of tourists visit just to have a glimpse of it. Sapporo Clock Tower Address: Kita 1-jo Nishi 2-chome, Chuo-ku, Sapporo-shi, Hokkaido
URL:
http://sapporoshi-tokeidai.jp/english/ (English)
Sapporo TV Tower
The Odori Park is the main street of Sapporo, dividing the north and south parts of the city at the middle. Sapporo TV Tower, constructed around 70 years ago, is located at the start of this main street. This major landmark of Sapporo has a shopping floor and an observatory at a height of 90 m that offers a panoramic view of the Sea of Japan on a clear day. Sapporo TV Tower
Address: Odori Nishi 1-chome, Chuo-ku, Sapporo-shi, Hokkaido
URL:
http://www.tv-tower.co.jp/en/ (English)
Sapporo Snow Festival
The Sapporo Snow Festival, held from early- to mid-February, is a major event in Hokkaido that draws many tourists every year. Enormous snow and ice sculptures, made with great attention to detail, line the streets. In the evenings, they are lit up with fantastic illuminations. Sapporo Snow Festival
Venue:
Odori Koen Nishi 1-chome to Nishi 12-chome (Odori Site) Sapporo sports facility "Tsudome" (Tsudome Site)
Ekimae-dori (Station Avenue) from Minami 4-jo to Minami 7-jo (Susukino Site)
URL:
http://www.snowfes.com/english/index.html (English)