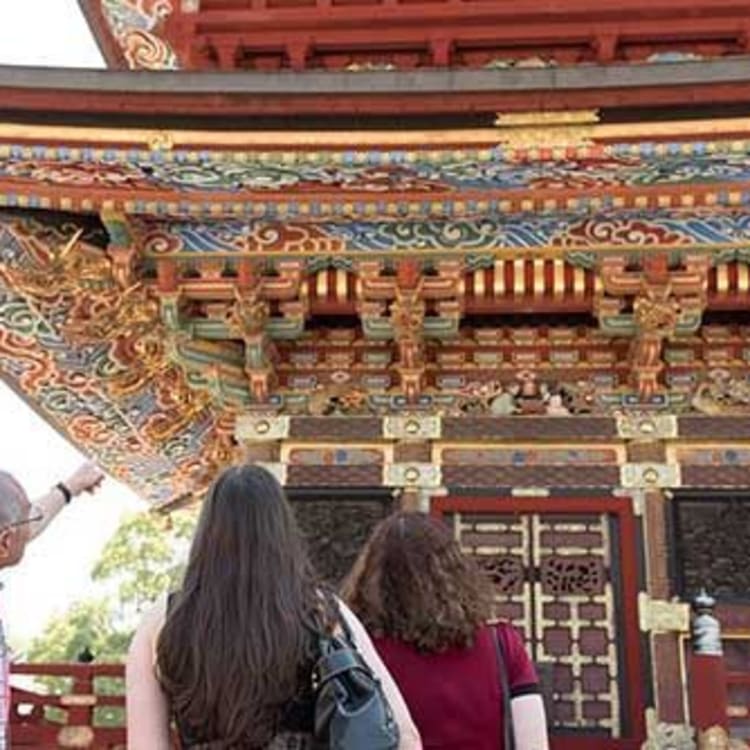 GUIDE
Free English tours of Japan
by JNTO Travel on 20 February 2019
Any trip to Japan will be further enriched if you have the company of local guides – the best part is that there is actually a wide network of volunteer guides around the country who are on hand to help visitors get acquainted with local attractions for free. These services offer the kind of local tips and insights you can't find in guidebooks. Here are some samples of the services volunteer guides provide.
From the airport
If you have a layover at Narita Airport, you can take advantage of volunteer guides who are part of the the Narita Airport Transit & Stay Program which has a number of itineraries, and most of the guided tours are 3 hours long and start at 9am. Tours include nearby Narita city to visit the magnificent Shinshoji Temple and the surrounding rustic rows of inns and handicraft shops. There is also a tour to Boso no Mura theme park with its Edo-era atmosphere where you can dress up as a samurai, ninja, or in a kimono to explore the traditional houses and shops. Guide services are free, but you will have to pay for any extras like food, activities, or costume rental.
Kansai International Airport doesn't have transit tours, but you can book a guided Airport Tour Plan (lasting between 60-150 minutes) which takes you through the airport facilities on a tour vehicle. You'll get to visit the in-flight food preparation plant, cargo zone, and control tower in the company of an official guide.
Goodwill Guides Across Japan
Japan has a network of Goodwill Guides who are on hand to support visitors with English language day tours (some also have Chinese-speaking guides). While guide services are free, you are expected to contribute towards their expenses like transport, entry fees or meals. Generally, booking a guide will require reservations of about 1-2 weeks in advance, subject to availability as these are volunteer guides.
You can either opt for the services of a guide to complement your own itinerary, or follow one of their existing itineraries which are usually based on popular tourist sites. The services of a local guide can be incredibly beneficial especially if you want to practice the local customs of praying at a temple or soaking in an onsen, as there are protocols to follow.
Sample Tours
In Tokyo, numerous volunteer guide groups (like Tokyo Free Guide and Tokyo SGG Club) offer a variety of itineraries including tours of the historic side of the city (like Asakusa and the Imperial Park) as well as the modern aspects, from pop culture to entertainment districts like Shinjuku and Shibuya. There are numerous volunteer groups based in historic cities like Kyoto (like Sakura and Kadeko) and Kanazawa that offer tours of important cultural sites as well as experiences, from tea ceremonies to Noh theatre.
There are also Goodwill Guides with members stationed in various cities throughout the country, like the Doshisha SGG Joe which has affiliates in Tokyo and Kyoto with guides covering a wide area, including Yokohama and Kamakura, as well as Nara and Osaka. Visit Kansai has a network of volunteers spread across the Kansai region, like Kobe, Osaka, and Himeji.
The volunteer guides at Ueda City (Nagano Prefecture) has tours of Ueda Castle, and can organise a visit to the Edo-era Yanagi-machi to sample local sake and soba, or to Bessho Onsen for a bath and a tour of its temples and shrines. Volunteer guides are also available at the UNESCO Site of Hiraizumi (Iwate Prefecture), a well-preserved group of gardens and exquisite temples including Chuson-ji which is decorated with gold leaf and mother of pearl.
Other volunteer guides
Some popular tourist sites also provide free guided tours without prior reservation, with guides stationed at tourist sites like Matsumoto Castle (Nagano Prefecture), Matsue Castle (Shimane Prefecture), and Matsuyama Castle (Ehime Prefecture).
If you plan to ski in Hokkaido, there are even Ski Hosts who will show you around the slopes of Furano Ski Resort. The volunteers will take you on guided runs twice daily whether you're a beginner (Mondays and Thursdays) or a seasoned (Sundays, Wednesdays, and Saturdays) skier or snowboarder.