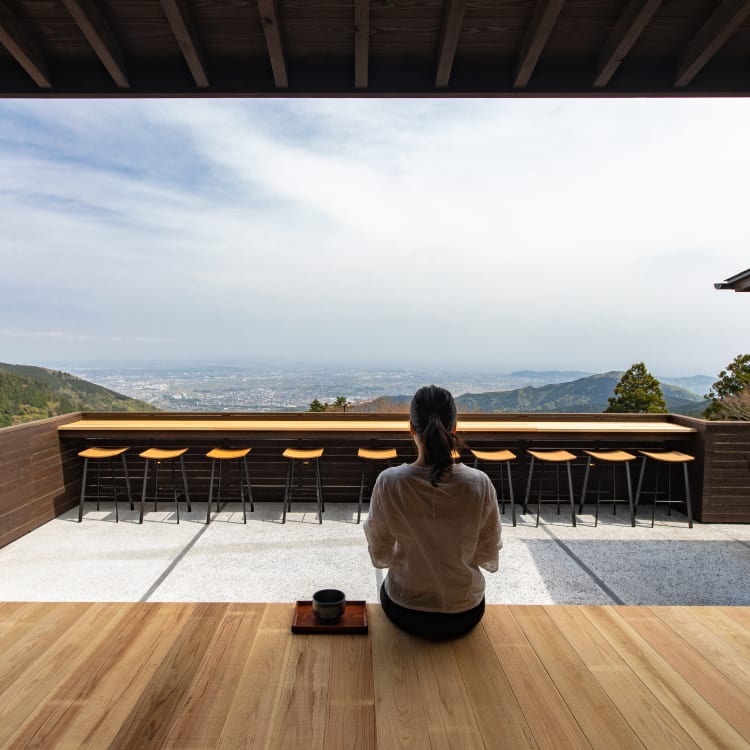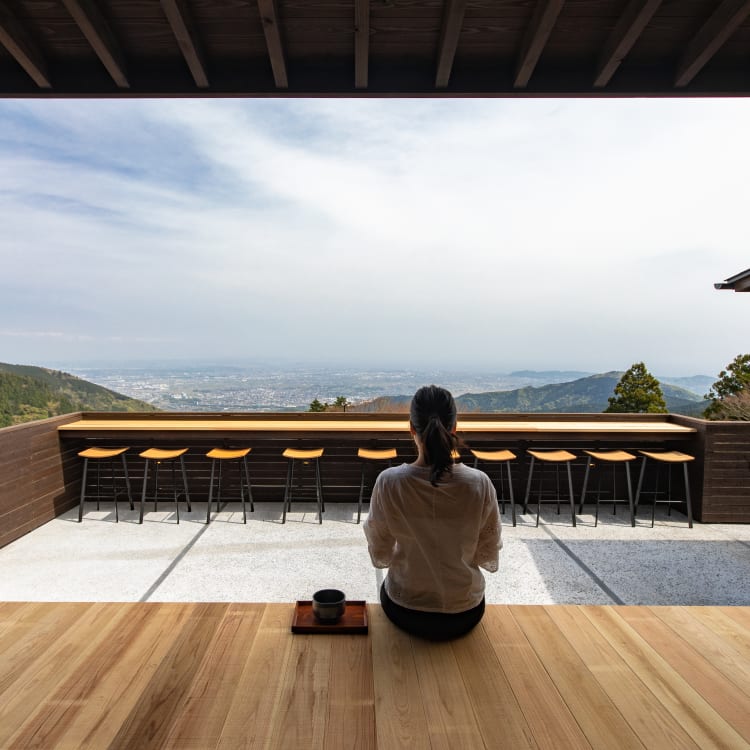 Take a Walk on the Wild Side: Three Hikes Near Tokyo
Photo of Jogasaki Cliffs and breaking waves ©Joan Bailey
Three great hikes near Tokyo to get you in touch with Japan's natural side.
Tokyo is a bright and vibrant city full of remarkable things to do, eat, and admire. These three hikes are within easy reach of the city center and make for a perfect getaway. Go for a day or make it an overnight adventure by staying in the area. Whatever you choose, you'll find yourself rejuvenated and ready to tackle the city with fresh eyes!
Afuri Shrine on Mount Oyama has been a revered place of worship for thousands of years.
Photo courtesy of Teahouse Sekison
Mount Oyama and Teahouse Sekison
Head south out of Tokyo to neighboring Kanagawa Prefecture for this invigorating hike. Vast and varied, Kanagawa is home to the Tanzawa Range as well as abundant forests and streams. This walk to one of its most sacred and famous peaks is a perfect day trip!
Catch the train from Shinjuku to Isehara Station on the Odakyu Line. Take a short bus ride to the Oyama Cable Car where you can start hiking or get a lift up the next 800 meters. Both bring you to Afuri Shrine, home to three gods and a hub of religious activity since the Jomon Period (14,000 to 300 BCE). Pause for refreshment at Teahouse Sekison, the newest addition to this ancient place, before exploring the shrine itself. Those desiring to ascend Mount Oyama's peak will find a trail off to the left side of the main building. Turn right under the red tori gates at the base of a flight of stairs and continue up to the top of the mountain. 
Total time: 4 – 5 hours for the 7.5km (4.7mi)  hike from Oyama Cable Car Bus Stop to the peak
Difficulty: Moderate
Access: Isehara Station – Bus #10 to Oyama Cable Car Bus Stop
Mount Mitake
West of Tokyo the land folds and unfolds with mountains, forests, rivers and ancient pathways. For centuries, pilgrims have made their way here in search of healing or enlightenment. Mount Mitake, nearly 1,000 meters tall, is home to the Musashi Mitake Shrine. Founded more than 2,000 years ago, the shrine is dedicated to wolves and surrounded by a thriving mountain village of farmers, pilgrim inns, and places to sample local fare. 
Catch the JR Chuo Line to Ome Station and change there to the JR Ome Line to Mitake Station. Take a 10-minute bus ride to the Mitake Cable Car stop. From there, you can choose to ride the cable car to Mitake Shrine or hike up through the cedar trees. Once at the top, stroll about the village and visit the shrine. Those hankering for a little more hiking can follow the signs to the Rock Garden Trail that passes a number of interesting rock formations. This will add an additional 40 to 60 minutes to your hike, but the narrow valley is spectacular in any season. Mount Ontake is another 60 minutes from there, but keep in mind that you will need to catch the cable car or hike back down to Mitake Station.
Total time: 4 - 5 hours for the 6-8 km (4-5mi) hike from Mitake Cable Car Bus Stop (including Rock Garden hike only)
Difficulty: Moderate
Access: Mitake Station – Bus #10 to Mitake Cable Car Bus Stop
Take in fantastic sea views along the rugged seashore of the Jogasaki Coast.
Jogasaki Coastal Trail
Further south of Tokyo in Shizuoka Prefecture, this coastal trail takes in the rugged coastline of the Izu Peninsula. Famed for its beaches, resorts, and fishing, the peninsula feels worlds away from the city. 
From Jogasaki-Kaigan Station, follow Route 109 out to the trailhead. Look for brown signs and a large stone pillar that mark the beginning of the trail. The trail takes hikers along some of the most spectacular stretches of this unique coastline formed 4,000 years ago when Mount Omuro erupted and lava flowed into the sea and quickly solidified. From the very beginning, you will see the characteristic black and dark brown rocks that shape the many coves and inlets along the way. The Kadowaki Suspension Bridge near the start offers a unique vantage point, and hikers may also enjoy stops at the Kadowaki Lighthouse, the Izu Shikinohana Park for its seasonal flower displays and lamp museum, and Renchakuji Temple with its rock-eating tree. The trail is well-marked and hugs the coast until it reaches a residential area 9km later near Izu-Kogen Station.
Total time: 4-5 hours for the 10km (6mi) hike from Jogasaki-Kaigan Station (including side trips to museum and temple)
Difficulty: Easy to Moderate
Access: Jogasaki-Kaigan Station and return via Izu-Kogen Station
Traditional wooden prayer plaquest hang outside Afuri Jinja on Mount Oyama.
Hiking Essentials
There are a few things hikers of any level on any trail should always carry. Remember, you carry these things not only to keep yourself safe on the trail, but to assist others you might meet who need help.
●    Water – Carry at least one liter of water no matter what the weather is like. Dehydration can make you dizzy or light-headed on the trail.
●    Snacks – A picnic lunch on the trail is wonderful, and it helps keep your energy up, too. Grab some onigiri (rice balls), chococlate, and nuts to keep you well-fueled.
●    Flashlight or Headlamp – Make sure it works and that the batteries are full. Even day hikes can run unexpectedly long.
●    Walking sticks – Nothing makes an uphill or downhill portion of a hike easier than a hiking pole or walking stick.
●    Hat, gloves, long-sleeve shirt, and rain gear – Weather on a mountain or along the coast can change quickly. Hats are handy in sunny weather, too!
●    Sunscreen – Always carry some for applying before the hike starts and during snack breaks. Even on cloudy days a sunburn is possible.
●    Maps – Whether you have an official trail map, download the offline version of Google maps, or carry the guidebook with you, a hard copy of the trail map is pivotal. Cell phone batteries wear out faster than you want on a hike! Carry it in a plastic baggy in your pocket or in your pack.
●    Small first-aid kit – Even experienced hikers sustain injuries on the trail. Band-aids, toilet paper, aspirin, and a bandanna that can double as a sling or tourniquet are a good idea to have on the trail.
Joan Bailey
USA
12 years living in Tokyo and Kanagawa

Joan Bailey is an American writer living in Japan where her work focuses on food, farming, farmers markets, and travel. When she isn't out exploring and eating, she can be found at home with her husband and two cats.