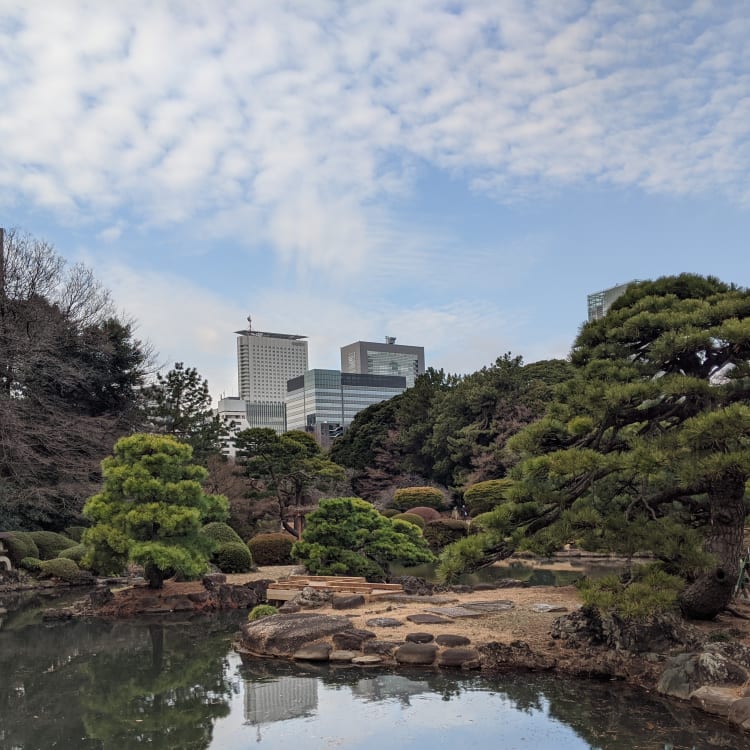 Tokyo 2020 City Parks and Urban Oases
Tokyo 2020 City Parks and Urban Oases
Tokyo's impressive array of beautiful, meticulously constructed parks gives residents and travelers the chance to experience a different face of the city. For those seeking to escape from the hustle and bustle of the city, parks in Tokyo act as peaceful, green urban oases. For those who want to train, exercise, or practice a particular sport, many of Tokyo's parks contain facilities to accommodate any athlete.
Parks in Tokyo play an important social, cultural and historical role. They break up the urban landscape and provide residents and travelers with the perfect opportunity to find rest amidst city life. They serve as reminders of the importance of remembering natural beauty, and give designers and landscapers the chance to manicure scenes that reflect Japanese craftsmanship. The city's parks give visitors to Tokyo a chance to experience a pristine, green environment without even leaving the boundaries of the city.
Here is a list of some of Tokyo's more prominent parks in a variety of districts across the city. While on the way to these big-name locations, be sure to watch for any of the numerous green spaces situated within Tokyo's smaller, residential neighborhoods.
OLYMPIC VENUES
Kitanomaru Park (Nippon Budokan)
Kitanomaru Park is a spectacular public space just on the northern boundary of the grounds surrounding the Imperial Palace in Chiyoda-ku. The park contains numerous, flat paths good for an easy walk, and is conveniently walkable from a number of train stations such as Iidabashi, Kudanshita, and Jimbocho. Kitanomaru Park is surrounded by Chidorigafuchi Moat, usable for rowboating from April to November. It is particularly worth a visit in spring to view cherry blossoms. MOMAT (National Museum of Modern Art), a science museum that contains interactive exhibits excellent for children, and is situated near Yushukan Shrine and war museum.
The park is also notable as being home to the Nippon Budokan, the spiritual seat of Japanese budo. The venue debuted in the 1964 Olympics and will be used during the Tokyo 2020 Games for karate and judo. Aside from being used for martial arts training, events, and competitions, the Nippon Budokan is used year-round for concerts and private events such as the induction of new classes to Tokyo University. When visiting Tokyo, Kitanomaru Park provides an excellent chance to add exercise and cultural experiences to any itinerary.
Meiji Jingu Gaien Park (New National Stadium)
Meiji Jingu Gaien Park, much like Ueno Park, is more of a collection of small public event spaces than a mere park. It is located directly next to New National Stadium, the recently finished sporting venue that will play host to the opening and closing ceremonies of the Tokyo 2020 Games. The park is a haven for athletics and contains a baseball field, golf range, skating rink, multiple gyms such as Tokyo Metropolitan Gymnasium, as well as a small amusement park for children (Meiji Jingu Gaien Nikoniko Park) and the handsomely architected Meiji Memorial Picture Gallery.
Meiji Jingu Gaien also contains one of Tokyo's most famous areas for seeing ginko trees during autumn, Jingu Gaien Ginkgo Avenues, a long and stunning lane that also contains a number of cafes and eating establishments. For more ambitious travelers who want to make a full circuit of two of Tokyo's major urban oases, the park is also walkable from Shinjuku Gyoen through a set of relatively quiet, quaint roads.
Yoyogi Park (Yoyogi National Gymnasium)
Yoyogi Park is a huge, famous park used for a variety of events throughout the year, such as its weekend food festivals that feature cuisines from various countries. It's notable for its open, fully accessible lawns. Yoyogi Park is ideal for dog walking, casual sports such as frisbee, practicing dance, or just having a picnic and going on a stroll. The park is largely flat and therefore excellent for children, the elderly, or people using strollers. It is also only a short walk from Shibuya, Harajuku, and Omotesando, and acts as an ideal way station between these heavily-traveled downtown shopping districts.
Yoyogi Park contains a number of gymnasiums, and also houses Yoyogi National Gymnasium, an impressive piece of architecture that will host a number of 2020 Olympic events such Handball and Para Badminton and Rugby. The stadium was finished in 1964 for the 1964 Summer Olympics and Paralympics, and due to its close proximity to the NHK building (Japan's major television broadcasting network) the stadium often receives extra attention on the news.
Komazawa Olympic Park (Komazawa Olympic Park Gymnasium)
Located in residential Setagaya-ku, Komazawa Olympic Park is a fascinating place to visit, not only because of its wide array of sporting facilities (volleyball, tennis, skating, running, cycling, baseball), but because of the unique architecture of its central square. The pagoda-like Control Tower sits in an open square between the Komazawa Olympic Park Gymnasium and the Komazawa Olympic Park Athletic Stadium. Even though the entire park is further away from the city center than other parks, there are a number of interesting neighborhoods in the area that help make the trip worthwhile.
Shiokaze Park (Ariake Urban Sports Venue)
Shiokaze Park is easily one of the uniquely located parks in Tokyo. Built on the man-made island of Odaiba in southeast Tokyo, a haven for tech-lovers that houses Tokyo's giant Gundam statue, the park allows views of Tokyo Bay and its iconic Rainbow Bridge. Shiokaze Park will host 2020 beach volleyball, and is also located near the Ariake Urban Sports Venue, which will host the skateboarding and rock climbing competitions, both of which are unique to the 2020 games.
SCENIC LOCATIONS and URBAN OASES
Shinjuku Gyoen National Garden
Shinjuku Gyoen National Garden is a massive, gorgeous sprawl of nature directly within Shinjuku, one of Tokyo's busiest and well-known city centers. Upon walking through the park's gates and into its natural expanse, it feels like downtown Tokyo has been completely left behind. From within the park you can turn 360-degrees and see the surrounding city, particularly the famous NTT Docomo Yoyogi Building, shaped like the Empire State Building in New York City. There is a modest fee of 500 yen for entering the park, which is well worth it.
Shinjuku Gyoen houses a variety of distinct trees such Japanese elm, Himalayan cedar, Yulan magnolia, and London plane. It is divided into a number of distinct sections, notably the dense Mother and Child's Forest, a traditional Japanese garden area, and stretches of cherry blossoms, ponds, and sycamore trees. Seeing all of Shinjuku Gyoen can easily require several trips. Taking the seasons into account, residents and travelers can have a different experience each time they visit. The park provides rest and a change of scenery between shopping or sightseeing in Tokyo.
Ueno Park
Ueno Park is a gigantic area north of central Tokyo that is more of an integrated park-and-event space than a simple area for greenery. The park is particularly known for Ueno Zoo and music venues such Sogakudo Concert Hall. It also contains shrines, museums such as the Tokyo Metropolitan Art Museum, and a central temple in the middle of the large and lovely Shinobazu Pond. Much like Shinjuku Gyoen, the character and environment of Ueno Park changes through the seasons. It is particularly known for being flooded by picnickers during cherry blossom season. Aside from such a busy time of year, it is an excellent location for couples and families to attend events and linger through everything the park has to offer.
Shiba Park
Shiba Park is Japan's oldest public park, founded in 1873 during the Meiji era. It is located next to Tokyo Tower, a well-known landmark built to resemble Paris' Eiffel Tower. Shiba Park is a unique collection of landmarks and green spaces that include lawns and miniature hiking paths. Visitors can have a picnic, exercise, or visit historical sites such as the ancient burial mound, Maruyama Kofun. The park also houses Zojoji Temple and can be easily visited on the way to one of Tokyo's prime nightlife areas, Roppongi.
Hibiya Park
Hibiya Park is a small, intricately composed space along the south side of the grounds surrounding the Imperial Palace. It has a variety of terrain and paths, a flower garden, tennis courts, and is surrounded by restaurants and cafes. It is also the location of the Liberty Bell, a replica of Philadelphia's 250-year old symbol of freedom from the United States' Revolutionary War. From Hibiya Park there is a clear view of Sakuradamon, one of the gates leading towards the Imperial Palace. Even surrounded by tall buildings and wide, busy streets, Hibiya Park is surprisingly quiet and can be used as a beautiful, green getaway while navigating Tokyo.