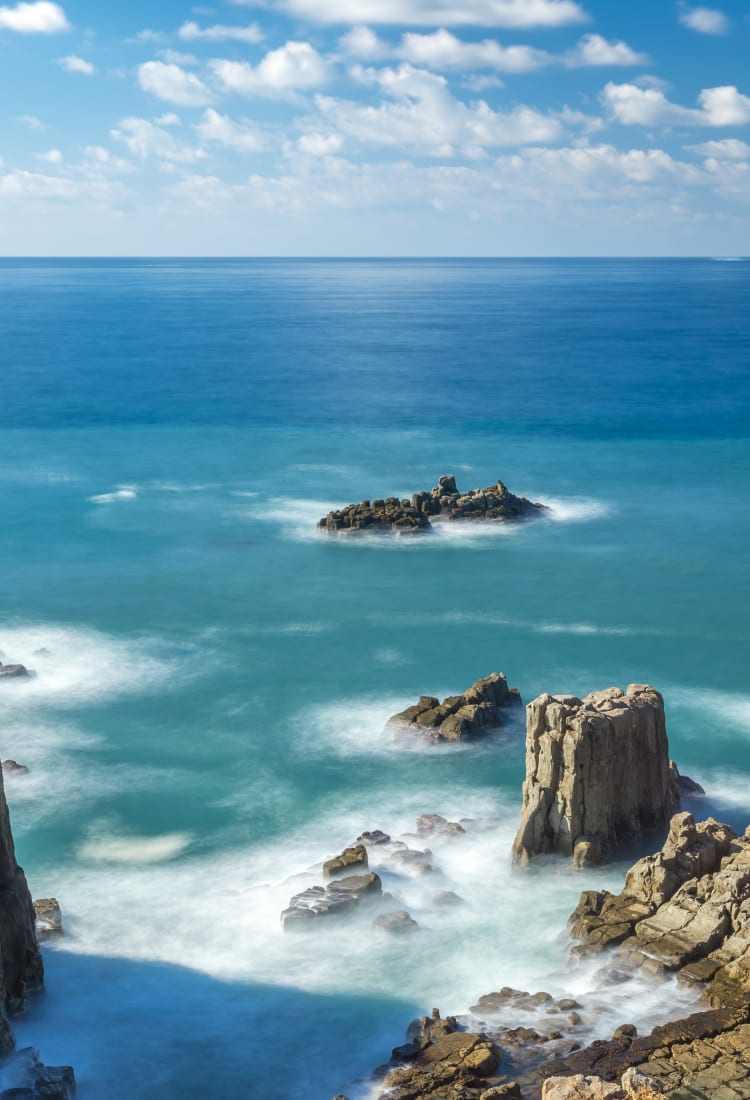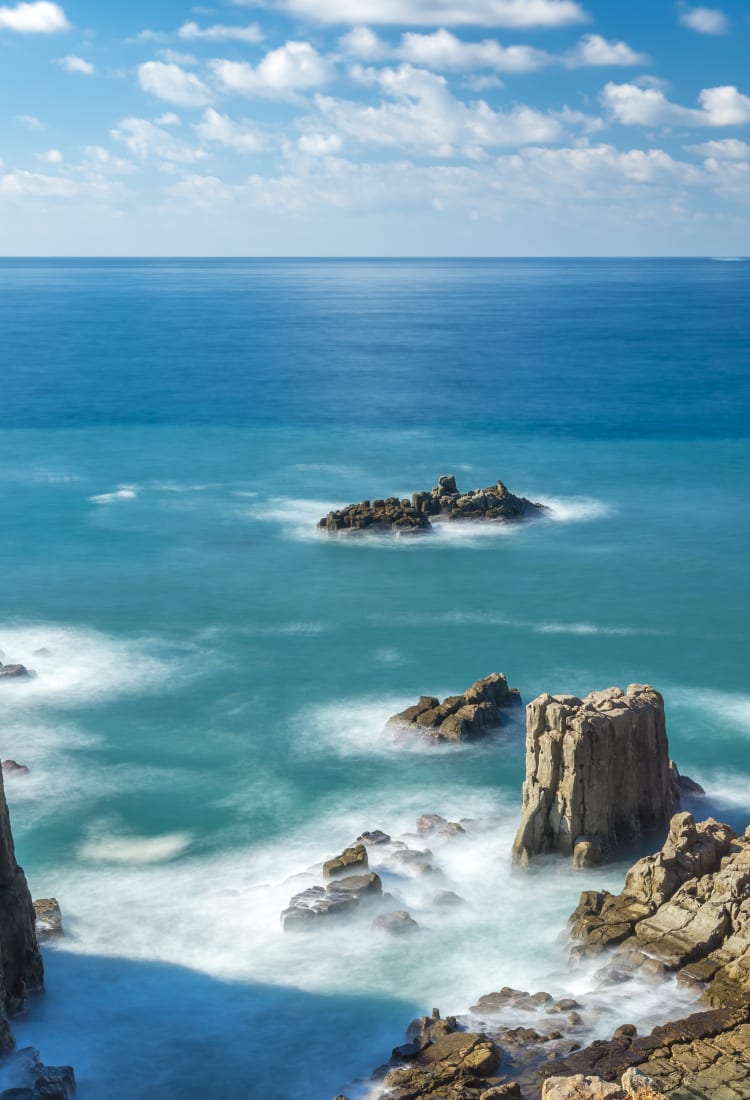 Hokuriku Shinetsu
Fukui
Scenic getaway offering repose for mind, body and spirit
A central Japan retreat boasting rugged landscapes, extraordinary seafood, a world-class dinosaur museum and sites of Buddhist and historical importance, Fukui offers something for all
Easily accessible from Osaka and Kyoto, Fukui Prefecture is popular with history buffs, Buddhist scholars, nature lovers and those in search of culinary adventures. Perhaps most famous for its
dinosaur museum
, one of the best in the world, Fukui is also the birthplace of Echizen pottery and home to
Eiheiji Temple
, a headquarters of Zen Buddhism;
Maruoka Castle
, one of twelve remaining original castles in the country; and spectacular cliffs and coastline at
Tojinbo
.
Reach Fukui via JR express trains from Osaka, Kyoto, Nagoya and Kanazawa—cities all served by bullet train from Tokyo. Alternatively, you can take a highway bus or drive.
The rail journey from Kanazawa is the quickest at just under an hour, while trains to Fukui from Nagoya, Osaka and Kyoto take between one and two hours. All of these options are covered by the Japan Rail Pass. More leisurely and inexpensive highway buses also operate between these cities and Fukui. Highway buses from Tokyo arrive in around eight hours. One of the most convenient ways to get around Fukui is by rental car.
Don't Miss
Eiheiji, the birthplace of Soto Zen Buddhism tucked away in the mountains
Local delicacies such as Echizen snow crab and Echizen oroshi soba
An important piece in the history of Japanese architecture, Maruoka Castle
Dinosaur-spotting at Fukui's take on Jurassic Park
Trending Attractions in Fukui
Echizen Crab

Echizen crabs, caught off what was once known as the Echizen Coast, are known as the "king of crabs" due to their size and rich flavor. They are the only crabs presented to the Japanese Royal Family at New Year.

Ama Ebi

The ama ebi or sweet shrimp caught in the deep waters off the coast of Fukui have a distinctively mellow flavor with a sweet aftertaste. They are best enjoyed raw as sashimi or as sushi.

Fukui Umeboshi

Umeboshi are sour plums pickled in salt with shiso, Japanese basil. The ones from Fukui have a sour, sweet, salty and earthy flavor, and are rich in minerals. Umeboshi are a piquant and delicious topping for white rice.

Wakasa Lacquered Chopsticks

The city of Obama in Fukui produces Wakasa lacquer chopsticks, accounting for 90% of those produced in Japan. Known for incorporating seashells, eggshells, and pine needles into the design, Wakasa nuri products are created by a single craftsperson from start to finish, allowing for greater originality.

Echizen Soba

Fukui enjoys optimal weather for growing buckwheat, and as a result produces some of Japan's finest buckwheat soba noodles. These noodles are frequently topped with grated radish in a simple broth of soy sauce and dashi.

Wakasa Agate Craftwork

Since the early 18th century, decorative objects carved from agate have been made in Obama. Wakasa meno zaiku is characterized by its luminous forms and rich caramel hues.

Echizen Ware

Echizen yaki is unglazed earthenware made in one of Japan's ancient potting centers. Fired at high temperatures, these waterproof vessels make ideal pots, jars and drinking vessels.

Echizen Handmade Paper

High-quality washi or Japanese handmade paper has been produced in Echizen for centuries. Originally crafted for copying Buddhist sutra, new washi varieties were produced as paper usage increased, including paper for Japan's first Imperial banknotes.
Spring

Fukui reawakens after winter with events such as the Awara Onsen Spring Festival, feudal parades and flower-exchanging festivals. For the cherry blossoms, visit in late March.

Summer

Summer is about hitting local beaches such as Wakasa Wada Beach, with its crystal-clear waters and pale golden sands. Make merry at one of the local fireworks displays come evening.

Autumn

The days become cooler and the leaves begin to change hues, giving Fukui's many beautiful spots a whole new look, as do illumination events at Yokokan Garden and Atagozaka.

Winter

Easily accessible ski slopes, soul-warming hot springs and winter delicacies such as Echizen snow crab draw visitors in the chilly winter season.