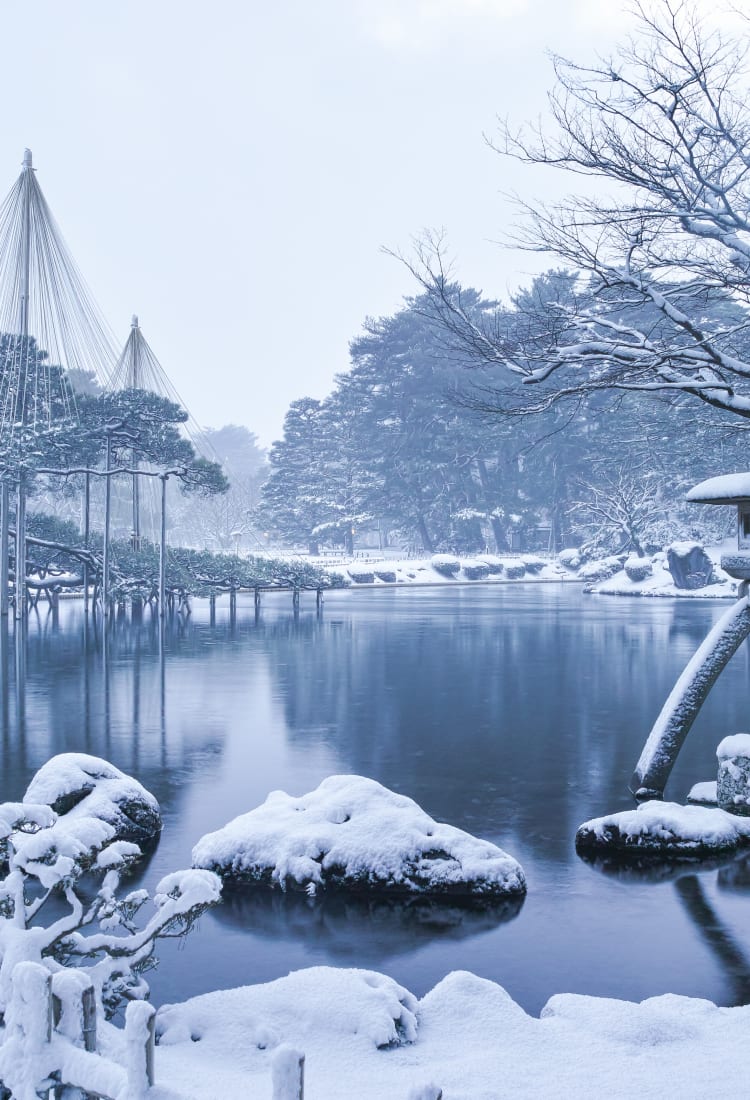 Hokuriku Shinetsu
Ishikawa
From historical crafts to modern museums
Steeped in history, art, and natural beauty—and now more accessible than ever—Ishikawa Prefecture is one of Japan's most enchanting destinations
Located on Honshu's northern coast between the Sea of Japan and the cluster of peaks surrounding Mt. Hakusan, Ishikawa offers sublime ocean views and stunning mountain vistas. Once ruled by the wealthy Kaga clan, the area became a thriving center for Japanese fine arts, including ceramics and lacquerware in the 17th century, and it remains one of the country's most important artistic hubs. Today, Japanese culture coexists with the modern art museum, the 21st Century Museum of Contemporary Art. For a taste of Japan as it once was, stroll through the historical center of Kanazawa or relax in the hot springs of Kaga Onsen.
Ishikawa is accessible by bullet train from Tokyo, and JR limited express trains from Osaka, Kyoto and Nagoya. Two airports serve the prefecture, Komatsu Airport and Noto Satoyama Airport. Highway buses are an alternative transit option from most major cities.
To reach Kanazawa, take the JR Hokuriku Shinkansen from Tokyo, or the JR Limited Express Thunderbird from Kyoto or Osaka. From Nagoya, take the JR Limited Express Shirasagi. Komatsu Airport, south of Kanazawa, is served by a host of domestic flights and a few international routes around Asia. Noto Airport, in Wajima, has flights from Tokyo's Haneda Airport. Highway buses from Shinjuku Bus Terminal in Tokyo reach Kanazawa in around eight hours. There are highway buses to Kanazawa from most other major cities as well.
Don't Miss
Strolling around the well-preserved historical center of Kanazawa
Highly refined traditional Japanese crafts, including gold leaf and lacquerware
Healing hot spring waters, elegant Japanese inns and the traditional bathhouses of Kaga Onsen's four villages
The beautiful, rugged coastal scenery and fresh seafood of the Noto Peninsula
Trending Attractions in Ishikawa
Wajima Lacquerware

Wajima nuri stylistically varies from monochromatic lusters to strikingly decorative designs. The unique undercoating produced only in Wajima gives this lacquerware its strength and durability, earning it a reputation as a top-quality traditional craft.

Kaga Yuzen Silk Dyeing

Kaga yuzen uses dyeing techniques that date back to the mid-15th century. Decorated in a pictorial realism style, common motifs include plants, flowers, birds and landscapes. This exquisite fabric is used for kimono, obi and fashion accessories.

Kutani Porcelain

Kutani yaki dates back to the 17th century, when porcelain clay was discovered locally. This style of pottery is renowned for its decorative glazes. Expertly hand-painted, the designs range from bucolic landscapes to bold floral motifs.

Kabura Sushi

A preserved winter sushi, made from salted amberjack and turnips that are pickled in koji (sake starter). Traditionally eaten as a New Year's dish.

Kaga Yasai

Kaga yasai are local vegetables cultivated in a traditional manner, not produced for the modern marketplace. There are 15 kaga vegetables, including lotus root, sweet potatoes, radishes and kinjiso (Okinawan spinach).

Jibu-ni

No one can quite agree on where the name for this stewed dish originates, but that doesn't mean it's not delicious. Thin slices of duck (or chicken) are tossed in starch, and cooked in a traditional Japanese soup. Once the meat is cooked and the soup thickens, mushrooms, bamboo shoots, wheat gluten and other ingredients are added before it's finished and served with a touch of grated wasabi. Try it throughout Ishikawa Prefecture.

Yamanaka Lacquerware

There are two types of lacquer in this region. The original technique has Yamanaka craftsmen using wood lathes to create objects with a distinctive wood grain clearly visible through applied lacquer, while the other involves maki-e, or decorating the objects with gold, silver, and shell in beautiful designs.

Hakusan Katatofu

Hakusan katatofu is rich in soybean flavor and contains less water than most tofu, which makes it much firmer.

Kanazawa Lacquerware

Kanazawa shikki evolved thanks to the patronage of feudal lords. The region's military heritage of lacquering military gear is credited for the local variety of maki-e, a style of painting using gold powder.
Spring

View over 400 blossoming cherry trees in Kanazawa's Kenrokuen Garden and take in the spectacular Seihakusai Dekayama festival on the Noto Peninsula.

Summer

Escape the heat with a hike in the Hakusan mountain range or enjoy the breezes along the coastline of the Noto Peninsula. The vibrant Hyakumangoku Festival in Kanazawa spans three days every June.

Autumn

Changing foliage is everywhere in Ishikawa, but Kenrokuen Garden in Kanazawa and Kakusenkei Gorge in Yamanaka Onsen are particularly picturesque.

Winter

As Ishikawa is blanketed in snow, enjoy local winter delicacies like sake and snow crab. Colorful illuminations can be seen at the terraced rice paddies of Senmaida in Wajima, and at Kenrokuen.