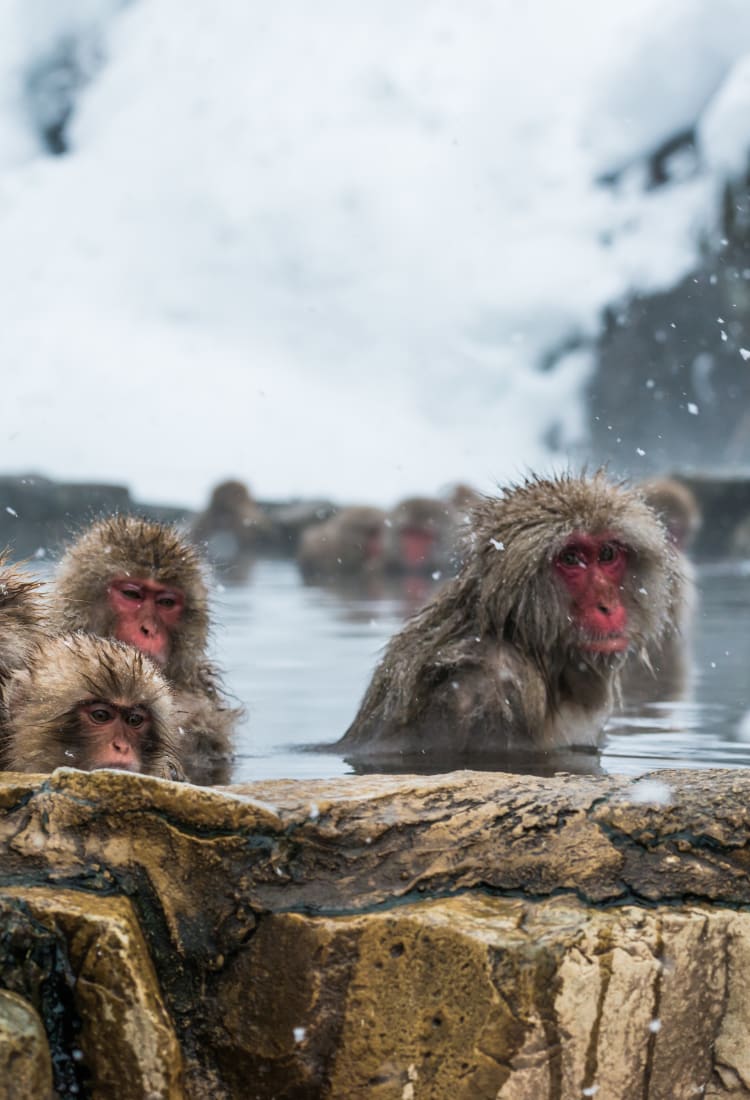 Hokuriku Shinetsu
Nagano
Adventure on the roof of Japan
Come to Nagano for world-class outdoor sports, and stay for townscapes from the samurai era, vibrant festivals and abundant hot springs
Host of the 1998 Winter Olympics, Nagano is an outdoor sports mecca particularly famous for skiing and snowboarding. Often called the "roof of Japan," it boasts the highest mountain ranges in the country. Enclaves of rural culture continue much as they have for centuries, with the villages of
Tsumago
and
Narai
appearing as if they were plucked straight from a samurai film. Raucous festivals and the stately black walls of
Matsumoto Castle
also survive intact, as do rustic onsen villages with their relaxing mountain ambiance.
Karuizawa
has a casual cosmopolitan atmosphere, with plenty of quirky pensions.
The Hokuriku Shinkansen from Tokyo is the easiest way to access northern Nagano. Central Nagano, including Matsumoto, is a direct train ride from Shinjuku Station,in Tokyo, or Nagoya Station, in Aichi Prefecture. Highway buses run from many other cities around the country.
From Tokyo Station, the Hokuriku Shinkansen runs to Nagano City, with stops at Karuizawa and Ueda along the way. The central Nagano hub of Matsumoto is the gateway to the Northern Japan Alps. Approaching from Nagoya on the Shinano Limited Express will take you through the Kiso Valley, making for easy stops in Tsumago or Narai. Matsumoto is a straight shot on the JR Azusa from Shinjuku, bringing you through Suwa, where you can change trains to access the southern Ina area via local lines. Highway buses also run to many Nagano cities and popular outdoor destinations from urban centers across Honshu. If you have a specific travel goal in mind, say skiing in Hakuba, some direct airport bus services from the airport can be convenient.
Don't Miss
Panoramic mountain vistas at Kamikochi
Tsumago and Narai, Kiso's beautifully preserved samurai-era villages
The hot spring-loving snow monkeys near Yudanaka Onsen
Matsumoto's splendid 16th-century castle, one of Japan's finest
Trending Attractions in Nagano
Kiso Lacquerware

With more than 400 years of history and still going strong, Kiso lacquer production shows no signs of slowing down. Known for its bold red and black colors as well as detailed designs on both small and large household objects, this traditional craft continues to please locals and visitors alike.

Shinshu Soba

Buckwheat has been consumed in Japan for over 9,000 years. Early records of it being eaten in noodle form put soba's birthplace in Nagano. Immerse yourself in Japan's food culture by having soba noodles at their origin.

Nozawana-zuke

Pickled mustard leaf that is often eaten with a little soy sauce and sometimes chili, Nozawana-zuke is particularly famous where it originated, in the hot spring town of Nozawa.

Shinshu Apples

Shinshu is Japan's second largest apple producer, growing firm and sweet fruit with a mild tartness. Be sure to sample some Shinshu apple juice, which is available in many souvenir shops.

Oyaki

A buckwheat dough dumpling stuffed full of vegetables, fruit or sweet beans and then roasted on an iron pan and steamed before eating. A great treat after a day on the slopes or at any time.

Wasabi

A cousin of horseradish but far less common, wasabi is the spicy Japanese alternative to hot mustard. It's rare to find true wasabi outside of Japan. Nagano wasabi is among the best, and eaten with many more dishes than just sushi.

Sake

Much like Niigata to the north, Nagano has built a reputation for brewing highly drinkable sake that can be delicate, complex and fruity. There are around 100 breweries taking advantage of the fine weather and water there, producing top brands such as Masumi and Iwashimizu.

Matsumoto Furniture

Lacquered furniture using traditional wood joinery has been made in Matsumoto for more than three centuries. Production was stopped before World War II, but was later revived through the Mingei folk craft movement.

Shinshu Pongee Silk

Shinshu tsumugi is made from a combination of raw, wild dupion and floss silk. Natural plant dyes and a subtle sheen give this warm fabric a luxurious quality. Used for kimono, the textile patterns include stripes, checks and splashes.

Matsumoto Thread Balls

Once popular as children's toys, these bright and cheerful handmade temari balls from Matsumoto are now collected and displayed as interior decorations or given as gifts. Using brightly colored silk and cotton string, artisans create a variety of designs and patterns around the ball and place a bell inside.
Spring

Party beneath the cherry blossoms against a backdrop of snow-capped peaks. Partake in lively blossom-viewing events at Matsumoto and Ueda castles or have a tipple at the Nomiaruki sake brewery crawl in Suwa.

Summer

As the green season comes into full swing, enjoy hiking, mountain biking and kayaking in the great outdoors. Take in fireworks on Lake Suwa or feel the beat of the Okaya Taiko Matsuri drum festival.

Autumn

Autumn colors engulf the mountains and castle grounds as the leaves turn. Stroll the Nakasendo trail through the Kiso Valley , cycle around Lake Suwa or hike in the Kamikochi area.

Winter

Skiers and snowboarders descend on Nagano from around Japan and across the globe. After hitting the powder-rich slopes, get warm with onsen soaks and flasks of hot local sake.