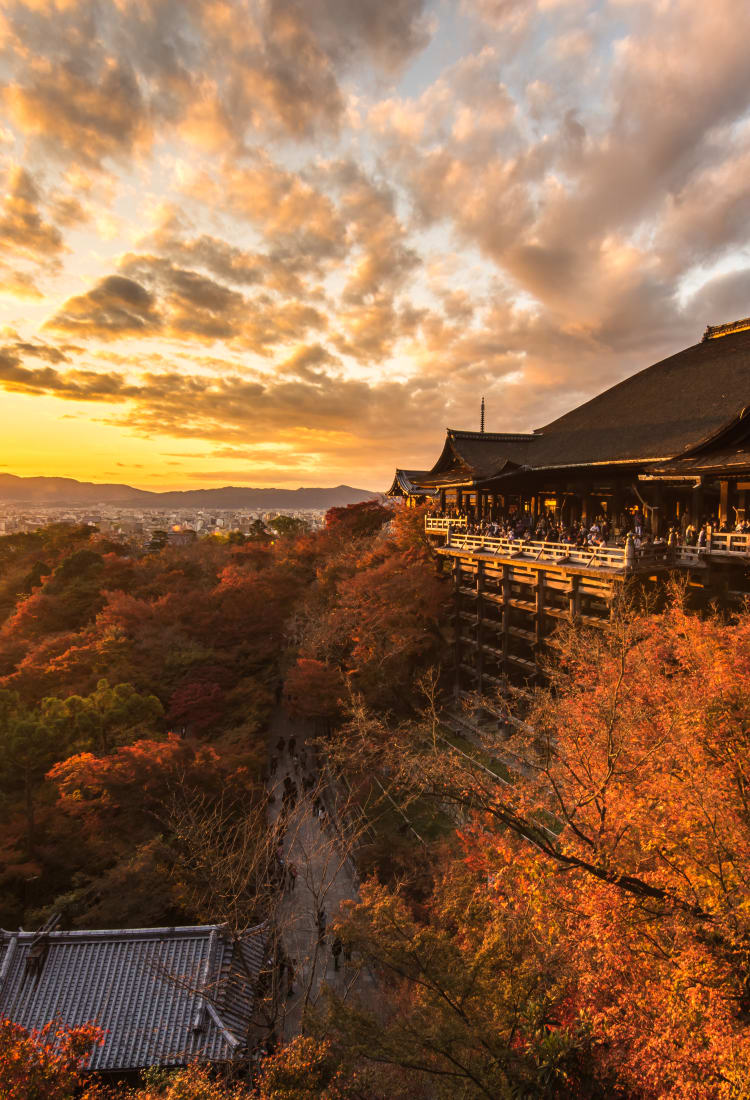 Kansai
Kyoto
The old imperial capital and cultural heart of Japan
Kyoto is the former capital city of Japan and world-famous for its refined culture, dining, and charm of rural Japan
Kyoto City attracts millions of local and international visitors each year looking for traditional Japanese culture. Temples and shrines such as
Kiyomizudera Temple
and Kinkakuji draw lots off attention from visitors, as do the bamboo groves of nearby
Arashiyama
. Stay in a traditional ryokan, take a dip in a rejuvenating onsen, and enjoy the seasonal changes of cherry blossoms and brilliant autumn foliage. Kyoto's magic is only a short bullet train ride from Tokyo. Beyond the city lie Kyoto Prefecture's many attractive rural areas. In the north, Amanohashidate has long been considered one of Japan's three most scenic places. Nestled in the mountains,
Miyama
is one of the last towns with thatched-roof farmhouses, many of which are still inhabited. Enjoy delicious local vegetables and the famous green tea grown in
Uji
.
Access Kyoto on the bullet train from most major cities in Japan. The nearest airports are Itami and Kansai International. Both are in Osaka Prefecture, between 1 hour and 1 hour and 20 minutes away.
Kyoto City is a prime destination for most travelers with easy access from Tokyo, Osaka, Nagoya and beyond by the Tokaido Shinkansen. Frequent commuter trains to and from Osaka are also an option. To reach other towns in Kyoto Prefecture and the Tango Peninsula, you'll need to take local trains and buses. It takes just over two hours from Kyoto Station to Miyazu on the coast at Tango, where buses take you on to Ine and the beaches. Consdier renting a car for more travel freedom.
Don't Miss
Grand temples, shrines, palaces and gardens in Kyoto City and around
Sumptuous multi-course kaiseki cuisine and refined traditional ryokan accommodations
White-sand beaches and mineral-rich hot springs on the Tango Peninsula
One of Japan's three great views at Amanohashidate
Trending Attractions in Kyoto
Yudofu

Yudofu, literally "hot-water tofu", is arguably the best way to enjoy high-quality, freshly made tofu. Tofu is warmed through in a simple broth made of water and kombu, and simple condiments are served alongside. Kyoto is the place to enjoy this, as it is the epicenter of Buddhist cuisine, in which yudofu features heavily.

Kyo-Gashi

Kyo-gashi are a type of wagashi, or traditional Japanese sweet. Kyo-gashi are beautiful, colorful and symbolic confections, custom-made for different occasions, so no Kyo-gashi will ever be exactly the same as another.

Kyo-Yasai

Before modern transportation was available, farmers grew only the vegetables most suited to the regions they farmed in. Kyo-yasai are vegetables traditionally grown in Kyoto for centuries, and they play an important role in modern Kyoto cuisine.

Uji Tea

Green tea from Uji is among the oldest and most highly regarded teas in Japan. You'll find it in tiny soba restaurants and temple gardens and many places in between. There are a variety of ways to enjoy green tea while in Uji.

Kyoto Kiyomizu Ware

Handmade ceramics and porcelain known as kyo yaki or Kiyomizu yaki are characterized by painted overglaze enamel. This craft evolved alongside other sophisticated pastimes in Kyoto, including the tea ceremony and flower arranging.

Kyoto Dyed Silk

Invented in the late 17th century, kyo yuzen is a dyeing technique distinguished by vivid colors, subtle gradations, complex patterns and precision linework. The subtle use of stencils, brushes and resists produces designs on textiles similar to traditional Japanese paintings.

Nishijin Textiles

Nishijin ori silk textiles originate in Nishijin, the garment district of Kyoto. Exquisitely decorated brocades have been handwoven here for centuries, and kimono and obi have been tailored from sumptuous gold brocade, damask, figured satin and velvet. Treated with care, these garments can last a lifetime.

Kyoto Folding Fans

Fashioned out of bamboo, the kyo sensu is a folding fan decorated with handmade Japanese paper or silk on thin wooden strips, traditionally cypress. These artful accessories are used at ceremonies, festivals and performances such as Noh theater.
Spring

Late March to April is the time to view the cherry blossoms and the fresh green maple leaves in shrine and temple gardens.

Summer

Highlights of the hottest season include riverside dining, cormorant fishing performances, beach excursions, the month-long Gion Festival, and fire displays to honor the spirits of ancestors.

Autumn

Kyoto's autumn foliage attracts visitors from the world over. Harvest moon festivals, such as the Jidai Matsuri, are another autumn highlight. The cool temperatures are perfect for hiking at Mt. Ponpon and Mt. Atago.

Winter

Kabuki's biggest stars come to perform, plum blossoms emerge after the snows, and countryside onsen offer plenty of warmth. Winter festivals like Arashiyama Hanatoro illuminate the city of Kyoto.