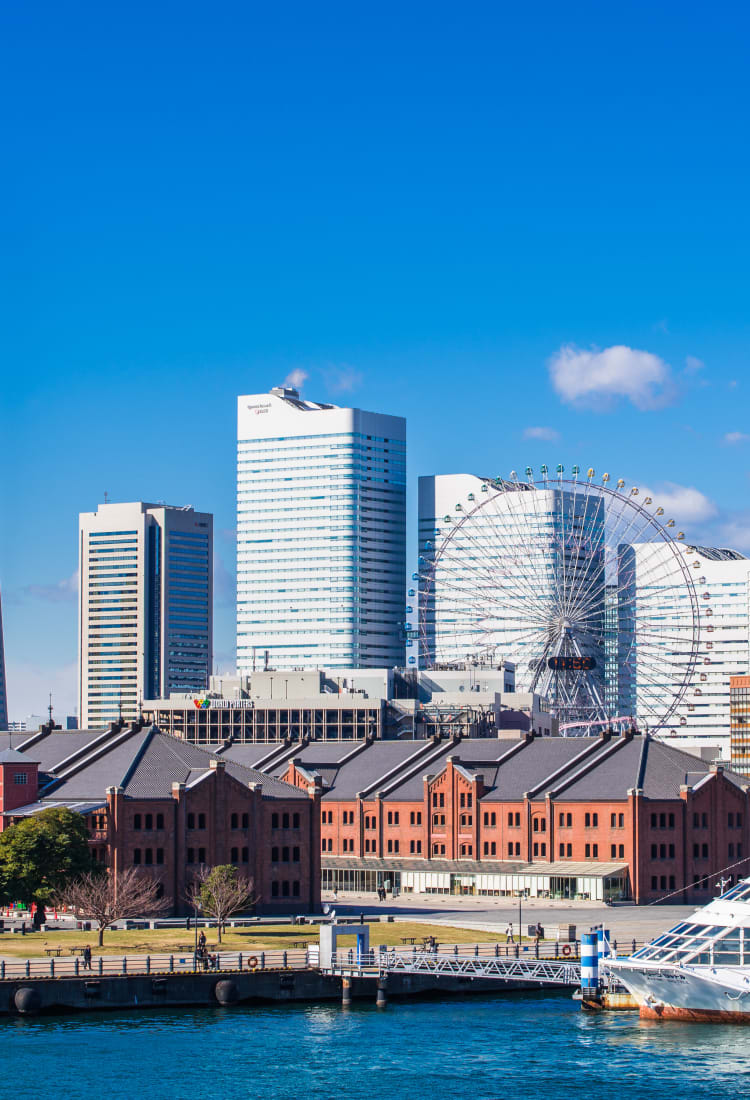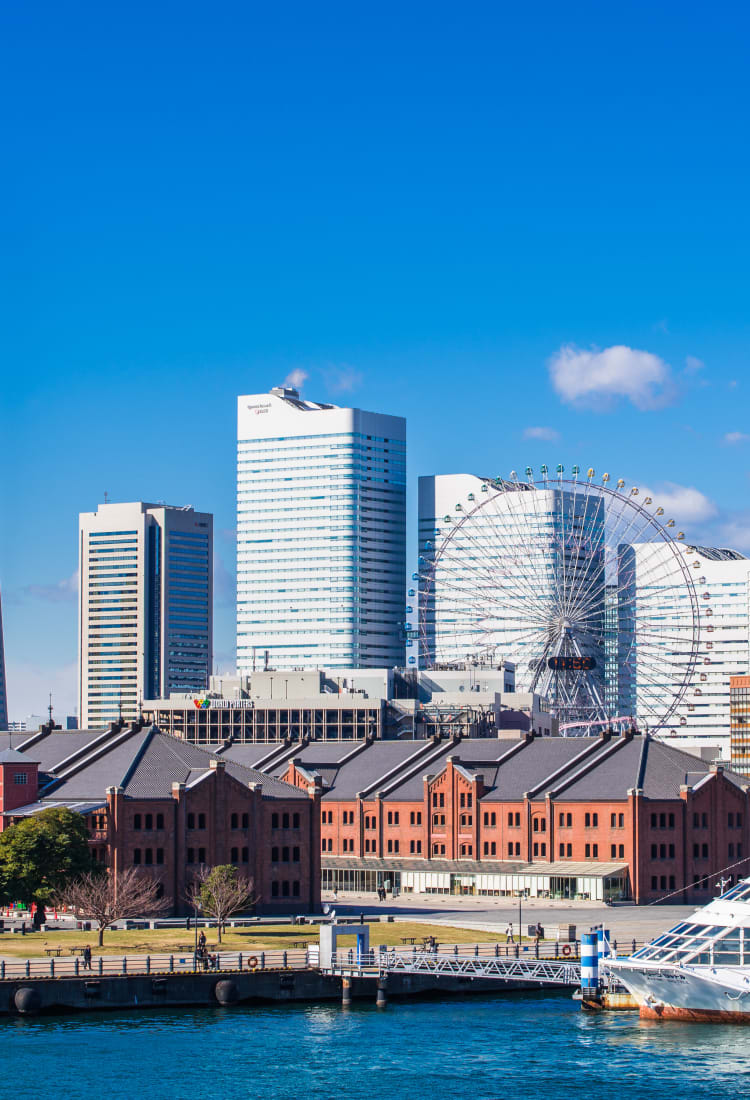 Kanto
Kanagawa
Beaches and bay views, industrial tourism, and the meeting of East and West
From the international port city of Yokohama to Kamakura's temples and Hakone's natural beauty, Kanagawa has universal appeal
Kanagawa Prefecture is within easy reach of Tokyo, making it a popular destination for both visitors and Tokyoites. Yokohama's shopping malls and shiny towers make the night view of its skyline one of the most beautiful in Japan, and its past as a trading port gives it an international flair. Further down the coast of Kanagawa, Kamakura is packed with temples, quaint restaurants, and cafes, and the onsen town of Hakone is the place to relax in hot springs and view Mt. Fuji.
Kanagawa is accessible via regular trains from Tokyo and via the JR Tokaido Shinkansen from Kyoto, Osaka and Nagoya, as well as highway bus and car.
Kawasaki is 20 minutes along the JR Tokaido Line from Tokyo. For Hakone, get off at Odawara on the JR Tokaido Shinkansen line. From there, take the Hakone Tozan Railway to the final stop. For Yokohama, get off at JR Shin-Yokohama station if you are taking the shinkansen from Kyoto or Nagoya. If you're coming from Tokyo then the regular trains are easier and cheaper, just 30 minutes on the JR Yokosuka Line and other local train lines. Kamakura is another 30 minutes south. Haneda Airport is easy to reach from Yokohama Station by train or bus in around 30 minutes.
Don't Miss
The Great Buddha of Kamakura, Zen temples and traditional samurai festivals
Yokohama Red Brick Warehouse
Exploring Hakone: the hot springs, museums, ropeways, and Lake Ashinoko
Views of Mt. Fuji
Trending Attractions in Kanagawa
Yamayuri Pork

Yamayuri pork is the very finest pork selected from pigs that have been selectively bred and specially fed. Only the very finest quality cuts meet the strict standards of the Yamayuri Pork Association and can be branded Yamayuri Pork. (Photo: ©AIUTO)

Atsugi Horumon

Atsugi has many pig farms and raises more pigs than anywhere else in Kanagawa. Atsugi is famous for its horumon, carefully prepared using fresh pork from within the prefecture.

Yokohama Scarves

Silk was exported in large quantities from Yokohama after the opening of its port 150 years ago, and Japan's silk industry supported the country's modernization, and also its restoration after WWII. After the war, printing techniques advanced and silk scarves printed with colorful designs became popular. In the 1970s Yokohama scarves accounted for approximately half of the printed silk scarves manufactured around the world. The Japanese printing technique rivalled those of Como, Italy, and still to this day, Yokohama scarves charm people around the world. (Photo: Yokohama Traditional Scarf/Marca)

Sanma Noodles

This dish originated in the kitchens of Yokohama's Chinatown when the chefs would make off-menu items for their own meals. Crunchy stir-fried vegetables and a thick, starchy sauce make this noodle dish delicious. (Photo: ©Yokohama Chinatown Development Association)

Odawara Kamaboko

Kamaboko is a fish cake that has been around since the 12th century, and the Odawara type is made from whitefish, egg whites, salt and a touch of sake. It has a smooth and chewy texture, and can be steamed, grilled, fried or poached.

Misaki Maguro

Bluefin tuna or maguro is the most popular fish in Japan. While in Misaki, make sure to try maguro donburi style—thick cuts of tuna and minced tuna with green onions served over a bowl of white rice.

Shonan Shirasu

Shonan shirasu are whitebait with a slight salty flavor and a soft and fluffy texture. Eaten boiled, dry, or raw with soy sauce, they add a fresh ocean flavor to many dishes across the region.

Hakone Wood Mosaic

This is a very exquisite woodcraft technique with geometric patterns, born in the late Edo period. It fuses traditional woodworking techniques from the Heian period (794-1185) and the rich colors of the tree species native to Hakone. It is the only Traditional Handicraft of the Odawara/Hakone region, and it was awarded national status in 1984. (Photo: 小田原箱根伝統寄木協同組合)

Kamakura Carved Lacquerware

The art form derives from carved lacquer (carved vessels made from layers of lacquer), which was introduced from China some 800 years ago. It developed as court carpenters and Buddhist priests moved into the production of lacquerware. A characteristic feature of Kamakura carved Lacquerware are the delicate chisel marks that can made out around the edges of the carved details.

Yokosuka Sukajan Jackets

Created in the late 1940s in Yokosuka City, Kanagawa Prefecture, these colorful, hand-embroidered satin jackets became massively popular in Japan, especially with the U.S. military. The embroidery is the same used for kimono. In recent years they have been gaining popularity overseas. In addition to being introduced at Paris Fashion Week in 2016, the jackets received a lot of attention as officially licensed products for the Tokyo 2020 Olympics.
Spring

When the cherry blossoms appear and the festival season starts, the temples of Kamakura and the parks of Yokohama are the places to be.

Summer

There are Blue Flag-certified beaches in the prefecture, including the popular Enoshima Island, which attracts visitors to enjoy marine sports. Hakone is also popular as a summer resort.

Autumn

Kamakura's temples are framed by Japanese maples—momiji—and the autumn leaves in Hakone are simply beautiful.

Winter

Onsen waters warm the body and heart, and views of snow-capped Mt. Fuji against clear blue skies are at their best. Winter illuminations around the prefecture add to the charm of the season.