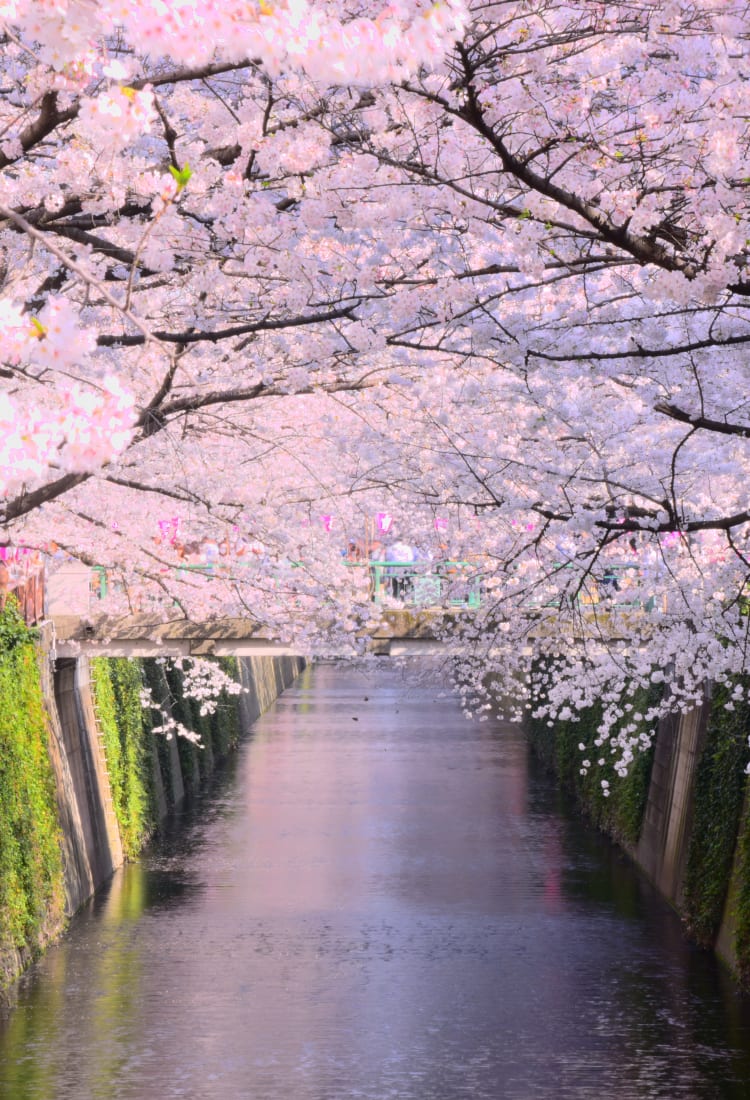 TOKYO
Nakameguro
A prosperous vista of culture and class, with a touch of Europe
A prosperous vista of culture and class, with a touch of Europe
Nakameguro and the surrounding area is rapidly becoming one of the hottest neighborhoods in Tokyo. The region strikes a unique balance between luxury and the bohemian lifestyle. This daytime and nightlife hotspot hosts stunning scenery, shopping, hairstyling, dining, cafes, art, music, and more.
Don't Miss
The dazzling river walk
Shops and dining galore
Leagues of unique people and places
How to Get There
Nakameguro is a quick five-minute jump from Shibuya


by train.
Take the Tokyu-Toyoko Line, just one stop from Shibuya


on the train bound for Moto-Chukagai. Nakameguro Station is also a stop on the Hibiya subway line. Or you can catch the number 41 bus from Shibuya


. From Nakameguro Station, the gorgeous river path is just across the street.
River romance
The best place to feel those Nakameguro vibes is along the banks of the Meguro River. You'll be transported to another land on this European-esque walk of wonders. Boutique shops, cafes, and fantastic dining options line both sides of the river.
But it isn't too highbrow. In fact, the low-key, casual nature of the area makes it easy to take it all in slowly, so let your curiosity lead the way.
Whether your wallet is deep or shallow, there's plenty here to see, experience, and taste.
Ring in spring
The charm of the river walk is amplified tenfold in spring when the cherry trees bloom. Nearly every tree along the riverside will explode with cherry blossoms that form a tunnel of flowers over the river, and the mood is definitely celebratory. It's one of the best places in Tokyo for flower viewing. Stay until evening when Nakameguro kicks its spring celebration into high gear. The trees are illuminated by lanterns, and the entire stretch of river becomes lively with festival cheer. The next generation springs forward, too
Nakameguro is uber-fashionable. This hip neighborhood is home to many youthful celebrities, artists, and fashionistas.
Conveniently, many of the riverside cafes offer terrific views of the promenade outside which is great for people watching. The lively sensibilities of the local inhabitants can be inspiring.
Go west, young man
Tokyo's ultra-fashionable neighborhoods have shifted westward for many years. From Ginza to Aoyama, and then to Daikanyama and Nakameguro, something fashionable, trendy, and hip is available to see everywhere.
On the surface, it's a bustling downtown neighborhood with small town charm, but dig a little deeper and you'll find a thriving counterculture. The difference is not in the shop fronts but in the details. In bookstores and music shops, you'll find a range of eclectic, unique choices. What may seem an ordinary cafe or restaurant could be one that specializes in fermented foods and beverages. The used-clothing shops are also a good place to see that the neighborhood inspires individual tastes rather than those of cliques.
What you will experience in Nakameguro is dynamic. It will portray a more independent and international Japan than you expect. Go with an open mind and prepare for a surprise. ```fc