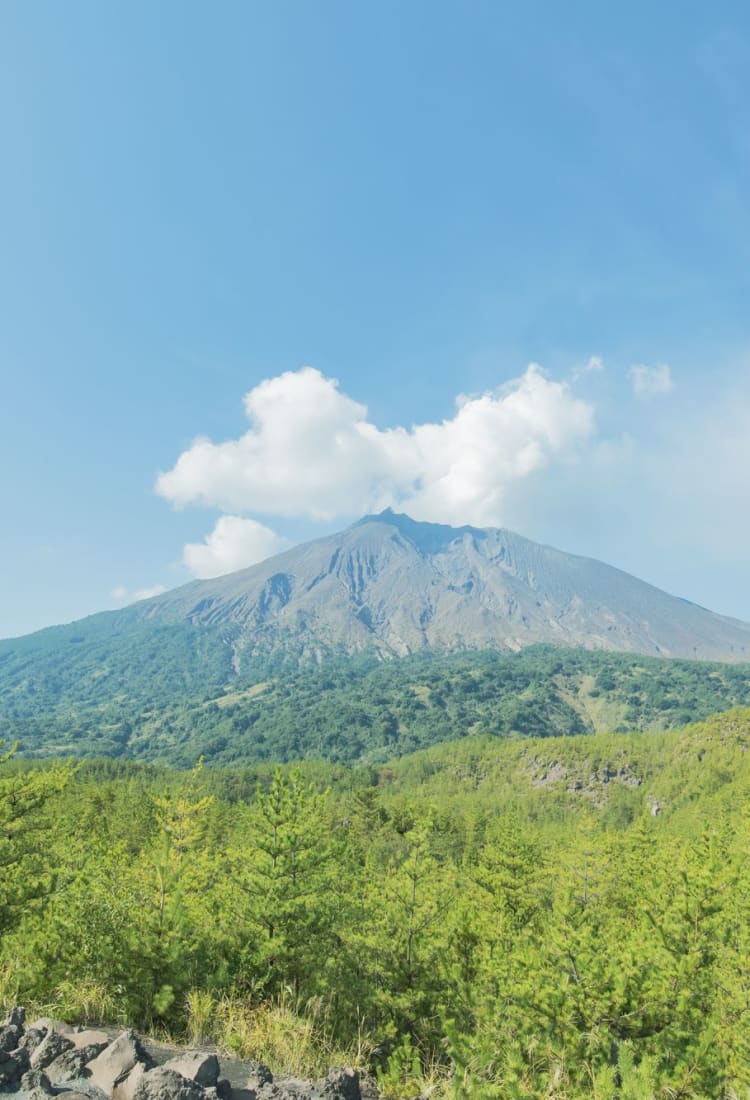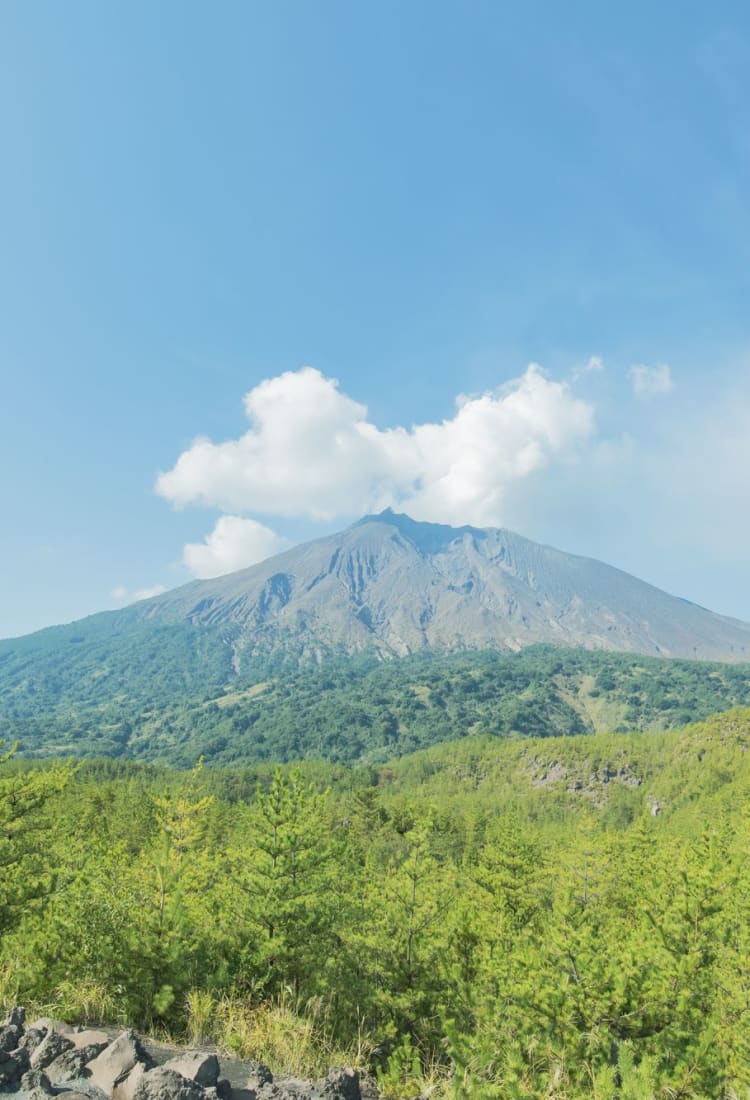 Kyushu
Kagoshima
Ancient forests and great volcanoes
From the beaches of Amami-Oshima Island and ancient forests of Yakushima to the great volcanoes of Sakurajima and Kirishima, Kagoshima shows off Japan's wild side
At the southern tip of mainland Japan, Kagoshima Prefecture is nicknamed the "Naples of the East" for its bay and comfortable climate. The prefecture is incredibly active geologically and is home to the great volcanoes of Mt. Kirishima and Mt. Sakurajima. A beneficial side effect of these volcanoes is a number of fantastic hot spring (onsen) facilities that range from traditional baths to beachside sand baths in the shadow of Sakurajima. Island life is one of the charms of Kagoshima Prefecture, and any visitor should consider spending as much time as possible off the mainland.
The city of Kagoshima is the capital and main transport hub, connected to the rest of Kyushu by the Kyushu Shinkansen to Fukuoka's Hakata station. The prefecture is home to Kyushu's second-largest airport, Kagoshima Airport, which connects it both domestically and internationally.
The fastest way to reach Kagoshima from Tokyo or Osaka is by air, although the Tokaido-Sanyo Shinkansen also connects Tokyo to Fukuoka in a little over five hours. Many of the islands off the coast have their own airports which are accessible from Kagoshima Airport. The islands are also well connected to both Kagoshima and Okinawa (Naha) by regular ferry services.
Don't Miss
The magnificent views of Mt. Sakurajima rising out of Kinko Bay
The ancient forests of Yakushima, the first forest in Japan to be registered a World Heritage site
Pristine beaches and stunning coral reefs around the Amami-Oshima Islands
Japan's main rocket launchpad—Tanegashima Space Center
Explore Kagoshima by Area
Trending Attractions in Kagoshima
Kagoshima Shochu

Sweet potato shochu, a distilled alcoholic beverage, is a Kagoshima specialty, and the prefecture has the largest number of shochu breweries in Japan. Due to the ash fall from Mt. Sakurajima's eruptions, Kagoshima's soil is not suitable for growing rice or wheat. Sweet potatoes, however, proved hardy enough to grow here, and the area developed as a major producer of a type of sweet potato known as "satsumaimo." Shochu made from this variety of sweet potato is characterized by its elegant and refined sweetness.

Karukan

Made from a dough of rice flour, grated yam and sugar formed into dumplings and filled with sweet bean paste, karukan are then steamed into a delicious, spongy cake. Great for teatime.

Kagoshima Black Beef

Japanese black wagyu cattle raised in the sunshine of Kagoshima are the most numerous of all Japanese wagyu breeds. The beef they yield is known for its tenderness, rich meaty flavor and well-balanced marbling, and is increasingly being rated as the highest grade of wagyu. A must for lovers of premium-quality steak.

Satsuma Ware

Kagoshima is known as a heaven for pottery lovers. This prefecture is home to Satsuma yaki, a generic name for a wide variety of porcelain ware developed since the 16th century. You'll find everything from exquisite fine art pieces to everyday use tableware and items for home decor.

Oshima Tsumugi Silk

Oshima Tsumugi is a woven silk fabric. Traditional production techniques developed around 1,300 years ago on Amami-Oshima Island. Dyeing it with mud and bark is a technique unique to the Amami region. A bolt of this wrinkle-resistant ikat can take a year to make.
Spring

The area around the ruins of Tsurumaru Castle (Kagoshima Castle) is covered with cherry blossoms in full bloom. Spring is also the best time to visit Yakushima Island, a World Natural Heritage site, as it rains less than usual at this time of year.

Summer

Kagoshima offers some of Japan's best spots for marine activities, including diving, snorkeling and surfing at Amami-Oshima and its surrounding islands. Sea turtles can be observed nesting at Nagahata Inakahama Beach on Yakushima, the largest sea turtle spawning ground in Japan.

Autumn

In autumn, tens of thousands of cranes sweep into the Izumi Crane Observation Center, which boasts the largest number of migrating cranes in Japan. Visitors can also enjoy a volcanic sand bath at the onsen resort in Ibusuki.

Winter

Winter is the perfect time to relax in the soothing waters of Kirishima Onsen, home to over a dozen different hot spring baths. It is also an excellent time to visit Ibusuki Onsen in the southern part of the Kagoshima mainland for its steaming sand baths. You can lie on the beach in this natural sauna and enjoy the scenery. The view of Mt. Kaimondake from the beach, also known as Satsuma Fuji, is a beautiful sight.