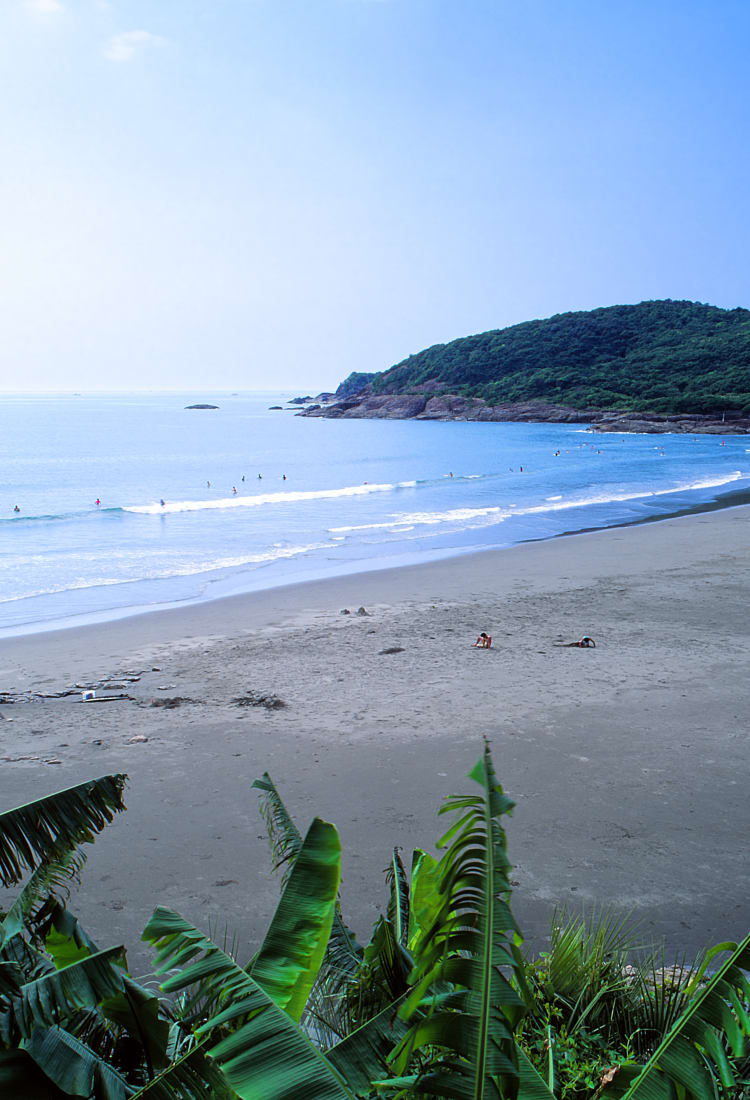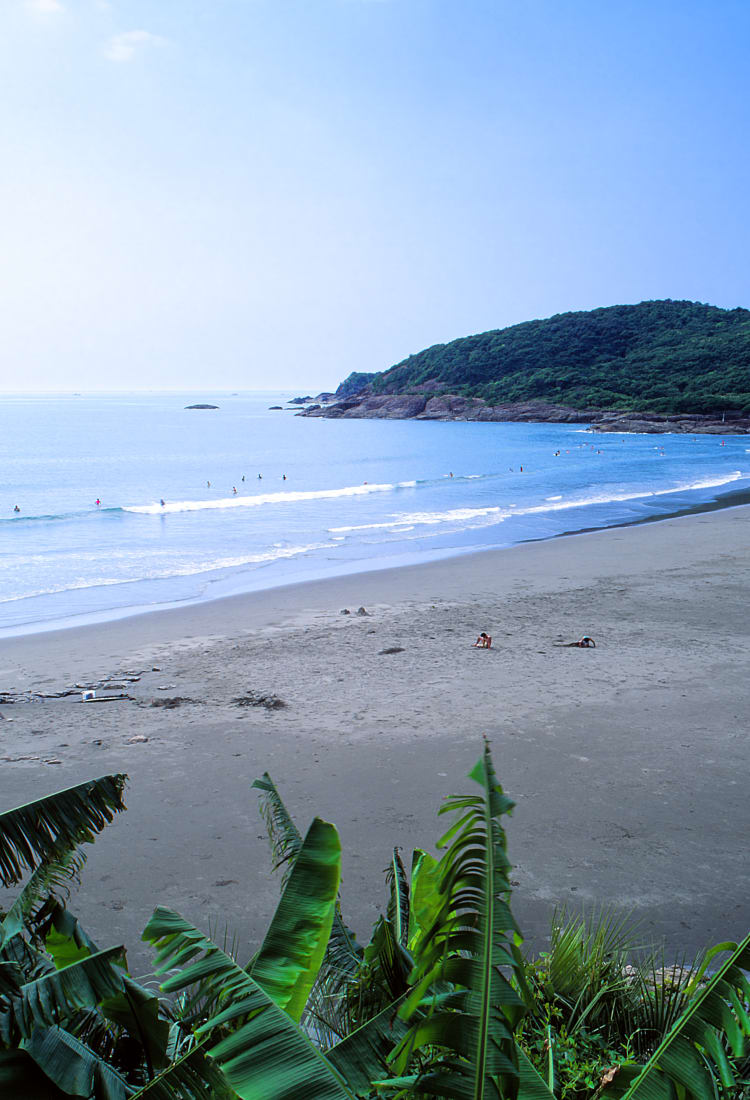 Kyushu
Miyazaki
Volcanic hikes, jaw-dropping beaches and Japan's most gorgeous waterfall
Miyazaki offers something for all—spectacular surf, an iconic waterfall, a rich festival calendar and shrines associated with the myth of Japan's founding
Miyazaki is a renowned haven for outdoor sports enthusiasts, boasts gorgeous coastal drives and is home to incredible seaside shrines. Miyazaki Shrine, Amanoiwato Shrine and Takachiho Shrine are associated with the myth of the birth of Japan, and feature lively annual festivals that celebrate Miyazaki's significant place in Japanese mythology. Takachiho Gorge and the 17-meter Manai Falls are breathtaking and a prefectural highlight. Kisakihama, Okuragahama, Uchiumi and Aoshima are popular for their surf. Seagaia, a 20-minute drive from Miyazaki Station, is a comprehensive resort complex complete with a hotel, convention center, and golf courses.
The most convenient way to reach Miyazaki from Tokyo is by plane. Alternatively, take the JR Tokaido, Sanyo or Kyushu shinkansen from Tokyo or other major cities to Shin-Yatsushiro or Kagoshima Chuo stations, before making your respective highway bus or express train connections.
Miyazaki Airport handles domestic flights for various airlines, while international flights link the prefecture with Hong Kong, South Korea and Taiwan. Flights from Haneda, Narita, Osaka, Nagoya, Fukuoka and Okinawa run daily. If you are already in Kyushu, highway buses run regularly between Miyazaki and Fukuoka. Buses and express trains connect Miyazaki City and Kagoshima.
Don't Miss
Incredible sunrises at a seaside island shrine in Aoshima
The rugged coastline drive to Nichinan
Hiking around active volcanic craters along the Ebino Plateau
The sheer beauty of Takachiho Gorge by day and kagura dances at Takachiho Shrine by night
Trending Attractions in Miyazaki
Nagamanju

Sweet azuki bean jam is rolled into long, sticky rice cakes that are fun to chew. Nagamanju have a mellow sweetness that may have you thinking they're the Miyazaki version of cannoli.

Authentic Miyazaki Shochu

Miyazaki is one of Japan's top regions for shochu production, and focuses on varieties based on sweet potatoes, malted rice and wheat. The flavors range from sweet to hearty to mellow, and adding a bit of hot water makes the fragrance bloom.

Miyakonojo Archery Bows

Elegant lines and beautiful details characterize the Miyakonojo daikyu, a longbow crafted for range and accuracy. These bows are handcrafted in Miyakonojo, Japan's archery capital, which produces 90 percent of Japan's bamboo bows and hosts an annual martial art competition in archery.

Hyuganatsu

Similar in appearance to an orange with yellow skin, the hyuganatsu is a juicy citrus fruit with a thick, soft skin. It is sprinkled with sugar and eaten with the pith intact.

Nikumaki Onigiri

This unusual onigiri is a fist-sized rice ball that shuns the usual filling of seaweed or fish for a hot wrapping of thin-sliced pork. These go great with an ice-cold beer.

Miyazaki Beef

This is beef from the Japanese black wagyu breed of cattle, and Miyazaki raises such prized cows that other cattle-raising regions, even Kobe, buy calves from ranchers here. Famous for its deep marbling, intense flavor and pleasant aroma when grilled. A must-try for steak lovers.

Miyazaki Mangoes

Miyazaki's subtropical climate is perfect for growing mangoes. Mangoes fall off the vine as they ripen, so to increase the amount of ripening and avoid bruising, Miyazaki farmers wrap their sweet and delicious fruits in nets attached to the trees.

Hiyajiru

Considered one of the hottest areas on the southern island of Kyushu, Miyazaki is the home of hiyajiru, the Japanese version of gazpacho. It is a chilled soup made from dried fish and miso, poured atop cooked rice and eaten alongside refreshing summer vegetables like cucumber. A final topping of ginger and perilla give the dish an extra-refreshing flavor.
Spring

Spring brings new warmth to the ocean's waters, one of Japan's earliest cherry blossom seasons and the official opening of popular Aoshima Beach Park.

Summer

Summer in Miyazaki means mangos, hiyajiru cold miso soup, and fireworks festivals held up and down the coastline.

Autumn

Fall sees leaves turn especially bright at the Gokase Valley, cloudrift at Kunimigaoka in Takachiho, and ideal trekking conditions at the Ebino Plateau.

Winter

Winter illuminations can be enjoyed throughout the prefecture. Mythical kagura dances are performed at Takachiho Shrine this time of year. Coming-of-Age Day, held on the second Monday in January, people go into the sea to perform misogi (a purification ceremony) dressed in special clothing exposing their upper bodies.