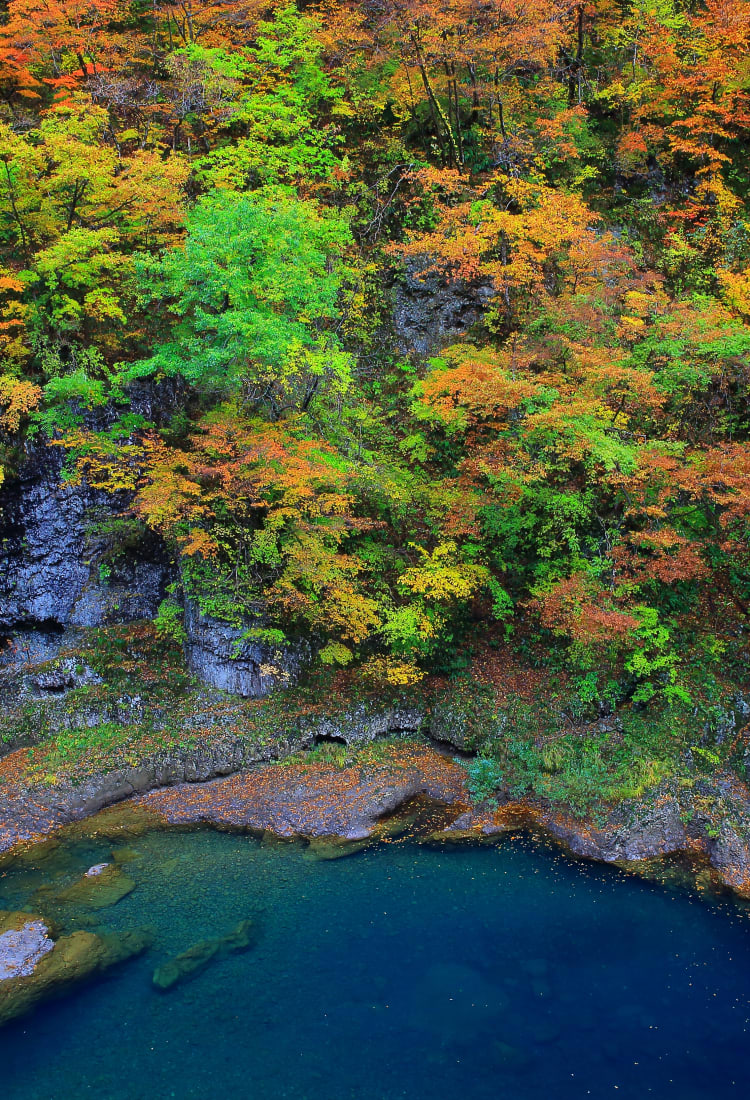 Tohoku
Akita
Mountains, forests, invigorating onsen and outdoor fun
With hot springs, a well-preserved samurai district and natural scenic beauty, Akita is a place to relax while connecting with Japanese history and culture
The northern prefecture of Akita is a popular choice for outdoor adventurers and history buffs alike. The
Hachimantai
area offers a range of outdoor activities, while the fascinating and well-preserved samurai district in the town of
Kakunodate
offers a glimpse into Japan's feudal past. The snow huts of the
Yokote Snow Festival
and Japan's national fireworks competition at Omagari draw hundreds of thousands of revelers each year.
Akita can be accessed by the JR Akita Shinkansen from Tokyo, Sendai and Morioka, as well as by car, local train and airplane from other areas in Japan.
Flights operated by JAL and ANA make Akita accessible from Nagoya, Osaka, Sapporo and Tokyo. A flight from Tokyo Haneda Airport to Akita Airport is the easiest and quickest method of transport from Tokyo. The direct Komachi bullet train on the JR Akita Shinkansen line between Tokyo and Akita takes around four hours. There are hourly departures, and the journey is covered by the Japan Rail Pass, JR East Tohoku Area Pass and JR East South Hokkaido Pass. There are also a number of long-distance buses from Tokyo to Akita. The journey takes around eight hours.
Don't Miss
Scaling the summit of Mt. Hachimantai, particularly beautiful in autumn when the leaves change colors
Soaking in Goshogake Onsen's volcanic mud and outdoor hot springs
Visiting Yokote in winter to join the town's 400-year-old Kamakura Snow Festival
The breathtaking displays of light and music of Japan's National Fireworks Competition in Omagari
Trending Attractions in Akita
Kaba Cherry-Bark Crafts

This beautiful craft is made from the bark of the mountain cherry tree. The bark of the yamazakura cherry tree is widely used as a traditional handicraft because of its deep colour and the unique luster. Typical products include tea caddies, tea chests and other tea utensils, paper boxes, tea bowls, brooches and tie pins.

Odate Cedarwood Crafts

The Satake Nishi family, who ruled Odate during the feudal era, took advantage of the area's s abundant forests, to encourage the samurai to create wood crafts, and the technique has been handed down to modern times. In addition to typical products such as lunch boxes and trays, a variety of products designed to suit modern lifestyles, such as coffee cups have been developed and are available to buy.

Kawatsura Lacquerware

This traditional craft dates back about 800 years, when samurai used to apply lacquer to their armour. The lacquering is strong and beautiful, and is decorated with fine carving and delicate designs coated with gold powder.

Hatahata

The symbol of Akita Prefecture, Hatahata is a coldwater fish with a smooth, tender texture. It is eaten grilled, in hot pots or as hatahata sushi.

Kiritanpo

Freshly cooked rice pounded and grilled on a wooden skewer, kiritanpo is eaten with miso or in soup.

Hinai Chicken

One of Japan's three top breeds, Hinai chicken is best known for its delicious meat and deep juicy flavour. It is an essential ingredient in yakitori (grilled chicken), oyakodon (rice topped with chicken and eggs) and kiritanpo hot pot, and is one of Akita's most popular ingredients.

Kisakata Iwagaki

Kisakata iwagaki are natural oysters which grow in the chilly depths of the Japan Sea. They are famous for their rich, briny taste. An absolute must for oyster lovers when in season from June to August.

Inaniwa Udon

Inaniwa Udon is a specialty of Yuzawa City with a history of over 300 years, and are carefully made by hand by skilled artisans. The noodles are very firm and elegant with a smooth texture.
Spring

Akita's springtime brings the bloom of thousands of cherry blossom trees, best enjoyed along the scenic rivers and in parks and among the historic samurai buildings in Kakunodate.

Summer

The hot summer is the perfect time to enjoy Akita's many lakes and valleys, where crystal-clear blue water, boating activities and outdoor adventures await.

Autumn

In fall Akita is energized with vibrant foliage, making it the perfect time to soak in outdoor onsen while appreciating the natural landscapes.

Winter

Though temperatures drop in winter, life heats up for people in Akita in the form of festivals celebrating fireworks, igloos and Japanese culture.