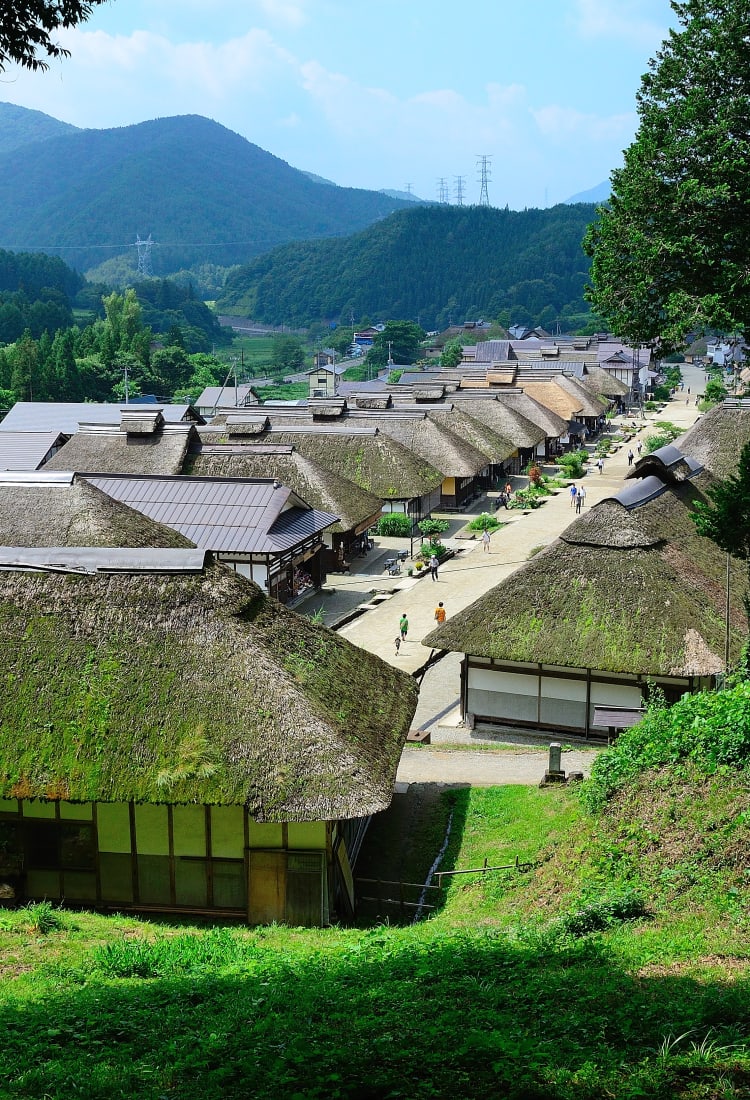 Tohoku
Fukushima
Samurai, snow and sake: Japan's soul in one land
Easily reached from Tokyo, Fukushima has everything Japan is famous for, including relaxing onsen, sake, cherry blossoms and powder-covered mountain slopes
Fostering unique traditions of food and culture, the fertile lands of Fukushima produce some of Japan's best fruit and sake. Nature is abundant here, and international and local visitors have long been drawn to its famed onsen and pristine wilderness. More recently, winter sports enthusiasts have discovered Fukushima's charms. While the 2011 earthquake and tsunami hit the region hard, the spirit of the samurai culture of the western Fukushima and Aizu regions, and the attitude of persistence and determination has contributed to the recovery of the tourism industry through steady efforts.
Fukushima is easily accessible from Tokyo via the JR Tohoku Shinkansen, as well as regular JR trains, highway buses and by car. If you're coming from further south, such as Kyoto, take the JR Tokaido Shinkansen to Tokyo before transferring. Fukushima Airport serves as the regional airport hub, along with Sendai International Airport to the north.
Fukushima is on the direct JR line from Tokyo, about 1 hour 30 minutes away. For other destinations like Aizu-Wakamatsu and the Urabandai area, including Inawashiro, transfers to local trains or buses at Koriyama usually take about 2 hours and 30 minutes. Fukushima Airport has domestic service to Osaka and Sapporo (ANA and Ibex Airlines).
Don't Miss
The aquamarine colors of Goshikinuma's mineral lakes
Powder-perfect ski fields in Urabandai
Samurai history and culture in the medieval castle town of Aizu-Wakamatsu
The famous hula girls at Iwaki's Spa Hawaiians Resort
Explore Fukushima by Area
Trending Attractions in Fukushima
Snow Crab

Succulent Matsuba crab owes its rich flavor to cold waters and a plankton-rich environment. If you love crab, make this part of your dining itinerary. Eaten steamed, boiled in a hot pot or as sushi.

Aizu Lacquerware

Aizu nuri dates back to the late 15th century. Decorative techniques and elaborate designs distinguish this lacquerware. The most striking patterns feature embossed, engraved or painted motifs.

Shirakawa Ramen

Chewy, curly, hand-kneaded noodles served in a rich soy-based broth. This style of noodles reportedly first appeared at a ramen restaurant in Shirakawa during the Taisho era (1912-1926).

Kitakata Ramen

Kitakata ramen is famous for its fat, wavy noodles served in a delicious soy sauce-based broth and topped with slices of barbecued pork and bamboo.
Spring

New sake is released between December and March. Home to the nation's most beloved cherry tree, Fukushima offers some of Japan's best cherry blossom-viewing possibilities.

Summer

In summer, Fukushima hosts the Soma Nomai horse festival in the Soma region (the northern region of the Pacific coast). It is one of the nation's most unique festivals. Juicy peaches and cherries are sweet news for food lovers, while others come for the hiking, surf and sand.

Autumn

Fall in Fukushima is a colorful affair, with the Bandai Azuma Skyline awash in golds and reds. The festival season continues, while seasonal delicacies such as pears and grapes abound.

Winter

The slopes of Mt. Bandai are ready for skiers and snowboarders, and nearby onsen are ideal spots to unwind after a hard day's work. Winter festivals and illuminations brighten the days and nights.