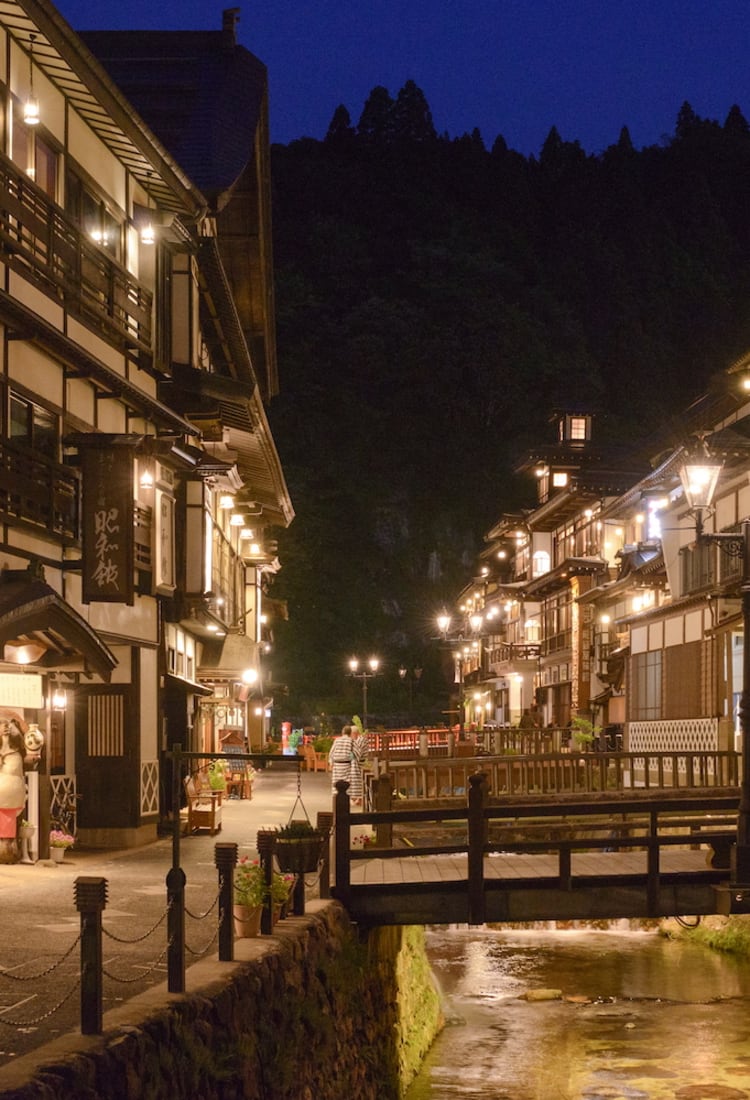 Tohoku
Yamagata
Quaint onsen and giant snow-covered evergreens
Part of southern Tohoku, Yamagata is known for snow-covered fir trees, impressive ski fields and hot springs
Enclosed by the Sea of Japan to the west and mountains to the east, Yamagata Prefecture is defined by its nature. Along the coast sit the port cities of Tsuruoka and Sakata, while deep inland is Zao Onsen, an area home to hot springs, sparsely visited ski slopes, and spectacular snow-covered evergreens. Mountain temple Yamadera is the subject of one of the most famous haiku poems, and Ginzan Onsen is a picturesque hot spring resort town on the site of a former silver mine.
Yamagata Prefecture is accessible via bullet train from Tokyo. Alternatively, you can fly to Yamagata Airport or Shonai Airport.
The JR Yamagata Shinkansen serves Yamagata and connects much of the prefecture with Tokyo. It takes 3 hours to reach the northern terminus at Shinjo. To fly from Tokyo or further afield, the nearest major airport is Sendai Airport.
Don't Miss
Zao Onsen, the ski and hot spring resort populated by giant snow-covered fir trees
Yamadera, also called Risshakuji, a temple built on an imposing hill
Mt. Gassan, the highest of the three sacred mountains of Dewa Sanzan
Yamagata Castle, a humble yet historic castle located in the center of Yamagata City
Trending Attractions in Yamagata
Zao Takayu Dolls

Although kokeshi dolls are found all over Japan, their design varies significantly. The first dolls were made in Zao over 400 years ago, and have changed little over time. A long wooden cylindrical body is topped with a round head and then both sections are hand-painted in red and black by the artisan.

Imoni

Imoni is a beef and vegetable stew common in Yamagata Prefecture. Imoni combines thin slices of beef, taro root, konnyaku, green onions and various seasonal ingredients in a giant iron kettle. The ingredients are slowly cooked in a sweetened soy sauce broth. If in the Yamagata area, don't miss out on this quintessential comfort food.

Akebi

The harvest season for Akebi is from late August to mid-October. Known as the Princess of the Mountains, this fruit with its deep purple hues has some sweetness, but is mostly known for its color.

Obanazawa Watermelon

Large swings in temperature between night and day in Yamagata give these watermelons a higher sugar content and great sweetness. Obanazawa watermelon shows up in wine, soda and various sweets.

Yamagata Cherries

Cherries were introduced to Yamagata in 1876, and the prefecture now produces 70 percent of all Japan's cherries. Yamagata cherries are large, juicy and very sweet, and have a long shelf life.

Yonezawa Beef

One of the three main brands of Japanese beef, the rich flavor and marbling of Yonezawa beef is the result of a long-term fattening method in which cows are raised on a diet of rice straw.

Uetsu Tilia-Bark Textiles

Uetsu shinafu is one of Japan's three oldest textiles. Plainly textured, durable and water-resistant, this fabric made perfect workwear. Today, precious tilia-bark cloth is fashioned into accessories, including hats and obi sashes.

Tendo Japanese Chess Pieces

A player's rank determines moves in shogi, the Japanese version of chess. With similar shapes, kanji lettering make tendo shogi koma identifiable. Craftsmen put their stamp on game board pieces with detailed engraving, embossed lacquer and calligraphic style.

Yamagata Ironware

Yamagato imono is cast metalware using techniques dating back to the 6th century. Precision sand casting is used to produce these refined patterns, textures and exact shapes. These time-honored skills are used to make a variety of ironware utensils, most notably chagama—Japanese tea ceremony kettles.
Spring

Cherry blossom blooms are particularly beautiful in Kajo Park in Yamagata City and Tsukioka Park, with Kaminoyama Castle in the background.

Summer

Summer is the best time to taste the area's prized cherries or pick them yourself in Higashine. Join the locals in numerous events held across the prefecture, such as the massive Hanagasa Festival.

Autumn

Festivals continue into fall with harvest-related events like the Imoni-kai potato festival. Leaves start to change color in late September, attracting hikers to eastern Yamagata's picturesque mountain gorges.

Winter

Ski, snowshoe, see towering evergreens covered in hoarfrost or retreat from the cold at a traditional hot spring resort. Yamagata remains lively in winter even when covered in snow.