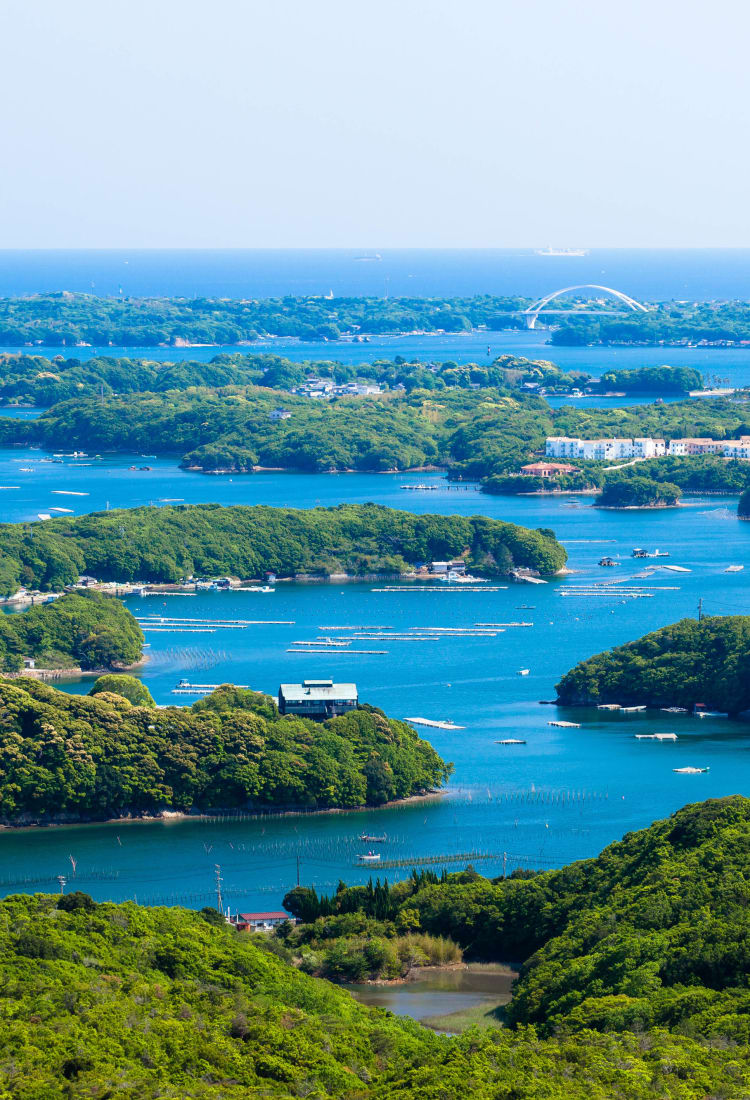 Tokai
Mie
Home of the ninja and Japan's most sacred shrine
Mie has religious monuments, ninja-related activities and family-friendly amusements away from the big city
Ise-jingu Shrine
, the most sacred shrine in the Shinto religion, is located in Mie Prefecture. However, Mie is much more than a religious retreat. Iga Ueno and its environs has ninja exhibits and shops, while
Shichiri Mihama Beach
is home to sea turtles and an annual fireworks festival. Family options include Nagashima Spa Land amusement park and
Toba Aquarium
. Mie is the home of Matsusaka beef, one of the most famous and well-marbled varieties of wagyu.
Access the area by the JR and Kintetsu Railway from Nagoya, Kyoto and Osaka. There are many bus and high-speed ferry connections to various points in Mie from Chubu Centrair International airport.
Many of the attractions in and around Ise, Tsu and Matsusaka are within an hour of Nagoya and about 90 minutes from Kyoto or Osaka. If you're coming from Tokyo, you can transfer to a local train or bus at Nagoya Station. Nagoya Station is less than two hours from Tokyo Station on the Tokaido Shinkansen.
Don't Miss
The atmospheric environment of Ise-jingu Shrine
Ninja exhibits, shows, workshops and more in and around Iga Ueno
Sea turtles and pilgrimage trails along Shichiri Mihama Beach
The excitement of the Formula 1 Japanese Grand Prix in Suzuka every October
Trending Attractions in Mie
Akafuku

These gooey rice cakes topped with sweet beans are a dessert traditionally enjoyed by worshippers en route to Ise-jingu shrine. Akafuku are formed into a shape symbolizing the Isuzu River, which runs through the shrine grounds.

Ise Ebi

One of Japan's most prized foods, Ise ebi is the name of a spiny lobster caught in the warm, shallow waters of Ise Bay. Ise ebi can be eaten grilled, boiled or raw, and is at its sweetest and firmest between April and October.

Tekone Sushi

A large wooden bowl filled with sushi rice and raw tuna marinated in soy sauce, topped with thinly sliced perilla leaves and ginger. The perfect dish for a Japanese potluck.

Ise Udon

Famous for its fat noodles with their soft, chewy texture, Ise udon is tossed in a mixture of soy sauce, bonito flakes and raw egg, then topped with green onions. Noodle fans will love these.

Matsusaka Beef

One of the most sought-after varieties of beef in Japan. This particular breed of cattle is prized for its high fat-to-meat ratio, which gives the meat a marbled appearance and melt-in-your-mouth texture.

Iga Hand-Braided Cords

Through the centuries, patterned silk cords have adorned everything from religious paraphernalia to court formal wear, and pillboxes to armor. Colorful Iga kumihimo still accessorize kimono, and even contemporary items like mobile phones.

Iga Ware

Iga yaki is an unglazed type of ceramics that flourished with the tea ceremony. Asymmetrical shapes and natural effects from the high-heat firing characterize this ruggedly expressive style of pottery, which is both porous and fireproof, making it wonderful for cooking.
Spring

Warm and comfortable weather makes spring an ideal time to visit Mie's theme parks and outdoor attractions. Other highlights include the Iga Ueno Ninja Festa and the cherry blossoms.

Summer

Mie's beaches have more going on that just sea and sand. An annual firework display is held in august and sea turtles lay their eggs there.

Autumn

Autumn is a time for fall festivals and the the Formula 1 Japanese Grand Prix at Suzuka.

Winter

Frozen waterfalls, winter illuminations, plum trees and New Year visits to Ise-jingu Shrine are the major elements of winter in Mie.